Tips For Partners Living with Dissociative Identity Disorder
Living with dissociative identity disorder (DID) presents unique difficulties, whether you're the one that has it or the person who loves the one living with it. I can only imagine how frustrating, confusing, even painful it must sometimes be to have a partner with DID.
I've witnessed how challenging it often is for my own partner and, if some of the comments I've received here at Dissociative Living are in any way representative, her experience is typical. But it's also largely ignored. Partners of people with DID don't get that much support or encouragement, primarily because only those who've been there can truly understand (Caregiver Stress and Compassion Fatigue).
3 Tips for Partners Who Love Someone Living With DID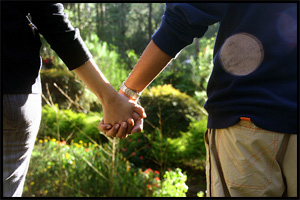 As someone with dissociative identity disorder, my perspective is different than my partner's. I think that's what makes hers so important. Significant others are in a unique position to offer viewpoints and ideas that might otherwise be overlooked. When I asked my partner what she'd say to someone in a relationship with a person with DID, this is what she said:
Know and maintain your own boundaries. You can't support others if you aren't supporting yourself. You're going to let your partner down sometimes. That's true in any relationship. When you let someone with DID down, the ramifications can be far-reaching and surprisingly painful. It may be tempting to make your own needs negotiable in order to ensure peace and stability. But that will backfire eventually by sowing the seeds of resentment and creating an unhealthy imbalance. Knowing your limits, and making the hard decisions required to honor them is vital. Believe me, sacrificing yourself won't heal your partner's wounds anyway.
Nearly impossible, but try to learn how to not take it personally. You're going to be the villain to some no matter what. People with DID generally have trust issues that nearly incapacitate them in relationships. It's not unusual for protective alters to attempt to sabotage intimate relationships. That's not about you.
Learn as much as you can, but remember all systems are different. There is no way to be in a relationship with someone with DID and not be profoundly affected. Living with dissociative identity disorder is just plain hard. It only makes sense to educate yourself. Not for your partner's benefit, but for yours. It's awfully hard to cope with something you don't understand (3 Ugly Truths about Dissociative Identity Disorder).
Living with Dissociative Identity Disorder Is A Choice for You
Those of us with DID don't have the option of walking away from the illness. You do. For my part, I'd like to remind you that no matter how it feels, DID isn't forced on you. You can leave, or choose not to get involved at all. Those of us with this disorder would spare you if we could. So when it gets rough - and it will get rough - please remember this: living with dissociative identity disorder is a decision you're making, not something we're doing to you. Blame us for our choices and behaviors ... not for having DID.
Follow me on Twitter!
Photo by Randy Pagatpatan
APA Reference
Gray, H. (2011, January 17). Tips For Partners Living with Dissociative Identity Disorder, HealthyPlace. Retrieved on 2019, September 23 from https://www.healthyplace.com/blogs/dissociativeliving/2011/01/for-partners-living-with-dissociative-identity-disorder
Author: Holly Gray