Tips For Partners Living with Dissociative Identity Disorder
Living with dissociative identity disorder (DID) presents unique difficulties, whether you're the one that has it or the person who loves the one living with it. I can only imagine how frustrating, confusing, even painful it must sometimes be to have a partner with DID.
I've witnessed how challenging it often is for my own partner and, if some of the comments I've received here at Dissociative Living are in any way representative, her experience is typical. But it's also largely ignored. Partners of people with DID don't get that much support or encouragement, primarily because only those who've been there can truly understand (Caregiver Stress and Compassion Fatigue).
3 Tips for Partners Who Love Someone Living With DID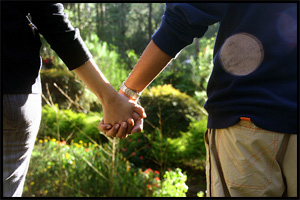 As someone with dissociative identity disorder, my perspective is different than my partner's. I think that's what makes hers so important. Significant others are in a unique position to offer viewpoints and ideas that might otherwise be overlooked. When I asked my partner what she'd say to someone in a relationship with a person with DID, this is what she said:
Know and maintain your own boundaries. You can't support others if you aren't supporting yourself. You're going to let your partner down sometimes. That's true in any relationship. When you let someone with DID down, the ramifications can be far-reaching and surprisingly painful. It may be tempting to make your own needs negotiable in order to ensure peace and stability. But that will backfire eventually by sowing the seeds of resentment and creating an unhealthy imbalance. Knowing your limits, and making the hard decisions required to honor them is vital. Believe me, sacrificing yourself won't heal your partner's wounds anyway.
Nearly impossible, but try to learn how to not take it personally. You're going to be the villain to some no matter what. People with DID generally have trust issues that nearly incapacitate them in relationships. It's not unusual for protective alters to attempt to sabotage intimate relationships. That's not about you.
Learn as much as you can, but remember all systems are different. There is no way to be in a relationship with someone with DID and not be profoundly affected. Living with dissociative identity disorder is just plain hard. It only makes sense to educate yourself. Not for your partner's benefit, but for yours. It's awfully hard to cope with something you don't understand (3 Ugly Truths about Dissociative Identity Disorder).
Living with Dissociative Identity Disorder Is A Choice for You
Those of us with DID don't have the option of walking away from the illness. You do. For my part, I'd like to remind you that no matter how it feels, DID isn't forced on you. You can leave, or choose not to get involved at all. Those of us with this disorder would spare you if we could. So when it gets rough - and it will get rough - please remember this: living with dissociative identity disorder is a decision you're making, not something we're doing to you. Blame us for our choices and behaviors ... not for having DID.
Follow me on Twitter!
Photo by Randy Pagatpatan
APA Reference
Gray, H. (2011, January 17). Tips For Partners Living with Dissociative Identity Disorder, HealthyPlace. Retrieved on 2020, July 14 from https://www.healthyplace.com/blogs/dissociativeliving/2011/01/for-partners-living-with-dissociative-identity-disorder
Author: Holly Gray
I am a psychiatrist involved with a brilliant man who I did not realize had DID. I found out in our last phone call. He disappeared for two weeks which was frightening and confusing for me. Then out of the blue I started getting texts from him asking if he could move in with me and saying that I was his soulmate. I said we "we need to talk." He finally called and while playing the piano in the background told me that he had met a woman named Lisa whom he was living with now and although she was not his soulmate she gave great back rubs. I said "do you understand I am breaking up with you?" His reply was "are you breaking up with all of us?" That's when I got it.
Here is the rough part. Then another alter told me the details of his sexual abuse at age 3 by. a neighbor. He indicated he had never told anyone before. I gently said, "do you have a therapist?" He said, "you are my therapist." I said "no Honey I'm not." Then he went back to the piano playing alter and said he had to go and hung up.Late that night while I was asleep he texted "I love you. I miss you."
I don't know what to do. I don't think that trauma alter had spoken to anyone before. I think when he found out I was a psychiatrist he was drawn to me. He trusted me but is also sexually acting out at the same time. Any advice from the DID community would be much appreciated. Right now we are out of touch. I assume I will hear from him again, though. Obviously I cannot be his therapist but I do not want to betray his trust either.
Do you have a blog or own website?
Hi,
I have read most of the comments in special yours Elisabeth.
I am glad I found this website. Off course I searched for some info on multiple personality (dis)order. For me it is an order. I have a guy friend, in fact he is the love of my life who appears to be having mpd.
We started hugging when he helped me because I felt depressed and it became for me a deep passionate love and much much more than I can describe here.
He constantly switches parts - often in the middle of a conversation.
It helps me a lot what I read here, it sounds so familiar. Unfortunately or fortunately I switch also. I am not certain what those switches are and I can never be totally certain if I am mp or if he is mp. I know you call it DID but I like the term mpd or plain mp better.
I also have been pushy with my friend. I just wanted him to tell me what is up and to say "yes I have more than one part" or "I am DID - do you know what that is?" I also have the feeling often, that he has NO idea that he switches. Once he says "I am clairvoyant" and he IS. Then he says "I am not clairvoyant" and argues with me when I said "yes you are". Then one time I made a comment to him that "you always change" and he says "You wouldn't want me to be always the same".
I truly love him. He often lets me know that he loves me too. Even if he did not tell me that... I can feel it. All parts of him seem to like me. I am most irritated when I sometimes be with HIM and then he is just a friend and has a wife and I am blablabla... Then next thing I know he holds my hand and looks so extra deep into my eyes and says have a good day my love. I know he means it.
He also has a part(?) who seems to be my boyfriend. This part seems to be younger.
I can not talk to him about those things, he seems willing to talk in many parts, but there is no time (I see him only at his business). Then a few times he arranged meetups where we could have some time together... and when we did he was the other guy. I am not always aware right away who he is. Then he may be very protective - I also feel this part is insecure. Ah ya - and he has the hell of an ego at times - that matches my ego very well.
All in all I meetup with him in exactly the same vibration as I am in. I am aware of the LOA also! So that's that.
I came to the conclusion - I wont push the matter of "why do you change and do you know it" any longer. Its just hard because the only "judge" that he is mp or DID is my own self. That should be enough I know, but I would like to communicate it with him. Fact is I love him more than I thought.
As a note aside - for me HE as a whole is the most precious best interesting loving kind special etc. person I ever met. I honor this person. I seek or learn and it is a spiritual practice. Honoring him seems at times or always be more important than his hugs and his touch. Another of my parts dies our of heartbreak for not being touched. Don't try to talk me out of loving him or out of stick to him.
Thanks JN
So I am in a relationship with someone and have been for a little less then a year. I have DID and we are trying to decide whether or not having sex with my other personality would be cheating on me?.. What do you think?
Hi Folks,
I know how horrible all this is/was for you and wanted to say thank you for sharing, it really has been most helpful.
My wife and I have long known she was multiple, but for many years it was not on our radar at all - we both blanked it out and had married before the internet age. That she had been abused we also knew, but this certainly did stay on our radar.
Then a couple of years ago a significant family member died and not long after more memories of abuse returned, and with them came the alters. Gradually we started reading up, but as she became more and more unable to cope she started to seek help. She was denied medication or a referral by her psychiatrist, so eventually last October her union agreed to pay for a formal diagnosis, which came back severe on all counts.
And yes, the process of being diagnosed, being taken seriously by professionals who knew what they were talking about, and the actual diagnosis, was triggering and played havoc with her system. We both hoped the formal diagnosis would enable her to access appropriate therapy, but as her psychiatrist refused to offer this or medication to calm her down it became like banging a head against a brick wall.
Eventually she flipped after one more rejection letter. I was out of town for a conference (for the 1st time in 9 years) when it arrived - the next I knew was a call to say the police, social services and the mental health team had been out because one of her alters wanted to kill herself and the kids. The kids went to friends and she eventually flipped back.
Then a couple of months later she disclosed memories so bizarre, fantastic, paranoid and seemingly contradictory I started to wonder if she might have paranoid schizophrenia as well. I made the suggestion to her and all hell broke loose - any suggestion I couldn't take all of her memories seriously, even if she herself would admit they couldn't all be true, was a red rag to a bull. There was an unholy row that upset the kids.
She calmed down after she talked to a good friend, and things seemed better between us. Next day was a beautiful spring day. It was Easter, so she took the boys out while I went for support counselling. No big surprise when I got back to find no one home. Only when I got a message to say her purse had been found, and I couldn't get hold of her, did I start to worry. Eventually after ringing round friends, her GP, and the mental health team, I called the police. Later that evening she walked into a police station with the kids, in a confused state, and accused me of abuse. The kids went to stay with friends while the police tried to sort out what was what. They spoke to her GP and tried to get her into hospital, to no avail, but at last the MH team agreed to medication. After a night away my wife moved back in, but she was changed. There was a new, over confident and manic alter in charge, one neither me nor her closest confidents had seen before. It later came to me. that day was the first anniversary of the death of her close relative.
After a few days, social services agreed to let me have the kids back, so long as my wife moved out and only saw them for a few, supervised hours a day. For a month my wife had to doss on friends' sofa's and floors before she was allowed into sheltered accomodation. It was a further month before she was allowed home, but by then the damage was done.
Though she is a lot calmer now on the medication, it only helps so much. I now understand that as soon as the kids were taken away from her, out came her strongest protector personality. Of course that protector hates me, and social services, but it is now the dominant alter. Occasionally there are glimpses of the old person, but that alter has so many difficult memories and thoughts to process, I don't blame her for not wanting to hang around long. I liken it to having a bang on her head - the shock of having the kids removed has changed her personality, and only time will tell if it will ever change back. For now I am living with a wife who considers us 'living together for the sake of the kids'. No other alters are allowed out, certainly not those who professed undying love to me. She has changed her politics and her religious beliefs quite radically too.
I choose to stay because of the kids, and because this is my home and their home as much as it is hers, and because of course I entertain the hope she will one day switch back after 15 years of marriage. Perhaps once social services are finally off our back her protector will no longer feel the need to be in charge. Therapy for her is still a long way off. In the meantime I have some support mechanisims in place for myself, though I could do with more.
I also found this website, which has some useful advice and suggestions:
The Significant Others Guide to Dissociative Identity Disorder
http://www.op.net/~jeffv/so1.htm
I also found a chat with another DID, who admitted to me that even though she was a married minister of religion, she had alters that did not follow her faith or want to be married to her partner.
Once again, many thanks for sharing, it has certainly helped me see what has been going on in my wife's life and our relationship a bit clearer.
Just found this and wish I had found it years ago! I have just left my husband who has DID last year. Couldn't take the confusion any more.
Elizabeth, other than the infidelity (as far as I am aware), your story and feelings read like mine. The confusion is just phenomenal! My instincts tell me one thing and the therapists and hubby something else. From the outside he looks like a lying, lazy, man who cannot be bothered to support his family (we have a number of children). I struggle with this, as that is how it feels on the inside too. Therapists tell me the opposite. He has states that adore me, although this is only lipservice. Deeds not words would be nice.
Whilst I hear what you are saying Holly, and in an ideal world that would be great. But when you have children that need a father, and need providing for, and their father half the time does not turn up, etc. It gets really hard.
I think I have learnt that, at least in my experience, that I cannot have any needs as they will not be met. Life must revolve around the DID partner. Again I really struggle with this. I have to meet the needs of our children too and cannot do that well if depleted all the time from fighting to go food shopping or whatever the seemingly harmless triggers are.
I couldn't see a way forward with him, and apart from him I am intermittently finding it hard as I feel the love and the glances and the teary looks (or is it just manipulation?). That is also the problem for me, I had a DID hubby that also lied within state.
It is lovely to read other people's experiences too and see Holly contribute from the perspective of someone who has DID. What you said Holly made an awful lot of sense. :)
Just found this Blog. My ex-wife was diagnosed with DID, however, it was aftershe quit attend marriage counseling. I continued to attend sessions trying to get a grasp on what was going on. The counselor was a bit hesitant to discuss his thoughts, but felt it was important given my make-up to provide information to give some clarity.
He then handed me a "white paper" study on DID and asked me to read it. Wow! It was her behavior right there in black and white. I believe that what triggered the "switch" was shortly after we were married she became pregnant and just after the birth of our son, she was diagnosed with Stage 3 breast cancer. The next two years was all about survival.
Following her remission, she began exhibiting what I now recognize as a switch. She became secretive, withdrawn and within 6 months abruptly announced that she was moving out with my step daughter and by taht time 2 year old son. Two years of chasing her and on again and off again counseling ended in divorce.
Later I found out there had been at least one affair, I am sure there were more. At this point she seems to have no attachment to me what so ever and thinks that we somehow came to a mutual decision to divorce. I saw her with a friend in the mall the other week. We passed by each other and I said hello, but nothing more. A few minutes later she texted me wondering why I did not stop and chat. I told her considering the circumstances that would be awkward. She texted again wondering why that was so "we talk all the time". Side note we rarely speak unless it is about our son, but I think in her mind we are some how still in some kind of ongoing friendship.
I hqve since read that those who live with DID often lose the concept of relation orientation or have no idea that the relationship has been damaged and have very little concept of the pain they have caused.
It is interesting, baffling and still painful even after 3 years of being seperated and divorced. A part of me feels sorry for her because of the full life that she is missing, but I often wonder if she is even aware of what she has done and it impact on her, me and the children.
Do people with DID HAVE MOMENTS OF CLARITY? I guess the key word is moments...
At any rate prior to the divorce I confronted her with a video tape of her and another man having sex. Of course even with the evidence right in front of her and viewing the video 3 times. She still denied it...probably to be expected. Q
All in all I still love her and pray for her daily. Maybe the only help she is getting is from my prayers.
Thanks for your Blog! It is rare to have so much insight into this disorder...
Dear Holly,
I'm currently in a long distance relationship with a woman I believe has DID. Before evolving our relationship to a more intimate one, Sadie and I were close friends for over 10 years. Since we lived 500 miles apart, we'd often talk on the phone, sometimes half through the night. We became close enough to share things with one another which we hadn't shared with anyone else. I've known for 6 years she felt like there were other "people" inside her head talking to her, influencing her and "making" her do things. She lives in a small town, where unfortunately mental health resources are limited.
2 years ago, she had a breakdown and was referred to the local mental health clinic. She's been in therapy ever since. She has NOT yet been diagnosed with DID. So far she's been diagnosed with Borderline Personality Disorder, Bipolar-depression, Severe depression with psychotic episodes. The frightening thing is that they are still trying to treat her with medication to diminish what they think are delusions or hallucinations, which only seems to complicate the problem.
Three days ago, she became overwhelmed by the noise from and influence of the "voices". She began to consider self injury or suicide, "to find some relief" as she put it. In that state of mind, she says she's willing to "either silence them or all of us". She called me immediately and had her sister take her to the emergency room. She's been down this road a few times before. This time she packed her bag for an extended stay ahead of time. After one night in the small town hospital under restraints and sedation, they transferred her to a behavioral unit 100 miles away.
This has been the cycle of her life for the past 2 years. She gets overwhelmed and seeks help, they put her into a ward for a week or two where they try different medication combinations and send her home when they think she's stable. Only one psychiatrist has mentioned the possibility of DID, he however was in from another state filling in. She never saw him again.
She was always honest with me about the alters, and is learning about what triggers them to come out. She has what I believe is the typical aggressive protector alter. This alter admittedly holds Sadie's repressed memories from her, and believes she's protecting her in doing so. Some days it's as if she's tormenting or manipulating her by using the memories as collateral. (That's my deduction which I won't share with Sadie. I think she needs to find her own conclusions.) The alter doesn't like me, I think she feels threatened by me and our relationship. In my first experience with her, things didn't go well. I have since learned to embrace her as a part of Sadie and always greet her courteously when she comes out. I'm finding she's less aggressive this way and stays out less, usually no more than a few moments. Sadie wishes she never came out at all.
My fear is that Sadie may never get the level of care she needs in a small town. Due to family commitments however, she intends to stay at least for the next several years. She's an extremely intelligent person. She's researched every disorder she's been diagnosed with, each time coming to the conclusion of "maybe I have this, but that's not all there is going on in me."
Thank you for having this forum available for patients and especially for SO's. I'll be bookmarking and coming back to visit often. The more I can learn about how best to manage my role in her life, the better it will be for the both of us.
The Karen & Tracey above are you the authors of the book, 'Amongst Ourselves'? I am currently reading it so I can better support my partner. She has DID & PTSD. Thank you for this book if you guys are it is my first feel fortunate to have stumbled on to it. It was recommended on a website I was researching DID on. It is written perfectly for me to understand she is interested in reading it when I am finished from me talking about it to her.
Our relationship is a complicated one. We have been friends for over 20 years. We reconnected via Facebook through a mutual friend. Me my current relationship was over years ago. She is in one that is ending too that has been over for years as well.
After long talks and sharing we released we'd fallen in love. We connect on every level imaginable. In the near future we will be living together but until that time we are apart. :-( She revealed to me her condition I was not scared off in the least. I've been researching the disorder and supporting her wholeheartedly.
Right now though she is in crisis (again) she has gone deep into her system. Her therapy is not going as she wants. Her relationship is a mess he causes extreme stress fighting with her, yelling and doesn't support her condition in fact doesn't believe it is real or even her past is real! In the book it talks about having a safe system setup before trying to recall these memories that is not there. Every time she goes to her Dr. she is in crisis for days this time it is three days and counting. She doesn't want to interrogate but learn control and communication within her system as spoke of in the book. Her current Dr. is pushing interrogation.
I am researching here to find a new Dr. for her. She needs to have this in place before she can move obviously. It is a daunting task but I am totally up for it. There is nothing I would not do for her to support her.
So two things if someone can offer any advice on selecting a new Dr.? Plus she will joining me here be living in Ottawa, Canada if anyone knows of any Dr. treating DID here? OR some place to find such a therapist has to be a psychiatrist to be covered my medicare here.
Secondly how can I try to reach her especially long distance when she is lost inside the system? I have contact with several alters that trust me. She has supplied me with a list of all the alters she knows of with there job in the system. There are 13 but 3 unknown one is dangerous to her safety have exchanged with him (it) not sure of its sex? All others are supportive of her one is very young hides never met. We chat online and txt. She is still in the abusive (emotional) relationship there so our contact is limited. Any advice is greatly appreciated.
I am not afraid of a little work. I also support her through thick and thin. We are both Christians. I know this is not the story book romance but neither is DID a happy story line either. I know that with my positive support, a better therapy approach plus our shared faith she will have an easier time of it. Until then I need to know how best to support her and help her long distance? Any ideas there would be great too.
God Bless you All who are DID. On Christians sites they say it is a gift from God used to save the survivors life - I believe that. Your fortitude to move forward living successful lives is promising a great power of example. She strives for this herself. Each and everyone of you amaze me as I pray for her endlessly daily. I'll include you all in my prayers tonight.
God Bless,
Dan
Dear Holly,
First of all thank you for this article. It really helped with some of my worries and put things into perspective. Just recently I came out, and even more recently my close friend and I decided to start dating. She has DID, so I was doing some research when I found this article. I would love to hear more from your partner. Thank you again.
-Kelsey
@Elizabeth,
I sympathize with your situation, and am in a somewhat similar situation. The personality that is taking control is not "my husband" and we are still working on that. I've search so long for a site for spouses/SO of DID and have found nothing beyond "this is how you survive divorce"...I can offer you a website if it would help.
@Holly,
Would love to hear more. Do you have a blog, etc?
thank you!
~grayscale
No, that actually makes a lot of sense, and what I had a feeling it was about! See, I didn't realize I was pushing back then, because the part of him I'll call "Good Guy" was so unbelievably relieved that what he was dealing with all his life actually had a NAME. He was so questioning, and interested, and concerned, and actively seeking information by now researching and researching on his own. I would then get confused when the other part (the aggressive part I call "Stud Guy") came out and told me to LEAVE HIM ALONE, because the other part would come back and want to continue asking questions.
Not only did I know which part to follow, but I have always had the very, very difficult time of being able to tell who is telling me what -- I can't always tell the difference between Good Guy and Stud Guy, so don't always know when he has switched, versus just being the same person who's changed his mind.
But, yes, in retrospect now, I plainly see that I pushed and threatened him. It was so hard though! He would tell me he felt threatened, I would tell him "then we completely don't have to talk about it (DID), and I'll only bring it up if you ask" and then he would ask! But what I didn't see was that one part of him wanted to know, and the other part did NOT, and I see now that perhaps one needs to align oneself with what the system can deal with as a whole.
It was just completely confusing to me.
I was also pushing so much, because "Stud Guy" was acting out sexually and deeply threatening our six year relationship, and the other parts of him had no idea.
But, now it's a mess. The Protector won't let anyone in the system talk to me (except for pop outs of "Good Guy" who doesn't seem to totally know what's going on) even though I still see the body frequently around my small town. Stud Guy is now with someone else, putting up an ultimate devastating barrier. I see the truth of what's going on with his DID, but can't do a single thing about it, and I do still love all of him and wish we could work this out.
I also see, as I'm glad you mentioned Holly, that Stud Guy is "my guy" when I look at the whole system. He has just always hated me, even before the DID talk, and I've never been able to see eye to eye with him. He has always thought, simply by me being around, that I was trying to prevent him from being the "Stud Guy" he is, and have 100% freedom to sleep with other women, because he didn't recognize that there was another part of him that was committed and in a serious relationship with me. He would frequently come out and tell me he HATED MY GUTS because I interfered with him being "free."
Elizabeth
Hi Elizabeth,
I'm really glad Leigh asked the questions she did, and I'm glad you answered them. You've given us a much clearer picture of your situation. I want to gently offer a few thoughts ...
You said:
"I interacted regularly with other alters, and knew that some parts knew about each other and accepted that they were many, and some parts firmly thought they were the only one and would get very aggressive when I tried to show them otherwise. I had finally convinced one of his main parts, the one I was mostly in the relationship with, to get help."
You knew he was multiple, you (understandably) encouraged him to get help. But your wording tells me that you pushed it. Some parts would get aggressive when you brought up DID, and the words "finally convinced" suggest that you made a real effort to get him to believe he has DID and seek help. I understand why. You were trying to help. But DID systems are designed to go undetected, most particularly (usually, not always) to the person with DID. The aggressive response you received is a clear message: My psyche is not prepared to deal with this right now. Back off.
I see partners make this mistake a lot - and to be clear, I do believe it's a mistake - they see a problem they know can and ought to be solved and they point it out; then when they're told, in essence, to leave well enough alone, they don't. They push. And push. And then when some other part of the system is more receptive to their information, their dedication is renewed, and they push some more.
I'm going to say this bluntly and it's for every partner of someone with Dissociative Identity Disorder: if any part of your partner's system tells you, aggressively, to back off - and I don't care if what comes out is denial or skewed thinking, it's still a message to back off - then you would do well to leave it alone. If that isn't possible, it's a good time to think about whether or not you can stay in the relationship with your partner *exactly* as they are. If not, the solution isn't to convince them to do anything different - even if you're utterly convinced doing something different is what's best for them (would you like it if someone presumed to know what's best for you?) - the solution is to move on.
You also said:
"I loved him with my entire soul - all of him, knowing he's more than one.This current dominant alter is the only one I've ever had a problem with…and he's never been so out and dominant than like this."
I think that perhaps some of the struggle is coming from your view of this particular alter as someone other than the man you love. You are separating them, saying I love my partner, but this alter is getting in the way. That alter *is* your partner, even if he says he's not. And I wouldn't be surprised if he feels incredibly disrespected and like his boundaries have been violated ... you said he had DID, he said No, don't talk about it, you didn't listen. Do you see? You love all of him - so treat this aspect of him with dignity and respect. If you cannot be with him without him acknowledging he has DID and going into treatment, that's 100% understandable. But it's just as understandable that he can't be with you if you won't allow him to decide what's best for himself, even if that's denying what is to you an obvious mental illness.
This aspect of his identity became so dominant because it's main focus is protecting the psyche, not your feelings. And unfortunately, you became the threat to his psyche he had to protect against.
Does that make sense? I understand it may be both confusing and painful to hear.
Thanks Tracy for adding your comments. I'm really just trying to understand versus "deciding" what to do about the relationship. I will probably stick around long enough to see if he switches, and to see if during that switch, he will go back into therapy.
If he does, that's one choice, if he doesn't that's another. I do think that this is an alter who is doing "the cheating" and that this switching of hosts came about because of the trauma of the diagnosis which sent the system into chaos. Before that, he had been stable (in terms of who was the dominant host) for years.
So, for now I'm just watching from the background, and praying that he switches back sooner rather than later, and that that part (who's the most co-conscious) will want to get help, AND...that the other parts will let him.
I loved him with my entire soul - all of him, knowing he's more than one.This current dominant alter is the only one I've ever had a problem with...and he's never been so out and dominant than like this.
Elizabeth
Elizabeth,
From the moment I read your first post I wanted to have something valuable to contribute in this discussion, but I was remiss. I can imagine your pain and wondering, as I experience these things often myself, but only in much smaller doses. I'm very fortunate to have a DID partner that has never strayed very far from her/our "normal" day to day life.
I think Holly has summed it up best in the above comment, "It's just that, regardless of his mental illness, you have the right to choose stability and consistency to whatever degree works best for you."
As i've often done in my own relationship, I would encourage to you to ask yourself if what is happening right now can happen again and again and make the relationship still worth it. With or without DID, we all have our limits and should be realistic about them. It's hard to do that when you're hurting (and desperately missing your man), I certainly understand that. But I have to agree with Leigh. If he's in a completely different relationship, your mental/physical/emotional health will NOT be sustained by waiting for it to change.. and then change again.. ad nauseum...
It's important to pay attention to what the therapists are telling you. It's important to look at the situation you're in right now and ask yourself if it's something you could sustain long term.
I hope you find the resolution that serves you best, and soon.
Tracy
Oh, and he got diagnosed when we were sitting in the therapist's office and he was telling the therapist how much he really loved me.
Then he suddenly SWITCHED, stood up, and started calling me all these horrible horrible names in a very aggressive stance and the therapist had to intervene. Then he SWITCHED again and looked extremely confused, and wouldn't answer to his name, then the therapist asked him to go sit in the waiting room and take a "time-out"....when he came back, the therapist asked him what of the last 15 minutes did he remember, and he said he was "unclear" why he was in the waiting room. That the last thing we were talking about was how much he deeply loved me.
And, with a ton of other stuff and examples, that's how he got officially diagnosed. I never saw my guy as a dominant host again...only the small pop outs mentioned above. Since that time, The Protector became very aggressive towards me verbally, and since then has found someone else (which, at this writing has been going on for two months).
I'm just watching from the background, trying to comprehend.
Elizabeth
Hi Holly,
Thanks for emailing me. I hadn't checked this post. I am just still trying to comprehend what has happened, and how I lost my man. My own therapist, as well as the therapist we were seeing together, have both said that he is in a "switched state," that this is an alter, or a different "blend" of him who is now having a relationship with this other woman (So Leigh, he is having a serious relationship now - just not with me!), and that the parts that I know and love, and who love me are still in there, intact, underneath.
They believe he will just spontaneously switch back, and be very confused about who this new person is, where I am, and how everything in his life got rearranged.
They're not telling me to wait for him, or not wait for him...just trying to help me understand that this isn't "just a man who cheated on me" or decided to move on in the traditional understanding of what those phrases mean. Basically, like you said Holly, that EVERYTHING in him is colored by the DID.
To answer the other questions posed, I did know he was a multiple, and have known for years. I interacted regularly with other alters, and knew that some parts knew about each other and accepted that they were many, and some parts firmly thought they were the only one and would get very aggressive when I tried to show them otherwise. I had finally convinced one of his main parts, the one I was mostly in the relationship with, to get help.
And, that's when the other part came out, quit therapy, "quit" me after seven years, and for the last two months has put up a barrier by having a relationship with someone else. This is the part, by the way, who's a Protector, and thinks he's the only one.
The therapists tell me that he very well might switch back and seek me out, but of course he will always be switching, and switching, and switching. We had been pretty stable for years...there was just this one part who hated me, and would tell me so, but the other parts (the warm, nice parts who loved me) seemed dominant.
But now, there seems to have been a changing of the guard, as you say Holly. He seems to have switched not just alters, but dominant hosts. Worth saying, I still see "my " parts pop out -- I saw a little just the other day, looking longingly at me from afar like he was going to cry.
Elizabeth
I'm really sorry to say that I don't keep up in this site the way I think I should, but ... how to say. DID is so small a part of our lives now, mine and my partner's, that it just doesn't seem pertinent most of the time. That having been said, I do have a lot of experience in this arena and, as a partner, probably offer a different perspective than most of the people found in DID support areas. So,
You don't say, Elizabeth, what led to his diagnosis. I mean, was he switching a lot? Losing time? Was he presenting as a cohesive personality before this? Did you know he was multiple? All those things, I think, are perhaps pertinent to whatever's now going on.
In any event, and reiterating some of what Holly said, including the fact that I don't know him and this is all speculation - however experienced and education that speculation might be - it sounds to me as if there has indeed been some kind of switch, whether to an entirely different personality/alter or to some sort of modified version of "himself," probably because (again, as Holly said) he doesn't want to admit to/deal with the DID and that's hard to avoid if he's involved with someone who knows. It could also be that a serious relationship is just too much to deal with on top of the diagnosis. Serious relationships take a lot of emotional energy and require a strong amount of system cooperation.
I would also add that diagnosis itself generally throws a system into fairly complete upheaval -- it's scary, and people panic and every defense mechanism generally goes into overdrive.
Personally, I would suggest that you get on with your life. I don't mean that in a callous way, I mean it the way Holly's partner meant it in the original post when she said set your boundaries, take care of yourself ... do not get into the habit/pattern of letting yourself be a puppet on the strings of his DID. Theoretically, he could switch back and forth every month, break up with you and walk away, call you desperate to get back together, break up with you again ... set your boundaries now, it's much harder to do later. Don't make his DID the overriding fact of your life. Go out with friends, keep up with your hobbies ... I myself would be really leery of trying to be in a serious, monogamous relationship with someone who's still so fragmented and has (apparently) such mixed feelings about the relationship, though I'm not saying it's necessarily impossible.
What do you think, Holly?
To clarify the above, I should say that my SO is very conscious of the fact that we were together for years, but "doesn't care" - it "doesn't mean anything to him" at all...he is completely disconnected from any FEELING or emotion about it, or me, in general.
He just suddenly doesn't have any attachment to me at all and started something with this other woman, and I just can't separate whether this is an alter doing this, or whether this is "my" man and a symptom of the DID. He quit therapy right after he got officially diagnosed, and that's when he left me. So alter or not? Is there any way to really tell? I'm so devastated and confused.
Holly,
I can't make sense of what happened to me, and didn't know if there's anyway I can email you directly -- my SO of seven years, who has diagnosed DID, suddenly had a "hard switch" and remembers our relationship in FACT, but not in feeling, and abruptly left me and is now having a serious relationship and sleeping with someone else every night!
Its like I've been erased from existence...he doesn't remember all the years we spent together at all. They mean nothing, and I'm having a hard time processing all of this in light of his DID...because it looks like the same man.
I keep getting the DID confused with the thought, "maybe after seven years he just had enough, and decided to move on to someone else." Can you maybe email me some perspective? Your blog is so helpful.
Holly,
Thanks for your site! I'd also love to find resources for me as a partner, also same-sex, and to hear more of your partner's experience. Reading about your relationship experiences I feel that I'm not alone. God bless, and thanks!
Holly:
Would love to hear more from your partner. There is oodles of research, memoirs, etc for those challenged and rewarded by life w/DID but very little for their partners, and specifically partners in same-sex couples. Thanks!
Leave a reply