My Mental Health Warning Signs: 5 Common Red Flags
If you have Dissociative Identity Disorder, recognizing when you're on a downward spiral may be incredibly difficult. Dissociation separates us from our thoughts, feelings, and experiences and makes maintaining awareness of our very realities a monumental challenge. My hope is that by taking stock of my mental health warning signs, I can increase my chances of noticing the next decline in functioning at its inception, rather than coming out of a dissociative fog six months in and wondering what happened to my life.
[caption id="attachment_1469" align="alignleft" width="240" caption="Photo by Suzie Tremmel"]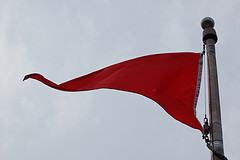 [/caption]
My Mental Health Warning Signs ... and Yours?
I approached compiling this list as if I'd never done it before, even though in hospital settings alone I've done this exercise several times. I think coming at it fresh like that might be why I discovered some red flags that had heretofore escaped my notice entirely. Others are signals I'm well-acquainted with. But all five are, I suspect, common mental health warning signs for people with Dissociative Identity Disorder:
Avoiding therapy. I've noticed a pattern of avoiding therapy when my mental health is in trouble. Generally I experience this as an overall dissatisfaction with the therapist personally. For some people this manifests in the opposite direction with an excessive, uncomfortable need for therapy and/or the therapist.
Over-Focus on appearance. There's a fairly well known correlation between deteriorating mental health and increasingly poor hygiene. It took me a while to recognize that my tendency to obsess over my physical appearance when I'm struggling is not an indicator of my immunity to that phenomenon; it's just the other side of the same coin.
Catastrophic thinking. When a pile of dirty laundry becomes a mocking testimony to the fact that nothing I do will ever be good enough for anyone, it's time to check in on my mental health. Every problem looks like a threat when I'm unwell.
Immersion. Diving full-tilt into something for extended periods of time to the near total exclusion of everything else is a dissociative way of coping. Interests fluctuate and vary but when friends and family start to complain that I'm unavailable because I'm immersed in a particular activity most of the time, that's an indicator that I might be engrossing myself in something as a way of avoiding problems.
Childlike perspective. A reader brought this one to my attention and I'm so glad she did. It's enormously difficult to recognize in the moment, but as my mental health deteriorates, so does my ability to approach life from a mature, balanced, adult perspective.
Listing My Mental Health Warning Signs Is just The First Step
My guess is that learning to recognize when I'm coming unglued is a continually developing skill that becomes more reliable with use. What that boils down to for me is awareness, awareness, awareness - the ultimate antidote to Dissociative Identity Disorder symptoms. Making a list of your mental health warning signs is an exercise in awareness. In other words, taking the time to name them increases the likelihood that you'll notice them in action.
Follow me on Twitter!
APA Reference
Gray, H. (2011, January 13). My Mental Health Warning Signs: 5 Common Red Flags, HealthyPlace. Retrieved on 2019, September 15 from https://www.healthyplace.com/blogs/dissociativeliving/2011/01/my-mental-health-warning-signs-5-common-red-flags
Author: Holly Gray