Finding a Reason to Live When You Have a Mental Illness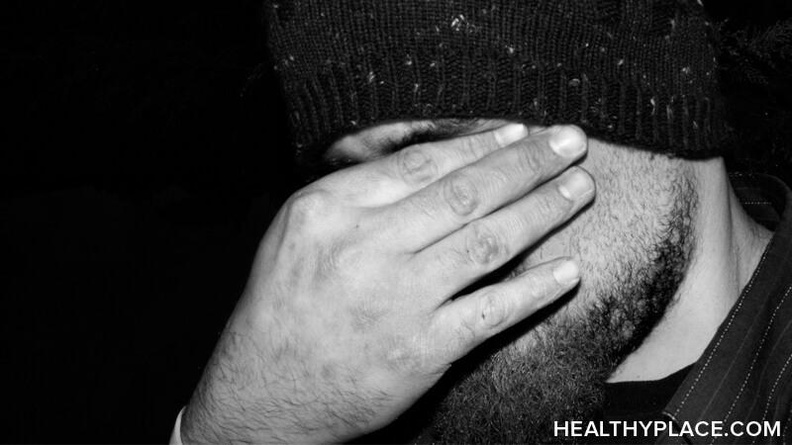 Do you need help finding a reason to live if you have a mental illness? For a long time I did. In spite of having a good treatment team, I just couldn't snap out of my depressive funks. I was frequently suicidal. Then I found my reason to live. Finding a reason to live when you have a mental illness can be just as vital to your treatment as finding the right medication and finding the right therapist.
My Reason to Live with a Mental Illness Is My Family
As I write this, I'm on the emotional high of becoming an aunt for the fifth time. My nephew doesn't even have a name yet, but I love him and have nicknamed him "my little blank slate." He reminds me of the need for a blank slate in life--for a chance to start over.
My oldest nephew is five now. When he was born, something happened. I could no longer feel suicidal without thinking of my nephews and niece. I didn't want my brothers to explain to them why Aunt Becky had killed herself--it was hard enough for me to explain that I was sick and it wasn't going to go away. I wanted to see them grow up. I wanted to live. My reason to live with a mental illness was my family.
Not everyone gets along with their biological family. Mine was emotionally abusive and we didn't reconcile until after I got out of college. But I define family as "a group of people that love and accept each other more than they deserve." In that case, maybe your friends are your family. Everyone is entitled to a family--choose wisely.
Finding a reason to live in family is just one of many options.
Before My Family, My Reason to Live Was a TV Show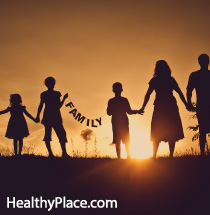 My middle school years were awful. One of my classmates was treated so horribly that she has blocked out her entire time at that school--something I wish I could do. I was bullied relentlessly, ranging from mild teasing to sexual harassment. It drove me to the point of suicide--then I discovered a TV show called Where In the World Is Carmen Sandiego?
That show became my reason to live. Every day after school I tuned in to watch "Chief" Lynne Thigpen (RIP), host Greg Lee and the gumshoes (contestants) pursue the loot, the warrant, and the crook. I laughed hysterically at the Greg in the Chief's office skits ("The bright side? There's a huge stalk of celery on my desk and no dip." and "Greg, go away."). This show became the high point of my day. It became my escape--even if I never mastered the Africa map.
Looking back on it, it sounds a little silly to be that devoted to a TV show. But it's not silly. As we said in the Army, "If it's stupid but it works, it isn't stupid." Whatever your positive coping skill is, it is okay. It is helpful. It is good. Nothing that helps you in finding a reason to live is ridiculous. It is your survival strategy.
Possible Reasons to Live When You Have a Mental Illness
Here are some possible reasons to live with a mental illness:
You haven't been to the Trobriand Islands yet (okay, so I stole this from a book, but I've got to admit I'm curious--and not just because of the sex).
You have a dream of hiking the Appalachian Trail or sailing down the Mississippi River (and admit it, you want to know what the "castle" near St. Louis is for).
You've found something that gives you joy, like a video game (I recommend The Elder Scrolls series), and you can't do it if you're dead.
It might get better (something I would tell my middle school self if I could go back in time).
You want to prove everyone wrong.
I have seen the stars and felt small. I have watched the ants and felt huge. I have seen children and felt old, or grandparents and felt young. I can live a year and feel that only seconds went by, or look someone in the eyes loose myself in them forever. I live to feel all I can feel and enjoy the simplest things with all my heart. -Anonymous
You have to find a reason to live with a mental illness. And that reason can be anything you want. Finding a reason to live is vital to recovering from mental illness.
You can also find Becky Oberg on Google+, Facebook, Twitter and Linkedin.
APA Reference
Oberg, B. (2015, June 29). Finding a Reason to Live When You Have a Mental Illness, HealthyPlace. Retrieved on 2023, December 6 from https://www.healthyplace.com/blogs/recoveringfrommentalillness/2015/06/finding-a-reason-to-live
Author: Becky Oberg
video games can't replace therapy can they? i had an opportunity to get therapy / a diagnosis but I messed it up now there's nothing tooo doo but dieeee nowwwwww
I'm sorry if this is scattered. I was just typing as thoughts went through my brain.
To be perfectly honest, I find these lists humorous, but useless.
I don't want to go outside.
I don't want to visit who-cares-where.
I don't care if I live to 20. I'm 15.
I've given up on finding love.
And what if the source of my depression isn't bullying, or an abusive family, but just myself.
I hate myself for hating myself.
I want to die and that only makes me more suicidal. I've basically stopped caring. My death won't change anything. My mom might be sad, but that's part of the job description of "mother". My "friends" won't care, they've never cared. My brothers never cared, nor could they ever understand.
Sure everyone says I have a bright future. I'm in the top ten in my class of 228. But I don't care. I don't want to go through life.
I don't have any reason to live, and I don't want people telling me "if you're dead you can't feel relief". That's exactly the point of suicide, that I can't feel. If you're dead, you can't feel pain, either.
I also don't want people telling me anything about God or Jesus. While I respect your religious beliefs, I'm an atheist and don't like it when people try to force feed me religion. It only gives me one more reason to feel like an outsider.
Please don't try to talk me out of this. It's not going to happen.
And if you never cared during my life, please don't pretend to care in death.
And as usual, no one will read this.
I'm going to be forgotten. Even in I lived to 90 years old, 10 years after I die, I'd be forgotten.
I am 56. I was 6 the first time I tried to kill myself. My children will be sad when I succeed but they will also be relieved. My life has been mostly failure after failure, my children being the only thing I have done of any real worth but even they don't keep in touch any more. I think if I could afford to live alone, in the middle of nowhere I could keep the suicidal thoughts at bay for a few more years but I have no money, no job, no skills, no real qualifications. I have BPD so find it difficult to stick with things. All these years I kept telling myself things would get better if I could just hold on. So now the earth is dying, we have governments intent on nuclear annihilation and I am fast running out of platitudes to tell myself.
I apologize in advance if this is inaccurate or makes little sense, I've been looking through the most top rated "Reasons to live" articles for a while now, and I've found that they all share a similar theme. The majority of these articles follow the idea that suicidal mental illnesses are caused by society and bullying and cruelty; they stem from the idea that there is a source of your suffering and you can stop it. And you can, but they act as though all depression is and ever will be is caused by bullying, and wrongs being done to someone. And they can be, I'm not saying they aren't. Many cases that can cause depression and other depressive disorders or worsen symptoms that have been there from birth are involved with these factors and enemies. What I'm worried about though, is what about the others? What about the kids who don't get bullied; don't get abused? Who can they prove wrong? Maybe I'm just a weird case, but I don't have people telling me to kill myself and that I'm useless in this world. That's not how it works for me. This might be kind of selfish, but I want to see a reason why I should live. What am I supposed to do when the source of my struggles is myself? What reason do I have to live when I want to die so badly? I don't want to see the Aurora Borealis, I don't want to go outside. I don't want to do anything anymore. I've stopped caring about everything and I don't know what to do. I realized a little while ago that I'm basically a nihilist and that everything that I could ever do is meaningless and I'll be forgotten anyway, so what's the point? "My Mom will be sad." Yes, she will be sad because that's what she's obligated to do. But after that she will stop caring. That's it. That's the only sound argument that I have heard to not kill myself, and it came from me. I honestly can't find another reason. My friends won't remember me in two years, I've only known them for three months. The rest of my family will have a lesser reaction than my Mom, but otherwise the same. My cat will continue her life and forget about me, she's a cat. My interests aren't nearly important enough to continue this pointless life for. There's nothing I want to be around to see, and I won't be able to contribute anything to society. So why should I? Once again, I'm sorry if this makes no sense. I don't know about these things I'm just a stupid thirteen-year-old.
P.S.- Please don't just tell me "It gets better" you don't know that, and you can't prove it. It's such an open phrase. It's the same as saying "I don't have an answer for you, but have this empty promise so I can feel like I'm helping"
"Family" I seem to find my family the reason i'm like this, Yknow, little sisters always have a fit that ends with me getting in trouble when 95% of the time i didn't do anything to them, I try to be nice to everyone, I've found that after 4 failed suicide attempts i'd rather just be alone, i'm too stupid to properly kill myself and being around people makes me feel worse, so being alone doing nothing, in a small room without much food, water, or fresh air, is my best option.
I lift my eyes toward the mountains. Where will my help come from? My help comes from the Lord , the Maker of heaven and earth. He will not allow your foot to slip; your Protector will not slumber. Indeed, the Protector of Israel does not slumber or sleep. The Lord protects you; the Lord is a shelter right by your side. The sun will not strike you by day or the moon by night. The Lord will protect you from all harm; He will protect your life. The Lord will protect your coming and going both now and forever.
Psalms 121:1‭-‬8 . come to JESUS CHRIST he'll take care of you and he'll accept you just as you are . HE Loves all of us Amen
Hey,
I tried to kill myself last week on Monday, it was a very puny attempt but it was the best I could do. Anyway, after a lot of doctors I am getting medicine for depression. However I honestly don't understand why people want to keep me alive. I am expensive non attractive, tired, smart enough to do good in schoo but don't. I'm on new meds, but I am 21 and I really don't want to struggle until I can die at 80. I have goals, but it is only because I am too stupid to kill myself correctly.
Ive typed several complete messages trying to say what i wanted to say. But in the end it doesnt even matter. When you have no loved ones, no family and nothing left to live for, whats the point?
People say things get better. Well im sorry to burst your bubble but ive been trying for 10 years to have a better life. It only gets worse and worse. You know the best part? Life teases you with glimpses of a happy life, year here, or there, where you think youve made it to the top. Only to be dropped back down and even further than before. Sadly o have come to the last drop of my rollar coaster. I submit this to you as a reference. Proof. That life does not always get better and i wished i ended it many years ago.
So basically I'm really suicidal and I can't be bothered to keep going. If I wasn't afraid of it I'd be dead already. I can't think of any reason to go on. I'm neglected by my family, I lost the only person I care about and I'm failing in school. Everyone on the internet says things get better. But I can't be bothered to suffer through however long that takes. It could be 10 years. All I ever wanted was someone to actually show they care about me
When I was younger (I'm 17 now) my parents went through a divorce. My mam got custody and my dad never made any attempt to contact me. No one at home seems to care when Im depressed and on the very rare occasion I get asked if I'm ok. I panic and leave saying that I'm fine because I don't really know how to talk to people and I'm really awkward.
Honestly my whole life has been stressful. Parents divorcing when I was young then moving. After that I got bullied in middle school and slightly in high school. Then exams hit. After that my Granda died. Now a year later and all I think about is how can I die painlessly.
I just need some help. I can't think of any reason to continue and I can't pull myself out of this. I haven't been diagnosed by a doctor or anything because I'm too scared or awkward to actually go and see one but I'm a certain I suffer serious depression. If anyone could just give me some guidance I'd be more than grateful.
I wanna kill myself I have nothing in life I wish I was dead but I'm too scared to die so I need answers I'm in bullied and I don't like myself and everyone hates me everyone says I'm wierd and ugly and I say okay and in my head I say I wanna die I don't what to do plz help m
When your old and all you have lived for the past five decades is ripped from you, you can't replace it with video games.
I am having the worst time of my life at age 51. I need a reason to live. I am isolated in my apartment and there is no reaso for me to be alive. I'm suffering terribly.
Bernie - my heart goes out to you! Through the years when your son used various types of treatment - was there on which particularly stood out as having helped him the most? If yes, then perhaps it might be an idea to try that again...?
I have suffered from depression my whole life. (I am 59 now) There is not one single antidepressant which I have not been on and as I look back over the years, my *sickest* periods where my depression was at it's worst was when I was taking antidepressants.
THIS IS ONLY MY OWN EXPERIENCE SO I HOPE NO ONE WILL WANT TO SHOOT ME DOWN FOR HAVING SAID THAT as I know that there are literally billions of people world wide who were and are being helped on antidepressant treatment.
For me the *worst* medications to use is any kind of anti-anxiety med! If I take one - two hours later I am totally suicidal. The same applies to me if I use alcohol of *any* kind. Alcohol is actually a depressant and so many people reach for it when they feel really down but all it does is to make the persons mood go even lower down.
I reiterate again that what I am saying is the treatments which stirred my own troubled brain into an even worse place!
I have known a number of people who were also totally not helped by any of the AD's and they agreed to have brain shock treatment and today - they all seem to be doing well. (I made the decision to not have brain shocks but if someone is so down - over a long period of time and they have tried everything possible, yes, perhaps look into brain shock.
Have you ever considered admitting your son to the treatment center which Dr Phil often speaks of on his programs? Something to do with 'brain plasticity.' I am sure if you were to write to the program - they can supply you with all the necessary information. A friend of mine - her daughter was also booked into this center. They did loads of blood tests, etc, etc, etc, and it was found that her endocrine system was not working sufficiently, her hormone tests were also really bad - her iron levels were dismally low and once all of the biological issues had been cleared up - her work started with a psychiatrist and psychologist.
I only mention this as perhaps, unbeknown to you, your son might also have a few or loads of biological things which are totally out of whack and in the end - I would think they would be brilliant to advice you how to deal with your son's depression.
It's total nonsense to say that someone who just sits around and to even walk to the kitchen is just lazy. That is a load of bullocks! When I was at my lowest during various depression periods of my life; I did not have the energy to shower, to make a meal for myself, to do necessary chores - I could have happily to just lie on the couch and *never* get off it again! That is simply a sign that your young lad there is in a serious depression.
Sorry I cannot phone my friends daughter who was admitted to that USA center (the one which talks about brain plasticity) as she is on a hiking trip through Brazil so there is no way I can contact her. I know the head of the team of doctors there is called Dr Frank Lawliss. Perhaps you son does not even need brain shock treatment - maybe it's something organic. If you can afford it - I would definitely write to this Dr to see what his opinion would be.
I really think that all you can do now is to just love this young man as best as you can because he sounds so ill - no family member, or silly opinions of others is going to help him. I am sure you can Google, Dr Frank Lawliss and that you will find this particular treatment center via the internet.
My friends daughter made a totally miraculous 360degree change. This child was already on psychiatric medications from the age of 11 - right through till she was 22. She herself was just SO tired knowing that not one pill or potion had been found to cure her that she attempted to end her life one day. Today she is unrecognizable as her depression is totally gone and she is enjoying her life to such a level that no one who could have seen/experienced her before would be able to recognize this incredibly sick and depressed young lady.
I wish you luck with your son because as parents we all desperately want our children to be happy and to enjoy their lives but if something biological, mentally or physical goes wrong and you really have tried most avenues, perhaps this is exactly the place who can show your son that there is happiness and joy in this life.
Wishing you and your son all the best. I believe he CAN become better. He just needs a correct diagnosis!
When my only son died 4 years ago a part of me died too. It seems I've been depressed most of the time since that day and I have totally lost my will to live. I am taking medication for depression but no amount of medication will bring back my son.
I have a son who suffers and has suffered from mental illness since he was quite young. He went through 4 years of therapy, many drugs, help through his school and recently in patient at a mental hospital when he told me he may kill himself. His suicidal thoughts had occurred before. His anxiety and worthlessness feelings leave him unable to move. He is stuck and miserable! My heart is breaking. I don't know how to help him! I feel alone too since everyone close to me/him feels that he uses all his mental problems as an excuse to do nothing. I have gently pushed. Then I back off. Nothing seems to help. He just turned 22 and is lost. I am so worried every day. I know under the smiles I get there is hurt and anger. I am exhausted. He just told me he wants to go to the mayo clinic for some kind of shock therapy! Any advice?
Well done! Great insights! I really hope my young adult daughter can come up with some reasons soon, too. I can see how individualized this can be. -KC
great information. family support is very necessary during mental illness.
Very nice and timely article Becky. Going off what japeth stated - for me it's always been family that provided me the strength to keep going and fighting to see another day.
This a great story. family for me has seen me through very tough time. these are the people who stuck with me all the way. Will always be grateful to each one of them.
Leave a reply