Different Levels of Housing for People with Mental Illness
There are--and needs to be--different levels of housing for people with mental illness. Recently I moved from my apartment into a temporary group home--or, as I prefer to think of it, leapt from the frying pan and into the fire. I've traded a mouse and bedbug infestation for patients who can't control when they go to the bathroom, untrained staff, and staff that sometimes sleep on the job. That said, it beats a homeless shelter. It made me think about the need for different levels of housing for people with mental illness.
Housing Level One: Group Homes for People with Mental Illness
This is the basic level of care, or the most intense of the different levels of housing for people with mental illness. Ideally, staff should be well-trained on how to deal with people with severe mental illness, the facility should be up-to-date and safe, and the clients should be transitioning. Group homes are ideal for those who aren't ready to be independent and need 24-hour care. For example, when I first got out of the state psychiatric hospital, I lived in a group home for about a month.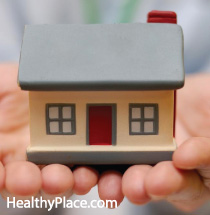 Sadly, the reality is often different, and what a group home consists of usually depends on your state (check with the Department of Health). The group home I was in when I first got out of the state hospital had trained staff (although one was abusive), a secure facility, and was designed to be temporary. The main reason I moved out was because staff saw that I often went out into the community (largely because my room, which shared a wall with the stove, was frequently too hot to sit in). That group home was what a group home should be.
I can not emphasize enough the importance of proper training. In a group home, a client may or may not be capable of understanding their actions. That's why staff should know the person and how to help him/her manage the symptoms of mental illness. This is why I strongly recommend a group home that is affiliated with a community mental health center--you have some idea of what you're getting. Just because a facility is licensed doesn't mean it is good. Make sure the staff are well trained--ask the health department of your state what the requirements for licensing are and ask staff at the group home what kind of training they receive.
Housing Level Two: Supervised Apartment for People with Mental Illness
Also known as cluster apartments, this offers a greater level of freedom than a group home, while still offering the support of trained staff. This is designed for clients who can manage their own symptoms but still need help with some aspect of living. For example, I often forget to take my medication, which is why staff manage my medication. I'm also terrible at managing money, so I have a payee to make sure rent and the bills are paid.
Many community mental health centers (CMHCs) offer this type of living. Again, I recommend going through a CMHC as they will meet or exceed state standards. Check with your state to find out what the requirements for a staff member at a cluster apartment are--and ask the staff. You need to know what you're getting in to.
Level Three: Independent Living for People with Mental Illness
This level of living is basically what a non-mentally ill person has. This is for clients who do not need supervision, be it medication monitoring or payeeship. This is for clients who have demonstrated the ability to be on their own. Not everyone gets to this level--in fact, if you're on disability, you probably won't reach this level.
There needs to be safeguards, but they largely fall on the individual client. It is important to be honest in therapy, keep your psychiatrist up to date on your symptoms, and take your medication. Do this, and your chances of not only surviving but thriving are there. Don't do this, and chances are you'll end up in a supervised apartment, a group home, or in the hospital.
Housing Depends on the Client with Mental Illness
So those are the different levels of housing for people with mental illness. There needs to be more fluid levels of housing for people with mental illness, but that probably varies by state. And the level of supervision a client needs may change throughout life. But regardless of the level of supervision, it is important to have everyone on the same page when it comes to treatment, and it is vital to have an adequately trained staff. Check with the health department of your state for any questions you may have--remember, the more you know, the better your decision will be.
You can also find Becky Oberg on Google+, Facebook, Twitter, and Linkedin.
APA Reference
Oberg, B. (2015, July 7). Different Levels of Housing for People with Mental Illness, HealthyPlace. Retrieved on 2019, August 18 from https://www.healthyplace.com/blogs/recoveringfrommentalillness/2015/07/different-levels-of-housing-for-people-with-mental-illness
Author: Becky Oberg