Isolation: A Double-Edged Sword For The Mentally Ill
One of the casualties of mental illness is often any kind of healthy social interaction. If we aren't careful, we can end up in a vortex of loneliness that serves only to make us feel worse about our mental health and cause our condition to deteriorate. Why do we, as people with mental illness, isolate ourselves?
We know it's not the best thing for us, but sometimes avoiding people is the only way we feel safe. When I'm in a deep depression, I don't feel safe. My posttraumatic stress disorder (PTSD) causes hypervigilance, which makes me feel paranoid and threatened. There is no trust in anyone besides the closest family members, and even they sometimes become a target of my distrust.
I go to my room, lock the door, get in bed and hide from the world. So what's wrong with that? If these steps help you to cope, help you to feel safe, it's fine, right? I say yes, it is fine, sort of. It's only fine to a point. There are times when things are so bad, the best thing is for me to be alone. However, when I make isolation a habit, it becomes unhealthy for me.
Habits, Like Isolation, to Cope With Mental Illness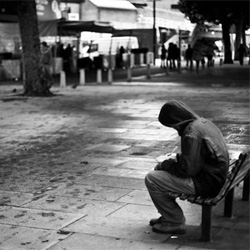 We know there are a myriad of situations in life where we see habits at work. We like the feeling drinking alcohol gives us, so we indulge. Eating our favorite comfort food gives us a tranquil feeling, so we overeat.
These things might seem unimportant, but if we develop a habit out of them, we could soon find ourselves in a deeper pit than before.
All these things can be abused and can cause great damage to our well being. It's the same principle with isolation. While it can make us feel better in the short-term, ultimately, the loneliness it brings to us is unhealthy.
Take Some Steps To Decrease Your Isolation
So how can we fight our urge to isolate? First, we must accept that however good it might feel at the time, isolating ourselves is counter-productive to our well being.
That one is hard for me. Isolation has become my friend, while being my enemy at the same time. I don't like to admit the injurious nature of my isolation.
Second, we must take concrete steps to end, or at least minimize, our isolation. Obviously, these steps will no doubt be small at first, but as long as we are moving toward health and away from unhelpful coping strategies, one inch is as good as a mile.
One way to start might be to reach out to people you haven't talked to or been around for awhile. It's easier to shoot off an email, and that's fine, but if you feel up to it, you could even use the telephone and reach out to just one or two people you feel at least somewhat safe with.
Another way to begin establishing connections is support groups. If actually going to a group is too daunting at first, there are websites such as HealthyPlace. Navigate to the HealthyPlace homepage and reach out in the forums found there, or connect with HealthyPlace on Facebook. So reach out. You can do it.
APA Reference
Ehrmantrout, M. (2014, March 19). Isolation: A Double-Edged Sword For The Mentally Ill, HealthyPlace. Retrieved on 2019, August 25 from https://www.healthyplace.com/blogs/recoveringfrommentalillness/2014/03/isolation-a-double-edged-sword-for-the-mentally-ill
Author: Mike Ehrmantrout