3 Reasons People Die by Suicide When They're Mentally Ill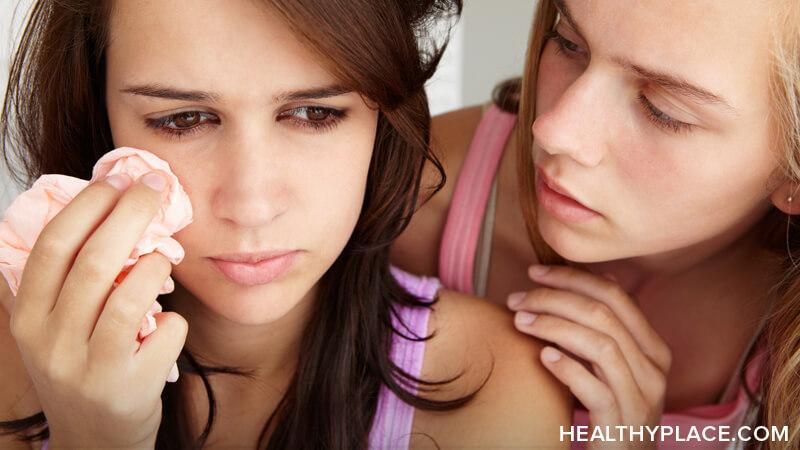 There are many reasons people die by suicide when living with mental illness, but I'm going to focus on three. Suicide is an all-too-common outcome of mental illness, and most suicides have untreated mental illness as a factor. But what drives a person to the edge? What overrides the instinct for self-preservation and causes a person to end it all? I've attempted suicide, and these three reasons people die by suicide hit closest to home for me.
People Who Die by Suicide Have Their Reasons
Three major reasons people die by suicide while living with a mental illness are to escape from symptoms, delusions about one's mortality, and an overreaction to extreme stress.
Reason for Suicide #1: Escape from Symptoms
Most people who die by suicide don't want to die; they want to feel relief from their symptoms such as an overwhelming sadness or hearing voices. When these symptoms are intense and chronic, it may seem like they'll never end, and suicide may seem practical. The person wants to feel better, and belief in an afterlife may fuel the decision to end his/her life. Typically, whenever I have seriously considered suicide, it has been to escape from symptoms.
This is the reason people considering suicide may suddenly seem to feel better--they've made the decision to end it and they're relieved that the pain will end. Friends, family, and treatment teams should be wary of any sudden improvement in mood and ask, "Are you considering suicide? Do you have a plan? Do you have the means? Do you have a time?"
It is a myth that talking about suicide encourages it. Talking about it may very well save the person's life.
I've attempted suicide three times and have known four people who've died by suicide. Each time, for me anyway, it has been preceded by intense psychiatric symptoms. Some people will do anything to escape from the symptoms--including rash measures (Cause of Death: Bipolar Disorder, Mental Illness). The best way to fight this is to get someone who's been there to talk to the person--when one person who's survived it says it gets better, the person considering suicide is more likely to listen. And it usually does get better--treatment does work, even if it takes a while.
Reason for Suicide #2: Delusions About One's Mortality
Sometimes suicides are unintentional. The person did not intend to die. Maybe it was a cry for help that went horribly wrong, or the person snapped out of it after making the attempt, or the plan was more lethal than calculated. But whatever the reason, the person did not think he or she would die, usually because of delusions about one's mortality.
For example, in 2000, I attempted to set myself on fire. I have no clue why, and to this day I have no better explanation than, "It seemed like a good idea at the time."
I had no intention of dying, even though I very well could have. I simply wanted to self-injure in a bad way and setting myself on fire made perfect sense. Had it not been for the timely intervention of the police, I could have died simply because I didn't think I could.
If it reaches this point with the person, you probably won't be able to reason with him or her and should call his or her treatment team or the police as quickly as possible. I'm not a fan of calling the police on people in crisis because it can end badly, but telling the police the person has a mental illness, asking them to send an officer with mental health training, and telling the police what scares the person may make the difference between a suicide by cop and a life-saving hospitalization.
Reason for Suicide #3: Overreaction to Extreme Stress
Stress is a major factor in mental illness, whether it is the cause or a symptom. The more extreme the stress, the more likely the person is to have a negative reaction, up to, and including, suicide. Some examples can be worrying over one's sexuality, joining the military, divorce, or watching your life's dream go up in smoke. Whatever the stress, suicide is an overreaction because the extreme stress is temporary. The best way to fight extreme stress is for people to intervene until the danger is past. Sometimes that can be a simple conversation, other times hospitalization is best.
The people I've known who've died by suicide all had intense life stressors present at the time of their deaths. To them, suicide seemed logical, when to those of us left behind, it was an overreaction to a long-lasting but still temporary problem.
And ultimately that's what suicide is--an overreaction to mental illness. Help is available if you ask for it. You don't have to die to feel better.