Bipolar Disorder and Faking Happiness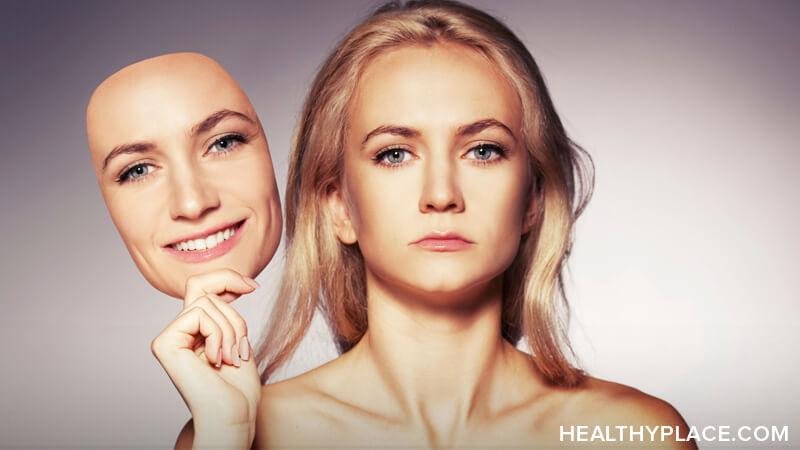 Because of my bipolar disorder, I fake happiness – a lot – like, all the time; like, every time I leave the house. This is due to several factors but, obviously, one of the primary ones is that I, typically, am not actually happy. I am, typically, depressed. And people don't like that. People don't like constantly-depressed people. So my bipolar disorder forces me to fake happiness.
Everyone Fakes Happiness – Bipolar or Not
Now, I know that everyone fakes happiness from time to time. It's normal. Not everyone wants to wear their emotions on their sleeve and so they cover them up through acting. I get this.
I think the difference between the average person with the average faking of happiness and me is that I have to do it virtually all the time.
Why Fake Happiness with Bipolar Disorder?
I actually think faking happiness is a critical bipolar disorder coping skill. I know it just sounds like lying, but actually, it allows you to interact with others, socially, in a successful manner. If all I did was interact with people while radiating depression, people would be repelled and, quite frankly, get tired of me over time. Yes, you can be authentically depressed and show that bipolar depression to others, I would just suggest that you can't do it constantly. It's too stressful for the other people.
When I Can't Fake Happiness in Bipolar Disorder
That said, there are definitely times when I can't fake happiness because the bipolar disorder is just out of control. I acknowledge this. This sucks for me and those around me, but it happens.
The Problem with Having Bipolar and Faking Happiness
There are problems with having bipolar disorder and faking happiness all the time. They are problems that other people don't appreciate because they're just glad you're not emitting doom and gloom. Problems with faking happiness constantly include:
Feeling like a fake and a liar
Feeling like no one knows the real you
Not working out real emotions
Being freaking exhausted all the time because of the effort
Not wanting to leave your house because of the effort required to fake happiness
I'm sure there are other problems with faking happiness in bipolar disorder, too, but those are what leap to mind.
Expressing Authentic Bipolar Disorder Emotions and Not Faking It
Like I said, I actually think this skill is important for successful interactions with people. Rightly or wrongly, I think it is. That said, there has to be a time and place when you are the authentic you. And, yes, when you're alone you might be the authentic you, but you need to be able to express that in front of someone else, too. Not all the time. Not constantly. But sometimes, somewhere, it's important to feel like the real you.
Acting like the authentic me and expressing the emotions I'm genuinely experiencing is very hard for me. I know how to fake it, I don't know how to deal with tsunamis of bipolar emotions. I know those emotions can drown me instantly, and I don't want them drowning others. I don't trust that I can be my authentic self and not hurt the other person. I'm scared of that. Faking happiness feels like the safer option.
That said, I still recognize the importance of emotional honesty. I'm trying to work on expressing it in small and safe ways (you can start with honesty in front of a pet, or through art and work up to people). I know that in spite of my worries some people can handle it, I just have to trust in that.
So yes, bipolar disorder forces me to fake happiness so often it hurts, but I can't let it force this lie all the time. Everyone needs to be able to truly express themselves and those with bipolar disorder are no different.
APA Reference
Tracy, N. (2017, September 5). Bipolar Disorder and Faking Happiness, HealthyPlace. Retrieved on 2019, July 17 from https://www.healthyplace.com/blogs/breakingbipolar/2017/09/bipolar-disorder-and-faking-happiness
Author: Natasha Tracy
Hi Laurie,

Unfortunately, I suspect you are dealing with a situation with multiple aspects.

1. You're dealing with a teen. This can always be challenging.
2. You're likely dealing with someone with little emotional intelligence (this develops in time).
3. You're dealing with a person with bipolar disorder.

All three things are difficult and a product of being a young person with bipolar disorder.

I think the best thing to do when emotions are running high is to involve an uninvested third party, i.e., a therapist. It's unlikely that you will be able to resolve the situation on your own. Help is a really good idea.

With regards to anger in general, it's best to talk to the person about her anger when she is not angry. It's best to try to appeal to her logical mind and talk about what is reasonable when one is angry and what isn't. She needs to make these decisions for herself as she needs to live with them. Again, doing this with the help of a therapist is a good idea.

The situation you're in is tough and you and your daughter both need more tools to deal with these kinds of situations.

Also, I have written a book on living with bipolar and it would be a good idea if you and your daughter read it together. You can find it here: http://amzn.to/2o6fiVf Of course, many other books are also available.

It's really hard when you're young with bipolar and it's really hard for the people around you but I can tell you that it will get easier with more tools and time.

- Natasha Tracy
Leave a reply