Mental Illness - Does It Get Better or Worse?
I'm sitting on my red, plush couch in my living room and I have started crying. Tears well in my eyes at first while I try to convince them not to roll down my face and splash the back of my glasses. As usual, the tears don't listen and soon my cheeks and lips and chin are wet with saline. I take off my glasses and put them on the wenge coffee table and my head falls into my hands. Loud crying now, choking sobs wrack my body as I feel the pain of illness that I had been pushing away for so long beat me once again.
And I wonder – will it get better?
I Hate Bipolar Disorder
I hate this disease. I hate it with the fiery hatred of a thousand suns. I hate the pain. I hate the suffering. I hate the loneliness. I hate the tears. I hate the blood. I hate everything that bipolar disorder brings to a life.
But Does it Get Better?
I've been doing this for 14 years and yes, it gets better. And then it gets worse. And then better, and then worse. The illness is like that. It moves in cycles.
And if you've been doing this for a while you know it's true. You know that when you are at the lowest of your lows, you have climbed back out of the hole only to see glimmers of hope again. These glimmers might be infrequent, I know, but they're there.
Yes, It Gets Worse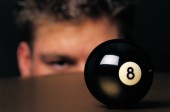 But living with the idea that it gets worse again is almost impossible. It's clearly not impossible because I do it, but it's as close to impossible as one thing can get. Knowing that the pain is coming is like waiting on the tracks for a freight train. It'll shred you to pieces, sometime, somehow, and yet you can't move.
Living with This Knowledge
Knowing then, that I will get better, and I will get worse is quite a challenge. I know of only one thing for it – to lie. Or perhaps, put another way, to ignore it.
When it's bad, you have to think about the fact that it will get better and ignore the fact that it will get bad again. Knowing that you'll be back to the swells of pain that have swallowed you whole won't help. Not then.
When it's good, you have to ignore the fact that it will get worse again. You have to plan for it and yet your psyche can't sit around waiting for it. There'll be time enough to worry about the freight train once it's on the horizon.
I know this adds up to willful ignorance and denial – which usually I'm against. But I know no other way of living with such earth-destroying information. Just try not to think about it.
You can find Natasha Tracy on Facebook or GooglePlus or @Natasha_Tracy on Twitter.
APA Reference
Tracy, N. (2012, April 2). Mental Illness - Does It Get Better or Worse?, HealthyPlace. Retrieved on 2019, July 17 from https://www.healthyplace.com/blogs/breakingbipolar/2012/04/mental-illness-does-it-get-better-or-worse
Author: Natasha Tracy
Faye,

That's a good attitude. I say enjoy today. You deserve it. (And don't worry, you didn't say anything mean, you were just being honest.)

- Natasha Tracy
Leave a reply