Bipolar Disorder and Working From Home Tips (#1 - 3)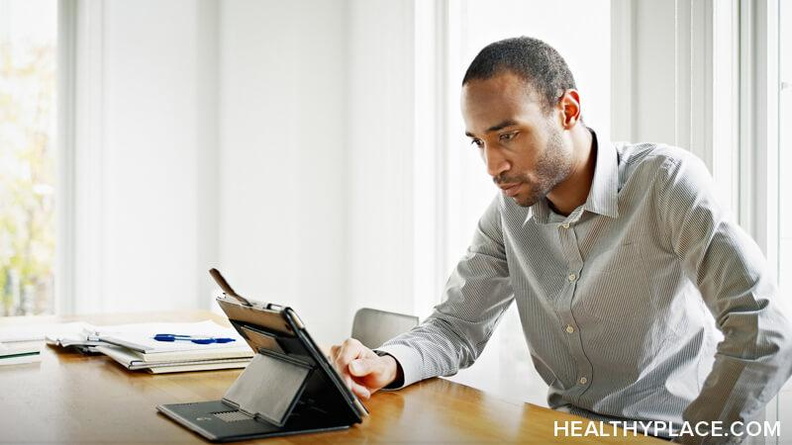 I, like many, no longer work in an office; I work from home. My commute each morning goes something like: bed, to the bathroom, to the kitchen, to the couch, to the desk. Barring a traffic jam between my cats and me over the milk, it's a pretty quick affair. And while working at home does have many advantages for someone with a mental illness, working from home with bipolar disorder also poses its own challenges.Even working from home, I don't want to work! But how many days do you wake up singing your company song? How many days do you run from your car into the office because you just can't wait to get started on that month-end report?
What? None you say? You're obviously a bad employee.
Or, you know, a normal one. Normal people don't really want to work.
Downsides of Working From Home With Bipolar Disorder
When you go to work at an office each morning, you get into a routine of waking up, getting ready, getting into the car/bus/whatever and walking through the office doors. You might do so begrudgingly, but there's really no question that you'll do it. And besides, you can enjoy your break with friends and go out after work for a beer. Once you get over the critical need for caffeine, you're set.
The trouble is, in my apartment, there is no one to have a break with or get a beer with after work (even if I could drink alcohol, which naturally, I can't). So those little things that make a work day a bit nicer aren't available in an apartment for one.
So understanding that there are more distractions at home, less social interaction, less to look forward to and less motivation, how does one successfully work at home?
Keys to Working at Home With Bipolar Disorder
1. Create a place to work at home.
It's much easier to make your brain work when it's sitting at a desk intended for work and not, say, eating dinner. Even if you have no office, make a place where you only do work. This creates a psychological cue in your brain that says, "every time I sit here, I work." (A good chair is pretty essential too.)
2. Create a work at home routine.
Get up and start work at the same time every morning. You have to be at work at 9 AM in an office, so start work at 9 AM at home. Even if you don't feel like it. Do it anyway. This is where your stubbornness comes in. You don't get to skip work just because you are CEO and president of YouCo.
3. Put away distractions.
For some of us, our minds are way too easily distracted by shiny objects. Put away desk toys, books, the TV, cats, food and anything else that might get in your way. (You don't have to put away the cat, but you might want to make sure she's not on your lap.) Close every program on your computer that isn't required for the task at hand.
Yes, other people work in coffee shops but unless you don't mind spending half of your time ogling the cute barista, working at home is generally more productive. Remember – you have a limited amount of time and energy on your hands, less than other people, use it on work (not ogling). (Unless you get paid to ogle in which case, where can I sign up?)
(As a bonus tip: I find that white noise helps kill the distractions in my brain. My Roomba runs and the noise is perfect to shut up the voices in my busy brain.)
Tips #4 - #10 on working from home with bipolar disorder next week.
You can find Natasha Tracy on Facebook or @Natasha_Tracy on Twitter.
APA Reference
Tracy, N. (2011, February 3). Bipolar Disorder and Working From Home Tips (#1 - 3), HealthyPlace. Retrieved on 2023, October 4 from https://www.healthyplace.com/blogs/breakingbipolar/2011/02/bipolar-disorder-and-working-from-home-12
Author: Natasha Tracy
One thing that nobody seems to talk about, yet is everywhere you look. Yes, it is embarressing, but it is also said to be a natural part of life. Sex. I feel such guilt about even saying this, and fear that is gripping me right now. As I have said, I am a rape survivor, as well as other things done to me sexually, so I have this huge fear of it, and at 56 I have only had sex 5 or 6 times. But even those, all but 2 times I was drunk, stonned on somthing, and even then, I seemed to not totally be there, out of fear and self hatred, but there is a deep desire for sex, and even more for a partner who will love me, even if I am broken.
Hi Art,
Reading and retaining can be improved with training, if that's something that's important to you. The brain is pretty malleable that way. At its most basic level, the more you do it, the better you get at it.
(I do understand that diminishment may create less motivation because it's hard to know where you are compared to where you've been, but try to skip the comparison and just work with where you are today.)
As for working at home, I'm a writer, so it's kind of our bag. As for others, it depends on your skill set. I'm a techie and I'm familiar with programmers working from home. However, I'm sure there are many opportunities out there I'm not aware of. You might be able to sign up with a contracting agency and see if they know of opportunities.
- Natasha
Greetings,
The thought of working at home has intrigued me over the years but I find that I have certain bipolar drawbacks that I can't seem to find a way to get around.
First, my ability to "read & retain" has become so diminished that using my reading skills in business is so very limited. Just to read 22-pages of a chapter in a book that I am reading takes literally - hours and then the ability to absorb the content of those 22-pages is next to impossible.
Secondly, with all the work-at-home scams out there, how do I find a legitimate work-at-home business that caters to my strengths and becomes actually profitable?
I am so appreciative that a friend showed me your article ... With my deepest thanks...
Art
Hi Idy,
Thanks, glad the advice helped.
No, that's not my desk, but I think it looks like a "home office type area" that reasonable for most of us. I actually have a spare room that's a guest room/office. _Tiny_ desk, but good chair and the important part - it's an individual space.
- Natasha
Good advice. For the home office worker, and for those who write. When I'm writing, I don't allow myself to use Facebook and other distractions either. I use them for a reward during breaks though. I like your little office "area" idea. Is that a picture of your desk? I have a sewing room in our third bedroom, and you've inspired me to move the sewing machine to another spot (unless I'm going to sew), and make that area an office space with a bulletin board over it. That way I can close myself up from the distractions in the rest of the house: husband, son, dogs, TV, kitchen chores, etc. Looking forward to your next installment.
Leave a reply