Tips on Working From Home With Bipolar Disorder (#4 - 10)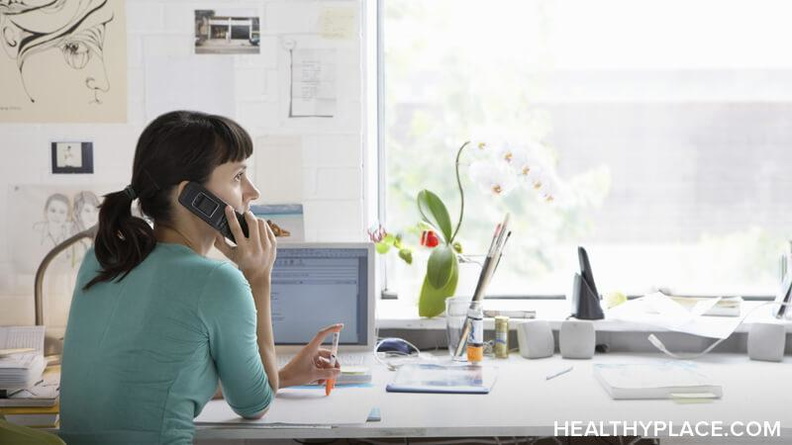 Naturally, as you've read part one of bipolar disorder and working from home from last week you've already created a workspace at home, created a work routine and put away distractions. Now you're all set for tips on getting actual work done at home, with a mentally ill brain.
Working From Home With Bipolar: How to Get Work Done
4. Work in chunks.
I get tired really easily and one of the benefits of working from home is I can work in chunks. I tend to work from 9-2 and then from 5-8. That's just me. You might have 3 chunks or 5 chunks. Whatever works is fine as long as you can keep some kind of set schedule. A schedule is important because you need this to hold yourself accountable. (You might even want to spread it out over the weekends so every day has a smaller number of hours.)
If you can't work every chunk, don't. There is a difference between "can't" and "don't want to". If you just don't want to work a chunk then put a black mark on your employee evaluation. If you can't, then give yourself a break.
Do what you can every day and know that is your best for that day. Then start the next day and get back on schedule.
5. If you're in a groove, don't stop.
Much as in the office, if you're feeling like you're on a roll, don't stop. You'll need this extra time later on for when you're sick.
6. Work when the mood strikes.
Don't feel like you can't work outside "work hours," you can. If you do that means you can take that time off later.
7. Don't overwork yourself.
Just because your "office" is three feet from your TV and five feet from your kitchen doesn't mean every time you get up to get a glass of water during a commercial break, you have to check your email. You need time off too. If you overwork yourself today, you'll be useless tomorrow. Mental illness tends to multiply the effects of overwork.
8. Set the budget for sick days.
If you're working at home you're probably working for yourself which means no one is going to be giving you sick days. However, unlike the mentally well population who can brag they haven't taken a sick day in five years, you're not going to be able to say that. You're going to need to be ahead of where you need to be in order to be on time when illness strikes. (And possibly take a day off for previous sentence analysis.)
9. Be gentle with yourself when you fail.
You'll forget these things. You'll have days when you don't work. You'll have days when you're sucked into the TV. You'll have days when the work is crap. That's Okay. You're human. No need to apply additional pressure, you're under enough already.
10. Be stubborn.
Any kind of work with any kind of illness is hard. I spend my day working and then resting just so I can work again. That totally sucks. (That leaves me absolutely no barista ogling time.)
But if your brain doesn't work well enough to stick to eight straight hours, and you need to work to make the rent, then suck it will have to. Acknowledge said suckage, and move on; you have work to do.
You can find Natasha Tracy on Facebook or @Natasha_Tracy on Twitter.
APA Reference
Tracy, N. (2011, February 7). Tips on Working From Home With Bipolar Disorder (#4 - 10), HealthyPlace. Retrieved on 2023, December 7 from https://www.healthyplace.com/blogs/breakingbipolar/2011/02/bipolar-disorder-and-working-from-home-22
Author: Natasha Tracy
I appreciate your informative blog. I have bipolar and it has been a struggle to work
I really enjoyed your blog. I too have bipolar and work from home.workingathomewithbipolar.blogspot.com
Leave a reply