How I Handle Bipolar Disorder and Working in an Office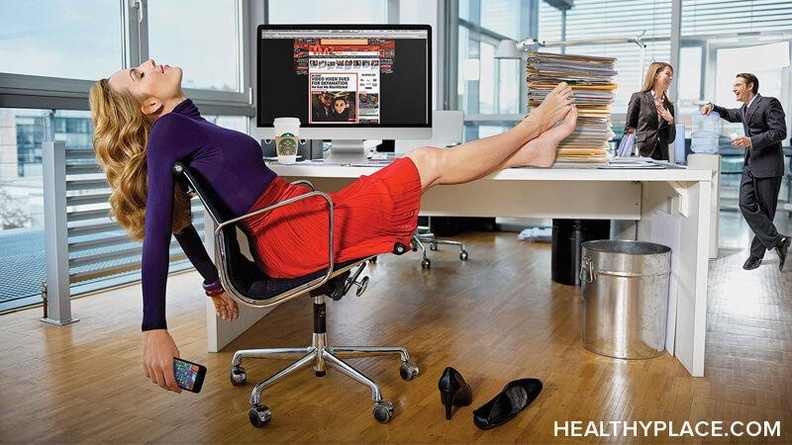 I was asked about how I have continued to work even through major bipolar storms. I found when I wrote about this topic, pages and pages were filled, so we're splitting it in half. Today is part one: how to work an office job with bipolar disorder.
Some of you know I've had office jobs in the tech industry for most of my working career and only recently made a shift. And in those years I've had various severities of bipolar disorder. And what I've learned is this: working with bipolar disorder comes down to one thing - being stubborn.

Be Stubborn to Make Office Work Easier When You're Bipolar
So no matter how painful, stressful or horrible work might be, I'm prepared to do it because, well, that's what you do. You make a living to support yourself. Period. It's amazing what you can do when you have to. Going on disability is not something I ever considered. I'm not saying it isn't the right choice for many people, but for me, working was a foregone conclusion.
But working in an office situation with bipolar requires a high pain tolerance. I have developed a very high pain tolerance.
Tips on Working in an Office With Bipolar Disorder
(As an aside, I suggest being very careful about telling employers about your mental illness.)
1. When you can work, work like the Dickens.
When I can work, I work. I'll work extra days and overtime to get massive amounts of work done. I need to overachieve when I can to make up for the times when I inevitably underachieve. I need to impress my boss, my coworkers and anyone else who will listen during these times. I absolutely make the most of those times.
Yes, this generally means sacrificing a social life and everything else. Hypomanic periods are perfect because I can work at the speed of light. I focus that energy on making a living. It's priorities.
2. Use your energy for work.
I have a finite amount of energy and if I'm going to work I need to spend that energy on work. I have less energy than other people which means that when I walk through my door at home at the end of the day, I'm likely to be a wreck. That's the price I pay.
3. Make reasonable accommodations for your illness.
I make accommodations for my depression and side effects. In my office, I would close the door, turn off the lights so no one thought I was there, and lay on the floor. On occasion, I could nap but generally, I just laid there for a few minutes. Sometimes I spent time crying alone in my office in the dark. But if that's what it took to get through the afternoon, then that's what I did.
4. Use sick days if you need them.
And yes, I took sick days when I was just too mentally ill to go to work. I would also leave work early if I was nonfunctional.
No one has to know why you're sick, only that you are.
5. Suck it up.
I know, people don't like this idea, but for me, it's just about accepting the pain and doing it anyway. Yes, it's going to suck. Yes, it's going to hurt. Yes, I'm going to hate it. But I'm going to do it anyway.
Did I mention the key was being stubborn?
All of This Might Be Wrong for You
These are the things that I have done. These are the things I think about. I'm not saying that people should, or even can, follow in these footsteps. But you asked, and I answered. If you're as stubborn as I am, or you have a lower-stress job, you might have a shot.
You can find Natasha Tracy on Facebook or @Natasha_Tracy on Twitter.
APA Reference
Tracy, N. (2011, January 31). How I Handle Bipolar Disorder and Working in an Office, HealthyPlace. Retrieved on 2019, July 21 from https://www.healthyplace.com/blogs/breakingbipolar/2011/01/bipolar-disorder-and-work-in-the-office
Author: Natasha Tracy