A Guide for Exercising When Depression Keeps You in Bed
Here's what's happening on the HealthyPlace site this week:
---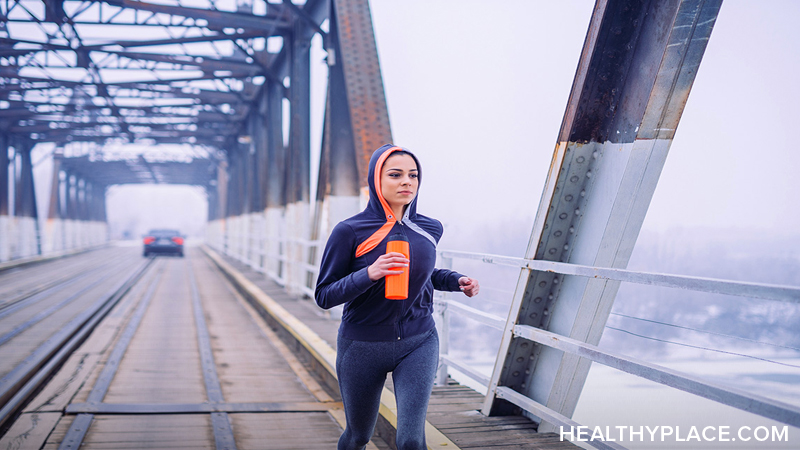 A Guide for Exercising When Depression Keeps You in Bed
Doctors and mental health professionals agree: Physical activity, including exercise, is high on the list of effective treatments for depression and nearly every other mental disorder. This is great, unless you are experiencing depression so all-encompassing and severe that getting out of bed is excruciatingly difficult.
The good news is that exercise isn't an all-or-nothing thing. You don't have to compete in a triathlon to reap mental health benefits. Use this guide for exercising even when depression keeps you in bed:
Establish your mindset. What will be better when you exercise to decrease depression?
Move while in bed. Several times throughout the day (set alarms to remind you), gently stretch and wiggle from toes to the top of your head. Curl your toes. Then flex your feet. Next, roll your ankles. Continue this way up to your head.
After several days, add a bit to your movements. Stand up and stretch. Walk a few steps.
Gradually increase the steps you walk and the time you spend moving.
Give yourself permission to progress at your own pace, because with depression, physical activity isn't easy.
With physical activity like this as part of your overall depression treatment plan, and with patience and persistence, you will gradually gain the upper hand over your depression.
Related Articles Dealing with Exercise and Mental Health
Your Thoughts
Today's Question: How do you motivate yourself to exercise when depression makes it hard to do that? We invite you to participate by sharing your thoughts, experiences, and knowledge on the HealthyPlace Facebook page and on the HealthyPlace Google+ page.
From the HealthyPlace Mental Health Blogs
On all our blogs, your comments and observations are welcomed.
Feel free to share your thoughts and comments at the bottom of any blog post. And visit the mental health blogs homepage for the latest posts.
------------------------------------------------------------------
From HealthyPlace YouTube Channel
I'm Hannah. I Have Bipolar 2
Bipolar and Therapy: Believe Me, It's Helpful
When you live with bipolar disorder, going to therapy consistently is necessary but not always easy. It is difficult to find a therapist you not only feel comfortable with, but someone you can trust with some of the most personal parts of your life. It is like telling a stranger your deepest secrets and hoping they don't use it against you. This is the type of mentality I had for years, but that was until I found the right therapist.(Watch Hannah and subscribe to the HealthyPlace YouTube channel for more great mental health videos.)
------------------------------------------------------------------
Most Popular HealthyPlace Articles Shared by Facebook Fans
Here are the top 3 mental health articles HealthyPlace Facebook fans are recommending you read:
If you're not already, I hope you'll join us/like us on Facebook too. There are a lot of wonderful, supportive people there.
------------------------------------------------------------------
Mental Health Quote
"Do not judge my story by the chapter you walked in on."
Read more mental health stigma quotes.
------------------------------------------------------------------
That's it for now. If you know of anyone who can benefit from this newsletter or the HealthyPlace.com site, I hope you'll pass this onto them. You can also share the newsletter on any social network (like facebook, stumbleupon, or google+) you belong to by clicking the links below. For updates throughout the week, circle HealthyPlace on Google+, follow HealthyPlace on Twitter or become a fan of HealthyPlace on Facebook. Also, check out HealthyPlace on Pinterest and share your mental health pins on our Share Your Mental Health Experiences board.
APA Reference
Peterson, T. (2018, October 1). A Guide for Exercising When Depression Keeps You in Bed, HealthyPlace. Retrieved on 2023, October 3 from https://www.healthyplace.com/other-info/mental-health-newsletter/a-guide-for-exercising-when-depression-keeps-you-in-bed
Last Updated: October 2, 2018