Schizoaffective Suicidal Ideation Is Very Frightening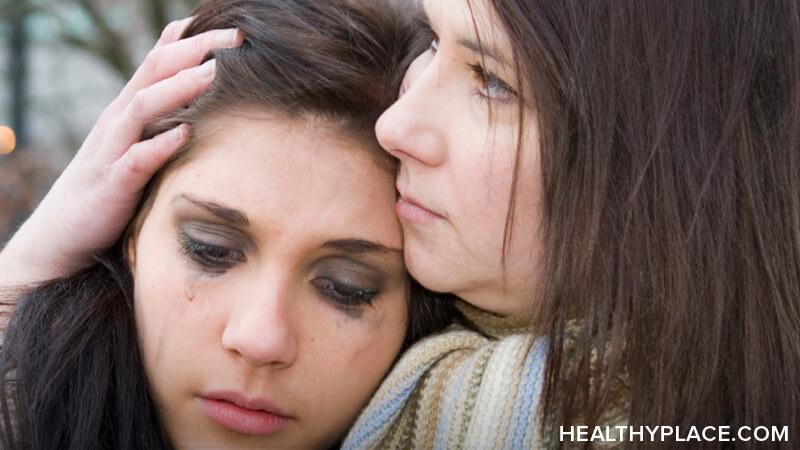 I suffer from schizoaffective suicidal ideation. I've never made an attempt on my life, and I've never had a plan to end my life. But I think about doing so. I think about it a lot. I think about it so much that I've gone to the emergency room multiple times, and have even been hospitalized for schizoaffective suicidal ideation ("Importance of Effective Treatment for Suicidal Ideation").
Schizoaffective Suicidal Ideation Makes Me Fight Hard for My Life
Schizoaffective suicidal ideation makes me fight hard for my life. I really do have a lot to live for—I have a loving family, including a wonderful husband. Also, I've had friends who died by suicide, and I've seen what it did to their families. I don't want to do that to my family.
The trouble is, that despite my wonderful life and my wonderful family, my schizoaffective disorder keeps me from enjoying my life and my family at times. Specifically, the generalized anxiety disorder that accompanies my schizoaffective disorder keeps me from enjoying things. I'm disappointed in myself for all that I'm afraid to do. And when it gets to be too much, I experience schizoaffective suicidal ideation.
I'm not sure what keeps me on the side of suicidal ideation and prevents me from not falling into acute suicidality. Plenty of people who have been very blessed with success and with loved ones die by suicide.
Reaching Out to Others About My Schizoaffective Suicidal Ideation
As I said, I fight hard for my life. I reach out to people when I'm having suicidal thoughts. When I was having suicidal thoughts on a recent family vacation, I talked to my mom about them. We went for a walk and she gave me a medallion that used to belong to her mother, someone I loved who has now passed on. She said it was to remind me that people love me and are looking out for me.
In the past, I've sent out emails to people I'm close to and asked them to tell me what they love about me. I keep the replies to these emails in my inbox.
I Need a Vacation from My Schizoaffective Disorder
Recently, my psychiatrist and I made the difficult decision to increase my antipsychotic medication even though doing so might cause weight gain. We did it because of my schizoaffective suicidal ideation.
What I really need is a vacation from my illness. No one seems to understand why it's so hard for me to do simple tasks like shower and drive. In a way, these high expectations have forced me to be a better version of myself. I graduated from The School of the Art Institute of Chicago and earned a Master of Fine Arts degree at Columbia College Chicago. I got—and stayed—married. I quit smoking.
The good news is that the antipsychotic change is working. My schizoaffective anxiety is easing up. I'd much rather be heavier and calmer. I still continue to fight hard for my life when I do have suicidal thoughts. When one of my friends, who had been battling mental illness as I do, died by suicide, his mother said to me, "He wasn't as strong as you are."
And then his father hugged me and said, "Stay strong."
I intend to do just that. But I know it's not just about strength. I know the friends I've lost were strong in many ways. But the gift my friend's parents gave me, knowing how I suffer, keeps me going.
If you feel you may hurt yourself or someone else, call 9-1-1 immediately.
If you need help with distressing thoughts (including suicidal thoughts), call the National Suicide Prevention Lifeline at 1-800-273-8255
For more information on suicide, please see our suicide resources here.
APA Reference
Caudy, E. (2018, September 27). Schizoaffective Suicidal Ideation Is Very Frightening, HealthyPlace. Retrieved on 2023, December 1 from https://www.healthyplace.com/blogs/creativeschizophrenia/2018/9/schizoaffective-suicidal-ideation-is-very-frightening
Author: Elizabeth Caudy
Hi Elizabeth, my name is Daniel and I have a diagnosis of schizoaffective disorder and anxiety disorder accompanied with major depression. I just discovered your blog. Some weeks ago I attempted suicide with overdosing on all my medications and barely survived... my fiance found me convulsing on the floor. I was in the Intensive Care Unit then I was transferred to the psych ward of the hospital. I'm feeling stable now and ready to tell my story to the world as you have so bravely done here. Reading your blog here made me feel that I'm not alone in this intense struggle and I just wanted to thank you. I would appreciate an email from you suggesting how I can get started blogging and what site to blog on. Any suggestions please. Anyway I will continue to follow your blog and please keep strong yourself! Thank you.
Daniel
Hi Daniel--
Thanks for your comment. First of all, I'm glad you're feeling stable now but in case you feel suicidal again, here is a link to suicide hotline phone numbers: https://www.healthyplace.com/suicide/suicide-hotline-phone-numbers/. You are definitely not alone in this struggle--always remember that. I'm honored that my blog made you feel less alone. There are lots of great blog sites out there--just google "blog sites" and you'll find tons of information on what you're looking for. Take care of yourself--you just survived a suicide attempt and that is a big deal. I am sure you will find a blog site you like and you can start telling your story.
Leave a reply