Fall Activities Can Ease Depression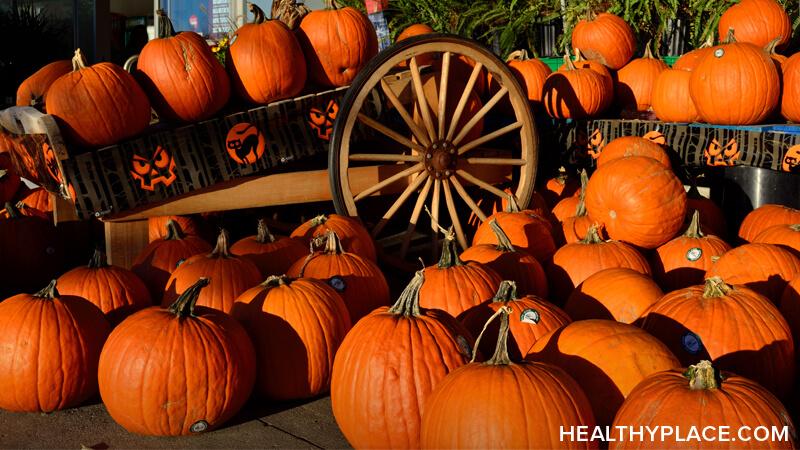 Why do fall activities help depression? For many of us, myself included, our depression causes us to feel as if life is merely one long, monotonous trek we have to muddle through; days turn into weeks that turn into months that become seasons, and before we know it, another year has passed without our truly noticing or caring. One way this is evident is when we no longer enjoy the holidays or seasons that we used to enjoy. So, how can we find pleasure in favorite seasons or activities again? How can we keep depression from interfering with our pleasure? We have to actually make a plan for fun fall activities with depression.
Make a List of Fall Activities to Fight Depression
Fall has always been my favorite season, yet now it seems to have lost some of its magic for me. This is because my depression hangs a dark cloud over everything. Fall seems to come and go without its former glory. This year, however, I've created a schedule of fall activities to make sure I create opportunities to restore my love of the season. I won't allow depression to steal my fall fun this time. Here is the list I've made:
Rake. Yes, I like to rake. It's a good exercise. It's nice to be outdoors on cool, crisp, fall days. Plus, these are activities that can naturally ease depression: exercise and being outside.
Visit a pumpkin patch. I love pumpkins. I love decorating with them. I love carving them. I love baking with pumpkin. You get the picture. Going to the patch and looking out at a sea of pumpkins makes me happy. Choosing some to take home is fun and lets me know that fall has truly arrived. 
Drink pumpkin spice lattes. This is my go-to drink of fall. If I'm having a rough day with my depression, I take comfort in the warmth of this latte with its autumnal flavors. I savor it and find at least a few moments of peace.
Sit around a campfire. I find it soothing to sit around the fire alone with my thoughts. I can sort through things and work out some of the struggles I'm going through with my depression. It's also fun to gather around the campfire and laugh and talk or tell ghost stories with friends. Sometimes we even roast marshmallows and have s'mores. 
Watch football. I am a fan of college football. On Saturdays during fall, you'll typically find me watching football on TV or occasionally in a stadium watching a game. This is an activity my husband and I enjoy together, although we root for different teams.
Cuddle up under a blanket and watch scary movies and TV shows. October is my favorite month of the year, so I make sure to take full advantage of all the creepy offerings around Halloween. I enjoy horror movies and thrillers as well as suspenseful movies and TV shows. They provide a distraction from my depression and sometimes that can be exactly what we need. 
Go to haunted houses, hayrides, and corn mazes. Another one of my favorite fall activities is to go somewhere and get scared. I love seeing the costumes and decorations that people put together. Plus, it's a good adrenaline rush, too, although I typically end up laughing at everything and everyone. 
Attend a spooky play. I'm planning to attend a performance of Dracula with my family. This is scheduled for a few days before Halloween. I'm really excited about this fun fall activity. 
Since I've made this schedule of fall activities, I'm already feeling more encouraged about this autumn season. If you're stuck in a rut due to your depression, try making a schedule of activities you enjoy and have friends or family hold you accountable for sticking with your plans. I'd love to hear from you about your fall activities that scare depression away.
See also:
APA Reference
Smith, J. (2018, September 26). Fall Activities Can Ease Depression, HealthyPlace. Retrieved on 2023, December 2 from https://www.healthyplace.com/blogs/copingwithdepression/2018/9/fall-activities-can-ease-depression
Author: Jennifer Smith