Paxil (Paroxetine) Patient Information
Find out why Paxil is prescribed, side effects of Paxil, Paxil warnings, effects of Paxil during pregnancy, more - in plain English.
Generic name: Paroxetine hydrochloride
Brand name: Paxil
Pronounced: PACKS-ill
Paroxetine Full Prescription Information
Paxil Medication Guide
Why is Paxil prescribed?
Paxil relieves a variety of emotional problems. It can be prescribed for serious, continuing depression that interferes with your ability to function. Symptoms of this type of depression often include changes in appetite and sleep patterns, a persistent low mood, loss of interest in people and activities, decreased sex drive, feelings of guilt or worthlessness, suicidal thoughts, difficulty concentrating, and slowed thinking.
Paxil is also used to treat obsessive-compulsive disorder (OCD), a disease marked by unwanted, but stubbornly persistent thoughts, or unreasonable rituals you feel compelled to repeat.
In addition, Paxil is prescribed for panic disorder, a crippling emotional problem characterized by sudden attacks of at least four of the following symptoms: palpitations, sweating, shaking, numbness, chills or hot flashes, shortness of breath, a feeling of choking, chest pain, nausea or abdominal distress, dizziness or faintness, feelings of unreality or detachment, fear of losing control, or fear of dying.
Paxil can be prescribed for generalized anxiety disorder, a disease marked by excessive anxiety and worry that persists for at least 6 months and can't be easily controlled. True cases of generalized anxiety disorder are accompanied by at least three of the following symptoms: restlessness or a keyed-up or on-edge feeling, a tendency to tire easily, difficulty concentrating or spells when the mind goes blank, irritability, muscle tension, or sleep disturbance.
Paxil can be used in the treatment of social anxiety disorder (also known as social phobia), a condition marked by shyness or stage fright so intense that it interferes with an individual's work and social life.
Paxil is also prescribed for posttraumatic stress disorder--a crippling condition that sometimes develops in reaction to a disastrous or horrifying experience. Symptoms, which stubbornly refuse to abate, include unwanted memories and dreams, intense distress when confronted with reminders of the event, a general numbing of interest and enjoyment, jumpiness, irritability, poor sleep, and loss of concentration.
Most important fact about Paxil
Your symptoms may seem to improve within 1 to 4 weeks after beginning treatment with Paxil. Even if you feel better, continue to take the medication as long as your doctor tells you to do so.
---
---
How should you take Paxil?
Paxil is taken once a day, with or without food, usually in the morning. Inform your doctor if you are taking or plan to take any prescription or over-the-counter drugs, since they may interact unfavorably with Paxil.
Shake the oral suspension well before using.
--If you miss a dose...
Skip the forgotten dose and go back to your regular schedule with the next dose. Do not take a double dose to make up for the one you missed.
--Storage instructions...
Paxil tablets and suspension can be stored at room temperature.
What side effects may occur with Paxil?
Side effects cannot be anticipated. If any develop or change in intensity, inform your doctor as soon as possible. Only your doctor can determine whether it is safe for you to continue taking this medication.
Over a 4 to 6 week period, you may find some side effects less troublesome (nausea and dizziness, for example) than others (dry mouth, drowsiness, and weakness).
More common side effects may include: Abnormal ejaculation, abnormal orgasm, constipation, decreased appetite, decreased sex drive, diarrhea, dizziness, drowsiness, dry mouth, gas, impotence, male and female genital disorders, nausea, nervousness, sleeplessness, sweating, tremor, weakness, vertigo

Less common side effects of Paxil may include: Abdominal pain, abnormal dreams, abnormal vision, agitation, altered taste sensation, blurred vision, burning or tingling sensation, drugged feeling, emotional instability, headache, increased appetite, infection, itching, joint pain, muscle tenderness or weakness, pounding heartbeat, rash, ringing in ears, sinus inflammation, tightness in throat, twitching, upset stomach, urinary disorders, vomiting, weight gain, vertigo, yawning

Rare side effects may include: Abnormal thinking, acne, alcohol abuse, allergic reaction, asthma, belching, blood and lymph abnormalities, breast pain, bronchitis, chills, colitis, difficulty swallowing, dry skin, ear pain, exaggerated sense of well-being, eye pain or inflammation, face swelling, fainting, generally ill feeling, hair loss, hallucinations, heart and circulation problems, high blood pressure, hostility, hyperventilation, increased salivation, increased sex drive, inflamed gums, inflamed mouth or tongue, lack of emotions, menstrual problems, migraine, movement disorders, neck pain, nosebleeds, paranoid and manic reactions, poor coordination, respiratory infections, sensation disorders, shortness of breath, skin disorders, stomach inflammation, swelling, teeth grinding, thirst, urinary disorders, vaginal inflammation, vision problems, weight loss
Why should Paxil not be prescribed?
Dangerous and even fatal reactions are possible when Paxil is combined with thioridazine (Mellaril) or drugs classified as monoamine oxidase (MAO) inhibitors, such as the antidepressants Nardil and Parnate. Never take Paxil with any of these medications, or within 2 weeks of starting or stopping use of an MAO inhibitor. You'll also need to avoid Paxil if it gives you an allergic reaction.
Special warnings about Paxil
Paxil should be used cautiously by people with a history of manic disorders and those with high pressure in the eyes (glaucoma).
If you have a history of seizures, make sure your doctor knows about it. Paxil should be used with caution in this situation. If you develop seizures once therapy has begun, the drug should be discontinued.
If you have a disease or condition that affects your metabolism or blood circulation, make sure your doctor is aware of it. Paxil should be used cautiously in this situation.
Paxil may impair your judgment, thinking, or motor skills. Do not drive, operate dangerous machinery, or participate in any hazardous activity that requires full mental alertness until you are sure the medication is not affecting you in this way.
It's best to avoid an abrupt discontinuation of Paxil therapy. It can lead to symptoms such as dizziness, abnormal dreams, and tingling sensations. To prevent such problems, your doctor will reduce your dose gradually.
Possible food and drug interactions when taking Paxil
Remember that Paxil must never be combined with Mellaril or MAO inhibitors such as Nardil and Parnate.
If Paxil is taken with certain other drugs, the effects of either could be increased, decreased, or altered. It is especially important to check with your doctor before combining Paxil with any of the following:
Alcohol Antidepressants such as Elavil, Tofranil, Norpramin, Pamelor, Prozac
Cimetidine (Tagamet)
Diazepam (Valium)
Digoxin (Lanoxin)
Flecainide (Tambocor)
Lithium (Eskalith)
Phenobarbital Phenytoin (Dilantin)
Procyclidine (Kemadrin)
Propafenone (Rythmol)
Propranolol (Inderal, Inderide)
Quinidine (Quinaglute)
Sumatriptan (Imitrex)
Tryptophan
Warfarin (Coumadin)
Special information if you are pregnant or breastfeeding
The effects of Paxil during pregnancy have not been adequately studied. If you are pregnant or plan to become pregnant, inform your doctor immediately. Paxil appears in breast milk and could affect a nursing infant. If this medication is essential to your health, your doctor may advise you to discontinue breastfeeding until your treatment with Paxil is finished.
Recommended dosage for Paxil
DEPRESSION
The usual starting dose is 20 milligrams a day, taken as a single dose, usually in the morning. At intervals of at least 1 week, your physician may increase your dosage by 10 milligrams a day, up to a maximum of 50 milligrams a day.
OBSESSIVE-COMPULSIVE DISORDER
The usual starting dose is 20 milligrams a day, typically taken in the morning. At intervals of at least 1 week, your doctor may increase the dosage by 10 milligrams a day. The recommended long-term dosage is 40 milligrams daily. The maximum is 60 milligrams a day.
PANIC DISORDER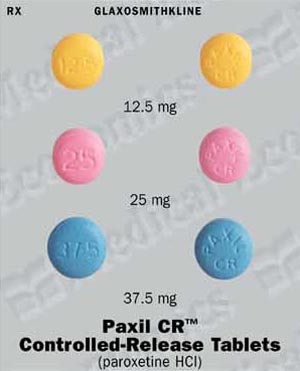 The usual starting dose is 10 milligrams a day, taken in the morning. At intervals of 1 week or more, the doctor may increase the dose by 10 milligrams a day. The target dose is 40 milligrams daily; dosage should never exceed 60 milligrams.
GENERALIZED ANXIETY DISORDER
The recommended dose is 20 milligrams taken once a day, usually in the morning.
SOCIAL ANXIETY DISORDER
The recommended dose is 20 milligrams taken once a day, usually in the morning. For older adults, the weak, and those with severe kidney or liver disease, starting doses are reduced to 10 milligrams daily, and later doses are limited to no more than 40 milligrams a day. Safety and effectiveness in children have not been established.
POSTTRAUMATIC STRESS DISORDER
The recommended dose is 20 milligrams taken once a day, usually in the morning.
Overdosage of Paxil
Any medication taken in excess can have serious consequences. If you suspect an overdose, seek medical attention immediately.
The symptoms of Paxil overdose may include: Coma, dizziness, drowsiness, facial flushing, nausea, sweating, tremor, vomiting
Paroxetine Full Prescription Information
Paxil Medication Guide
Detailed Info on Signs, Symptoms, Causes, Treatments of Depression
Detailed Info on Signs, Symptoms, Causes, Treatments of OCD
Detailed Info on Signs, Symptoms, Causes, Treatments of Anxiety Disorders
APA Reference
Staff, H. (2009, January 3). Paxil (Paroxetine) Patient Information, HealthyPlace. Retrieved on 2023, December 3 from https://www.healthyplace.com/other-info/psychiatric-medications/paxil-paroxetine-patient-information
Last Updated: April 9, 2017