Do Self-Harm Scars Ever Go Away?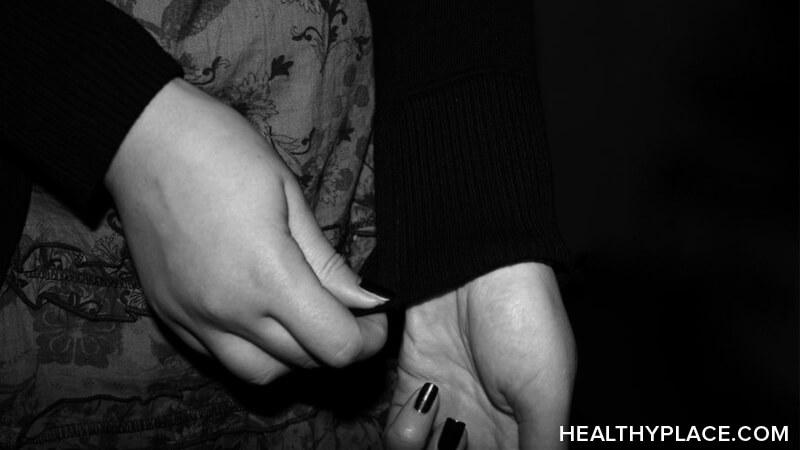 Do self-harm scars ever go away? Let's discuss the answers to that question.
Some scars are a source of pride. We show them off; we point to them and say, "Look at what I survived." Some of us remember that iconic scene in Jaws when the boys sing old sea shanties and cheerfully compare their battle scars. But self-inflicted wounds aren't always so easy to share, and there are some scars we would rather not bear. Do these self-harm scars ever truly go away?
How Long Do Self-Harm Scars Take to Go Away?
How long it will take for self-harm scars to go away is different for everyone. Every body heals differently. Whether self-injury will result in scarring depends on the type and severity of the injury. Minor injuries often fade entirely after a handful of days; major ones are more likely to leave a lasting mark. Other factors—such as medical conditions or medications—may also impact the healing process. Some scars can take up to two years to fade completely.
Applying first aid to a fresh wound can promote healing and minimize scarring. But let's say it's been two years, four, perhaps even a decade or more—and the scars are still there. Will those self-harm scars ever go away?
The answer, unfortunately, is "probably not." Scars that don't fade within two years tend to be permanent.1 However, it's important to remember that:
You are not your scars. They are part of you, but they do not define you.
Scars are a sign of healing; they are your body's way of keeping old wounds closed.
You can cover your scars in a safe and healthy way, should you need to. 
However, you have nothing to be ashamed of.
It's up to you to decide who gets to see your scars. It's also up to you to decide how you see your own scars—and to do the hard work of healing the invisible ones that lie beneath them.
Living with Self-Harm Scars That Don't Go Away
The scars on my arm are hairline-thin, white and almost invisible against my pale skin—completely unnoticeable to the casual observer. But I see them every time I reach out to turn off my bedside lamp, and they still itch sometimes when life starts to feel overwhelming.
You don't have to love your scars—I certainly don't love mine—but you can learn to live with them, and to cope with the triggers and the urges you associate with them. It isn't easy, though; it takes constant practice and a lot of patience.
I don't wake up every day admiring the body I see in the mirror. But I don't fixate on my scars anymore, either. I see them, but they no longer blind me to the rest of who I am as a person, or who I might yet become.
Scars, after all, are a product of the past. You can't undo the past—but you can put it behind you, one day at a time.
Sources:
1. Scars, National Health Service. Accessed March 2, 2020.
APA Reference
Kim Berkley (2020, March 19). Do Self-Harm Scars Ever Go Away?, HealthyPlace. Retrieved on 2023, December 11 from https://www.healthyplace.com/blogs/speakingoutaboutselfinjury/2020/3/do-self-harm-scars-ever-go-away
Author: Kim Berkley
Hello, I'm A and i've been doing SH for about a year now. I am 12 years old and started the winter after I turned 11. I still ask myself, was it because of some feeling that I can't describe? Self hatred? Why did I do it, so many people struggle so much worse than me. I always cut myself logically, which means basically in a spot that no one would see. My parents are extremely invasive of privacy so I still wanted to have a way to cope ( SH ) and or suffer alone. Yet recently, I completely lost control of myself and felt such guilt and self hatred that I just started going off on my arms with a face razor. I didn't realise the problem until later which was: white, thing and long lines across my arms. It is winter right now so I can wear shirts covering my arms but I just can't stop thinking about the summer, what am I supposed to do? Keep in mind I am darker toned so the long and thin white scarring is pretty visible, very visible. I tried covering it up with makeup but it just doesn't work. I've tried different creams but it doesn't work, I tried icing it, doesn't work. Im so scared, Im so so scared.
I'm 12, I burn myself almost daily. There was originally a reason, but it never feels like it was "enough." I was never in enough pain, danger, or going through enough to self harm. Honestly I think the burns were originally a way of saying "If others can cause me harm, I'll get through it." So I picked up a box of matches and just burned my inner thigh. I did that for about a week, just to get through it, and that was 2 or 3 years ago. I stopped for a while, I didn't "need" it anymore. But recently I mentioned self harm to a friend, and because I wasn't doing it anymore it didn't feel "real" like I needed to experience it again if I wanted to talk about it. So I'm back to burning. Every second of every day it's all I can think about and honestly it's a curse, I just want that pain to go away but now when I burn it's comforting because it's making me feel like what I say is actually real.
I dont really know what to say but reading people's comments make me realise that other people also think the way I do , my self harm scars are very visible and I feel bad about it because I feel bad when my girlfriend has to see them all the time since I feel safe around her . She doesn't deserve to have to see me like this because she has it worse and I just wish I could make it better.
I am 15 years old I've been struggling with sh quite a bit but none of my scars turn purple they are all white and very thin lined is they anyway I can start to get them to fade a bit as they are still fairly new I wanted to try silicone sheets but I don't if they work.
Hi, I'm J and I've been SH for almost 3 years now. I have some sort of anxiety, and I started SH because it really halped calm me down. Any time I started to get really bad anxiety, or struggled sleeping because of stress, I would SH. I'm doing a lot better now, but I still occasionally relapse, like a few nights ago. I'm really pale, and a lot of my scars turn pink, and it's really obvious if anyone would see my scars.
I'm constantly worried somone will find out. The only one who knows is my little sibling, and that's because they accidentally saw me changing once. So now any time I SH I just feel so guilty I'm doing this to them and it just makes me even more anxious. And I know I should tell someone or my parents but I dress more on the alt side of the spectrum and I'm terrified people will treat me weird or different because of it. I mean its one thing to joke around but it's another thing to consistently hurt yourself to the point of expansive scaring.
I don't really know what I'm trying to say here, I guess I just feel like a pick-me? Like my parents arent abusive and I have friends, but I've had some issues with my gender (and like anxiety and stuff) and my parents are SUPER homo/transphobic and I'm just scared man. Like I don't have a lot of self worth but I'm not suicidal or anything as serious as that, and I know that if I knew any of my friends were self harming it would break my heart (one of them do, actually and it makes me feel like a hypocrite bc they have things so much worse than I do) but when it comes to me, I'm not worried about myself I'm worried about those around me.
(sorry for the vent)
I personally find that tea tree (it's an oil) and then Neosporin works really well on fighting any infection and making them fade really quick. (But only if you remember to apply it when it's fresh, that's how I got completely clear lower legs and super scared thighs and ribs)
I cut a while back, like it's been a year. I have a very small scar, and nothing much. I didn't cut deep, so there's not really anything there.
I feel like it doesn't count or that it didn't happen if there isn't any scars. So whenever somebody brings up their self harm scars, I feel like I can't talk about mine if there's nothing to show, like it doesn't count or like it never happened. I end up feeling like I need to prove myself.
Does my self harm still count even if there's no scars?
I've been struggling with self harm because of just 9 weeks of being verbally and physically abused by a student in 6th grade and finally told someone specifically on April, 27, 2023 and I was called over to the counselors office during 1st period in the morning somewhere around 8:15 because my friends knew what I was going through and had told someone and now that I was there I decided to just let it out. So I told the counselor that I was struggling from self harm and had a suicidal ideation the week before. I'm still trying to quit but my depression and anxiety makes it a little hard. And tbh reading all your stories just makes me realize that everyone is struggling and I hope everything gets better at its own pace if your struggling🧡
Hi iam 12 and I have been struggling w sh since I was 10 and it is so hard staying clean and if you don't want anyone to know about your sh that's completely ok and understandable, iam the same way and if you need to talk about it you can add me on Snapchat or something because I'm completely open to talk to anybody and iam almost 6 months sh free so to anyone out there struggling iam here and to anyone who needs to talk iam here js know I love you guys and you guys are worth everything💗
I started reading all of you guys stories and at first i wasn't going to leave a comment but now i feel tempted to share. My names Breana. I don't want to cut anymore. but i can't stop. i don't want to talk to anyone about why i do it because i'm so over it. i'm so done with therapy, and hospital trips. All i have to say is, don't let cutting ruin your life. You have so much more to live for in life and every day promises a new opportunity that i hope you'll take. if not, you'll end up as sad and miserable as i am. trust me. you definitely don't want that.
I am 13 and I have a friend who saw the ones on my leg a couple weeks ago. She looked at me and said "what are these?" I said they were just from my cat. Luckily the bell rang and I went home without saying anything else. She didn't bring it up the next day, but the next week she checked my legs to see if I had cut them. I had moved from cutting my legs to cutting my arms, so all she saw were the scabs. At lunch I was sitting down iwth my other friends and she told me to pull up my sleeves. She kept on asking me so I pulled them up and quickly pulled my sleeve back down. She looked at me and said "we are going to talk" She then walked to class. I am so glad she didn't call the school counsellor, and since she didn't think I was crazy and "emo" it made me feel a lot better to see someone who actually cared. I decided that I would never cut myself again, but In two weeks I have already broken that promise. I find it really inconvenient to hide my scars 24/7 since I only have one school jumper and three of my own jumpers. This is the last time I will ever search up anything like this, No more vent TikToks, nothing. I want to put this behind me since
I have always been seen as the funny and happy friend and I don't want to make my friends worry about me.
I have a friend who I know has been going through a really tough time this semester in high school. I wasn't totally sure how tough it had been, however, until she wore a tank top to school a few days ago, and there were clearly visible SH scars on her upper arm. They were very noticeable, but only three or four scars, so I sort of pushed it out of my head and tried to convince myself that the scars were caused by something else and not SH, even though they were uniform and matched other SH scars I'd seen before. Then today she showed up wearing shorts, and on her upper thighs there were very clear SH scars, and many more than on her arm. Undeniable. I noticed them, as did everyone, I'm sure, though obviously I didn't stare, and I didn't mention it to her. I think this might be her way of moving on from that very dark period of her life, and part of that might be acceptance of the scars. Or maybe she wants us to know what she went through. To like quantify it, in a way? I'm not sure. I don't think it's a cry for help. But it really caught me off guard. My friend and I used to be really close, but this year we've grown apart, and our relationship isn't close enough now where I would feel comfortable bringing it up. I still want to let her know I care about her. The scars caught me off guard and freaked me out a little, honestly. I know it shouldn't be anything to be ashamed of, but it scares me to think that my friend was feeling such immense pain and I didn't even know. I wish our relationship were closer because I want nothing more than to give her a big hug. But at the same time, she has been mean to me this year, and while my heart goes out to her, I have to reconcile that with the pain she has caused me. The SH scars just made this very real for me. As someone who gets SH urges but has never acted on them, seeing the SH scars today triggered me.
I feel weird sharing this but seeing all the stories I kinda felt the urge to say something as well. I'm currently 18 about to turn 19 and I think the first time I SH I was 15/16, can't really remember the first time. I used to do it a lot before my mom found out. It really helped me to stop because I saw how hurt she was. Well last august I dated this awful guy who laugh at me because I "looked cute" while having panic attacks. I don't wanna blame him for relapsing but I kinda do? It got better after I broke up with him. Lately my sister slipped into an ED and I'm feeling the urge to cut again. I don't think I'm depressed or anything there is just the urge to feel something. I don't want to be a burden but it really helped me to cope with everything going on. Now I've met this amazing guy and he saw some scars and made me promise to never cut myself again as long as I'm with him. Well I f-ed up because here I am with fresh cuts writing this… I'm scared to tell him because I'm scared he'll leave me and I feel so invalid because, well I just felt numb and not even sad and I don't want them to scar because summers around the corner, yk? What if I'm faking it? Are you able to fake something like that? Well sorry for all those random infos, I just had to tell someone Ig
im currently 14 years old, and first self-harmed when i was 11. a lot of it is related to family issues, and things such as that. i have a various number of scars on my wrist, right up near where my palm starts. i try by all means to hide them but lately it seems like the scars just keep on becoming more and more noticeable, some more recent ones (2 months - now) are still big and coloured, however ones from over a year or more ago have faded to a dull colour, however still highly visible.
i go to a public co ed school in australia, and since my scars are so noticeable i get them pointed out A LOT. comments from people such as 'youre so emo' 'why do u slit yourself?' 'are those cuts from you doing them?' are getting more and more frequent, ive just resorted to keeping my arms covered however i really really dont want to have to deal with that anymore. im known as a VERY confident, bubbly, 'popular' person, anybody who knows me wouldnt expect me to be so heavily reliant on self harm. i have kind of learnt to shrug off comments on them.
just wondering if anybody has any tips on how to cover them up/become more accepting of their scars?? or how to reply to anybody pointing them out? ive just kind of come to terms with the fact i am going to have to deal with these scars on my body as difficult as that is going to be. even the ones from over a year ago have not faded
Hi,
I'm Isabelle, I have been having a really hard time lately and I cut myself for the first time. It wasn't really deep, but I'm afraid it's going to scar a little. I don't live with my parents but I'm going to see them in a couple weeks, and I'm terrified of the seeing it. They will be so mad and disappointed. Do you have any advice? I really don't know who I can talk to about this
Hi. I'm 19, I used to cut when I was younger on my arms. All of the cuts weren't deep enough to leave a large scar. I went to therapy and didn't have the urge to until about 6 months ago. These ones are leaving a scar on my upper thigh. I don't know how to make them fade and i'm scared they will always be this dark and noticeable every time I wear shorts or a bikini. I have no one to talk to about this and I really just want them to fade and go away. How long do you think it will take, and how can I reduce the redness of them?
I'm turning 14 this year I've been self harming since I was 10 I stopped because my mum found out but I didn't actually stop I just moved from my upper arms to my thighs she didn't notice for about 2 1/2 years. In may I got sick of doing in on my thighs it no longer hurt to see in the mirror it no longer hurt when I cut myself I didn't feel a thing no matter how hard I tried so I started doing it on my upper arm again. It hurt It felt good then stopped hurting but I didn't really care this time because I had a routine to follow ever since April I would cut myself every week I'd make a deadline for myself so if I did it on Thursday the next week I'd do it on Thursday again or before that cutting no longer felt good it felt like a chore but I didn't care. Mum found out in December and has been trying to convince me to show her my arm I refuse. New School year started I have no friends in any classes I sit alone and no one talks to me I feel invisible to everyone. I can't focus on my work because all I can think about is the appropriate time to ask to go bathroom for 10 minutes unnoticed so I could cut myself because I feel so shut I just want to feel something I'm so desperate I started on my wrist today for the first time and I love the burn but I'm worried about the long lasting scars and the fresh cuts that will keep coming because I can't make myself stop for the life of me especially when I'm at school. I cook a lot I have cooking in school mums signing me up for cooking classes I need to roll up sleeves for cooking I'm screwed and I can't decide to myself if I regret it or not if I could go back in time and change that decision would I do it?
hi i am a 14 year old girl and i have been struggling with self harm since i was 12. i am doing ok and am stopping and i havent relapsed in months. i really want to help and talk to anyone else who is struggling through self harm or even if you are not struggling with it, but just need someone to talk to. i dont feel comfortable posting my name but if you ever want to talk to me you can reply with your discord or snap or something
hey, im 14 and have been self-harming since I was 13 and these scars wont fade and im really scared that they are going to be there forever and that people are going judge me for it especially because everyone ive known has already judged me for drug addiction. I really just dont want another reason for people to talk about me or laugh, can you please tell me how to make them fade quicker?
Hi,
I'm 13 years old and have been self harming for about a year now. Life got to its deepest darkest point and I felt like I had no where to turn. I'm not completely alright now, I'm about a week clean. Some of my scars faded and other are still here. I never felt like i ever went that deep though. I'm going on vacation in march and I need to be able to wear short sleeves and shorts. I don't know what to do, I want help but I feel like I would be ashamed, or embarrassed if my parents find out about my scars.
Hi,
I am 11 years old and started sh when I was 10.
Life got so hard and I was at my lowest point of my life. Im still in pain but I'm just to tired to sh I feel like there's something deeply wrong with me because I'm to tired to hurt myself. I've tried to quit many times but just can't, although most of my cuts healed I still always seeing them when I put on my sweater or put on my bracelets and i just get scared if anyone would see them like my oldest sister. Seeing my scars make me remember bad things but knowing I healed from it more then ever really helps. If you ever need help with anything or need to talk with someone there will always be someone with you that cares for your truly. Decide who you feel comfortable telling.
hi uh so my name's nick & ive been sh for almost a year now.. the scars are pretty deep since the first time & I was once clean for 5 months before I relapsed. My teacher found out & now my entire class knows abt it & even my mom. She often checks my wrist but she doesn't know about my thighs or my shoulder or legs, etc. im clean for 2 months rn but im so close to relapsing a 2nd time bro.. i don't know what to do.
Hi. I am not saying my name but I am a 15 year old female. I have been doing sh since the start of my freshman year. I'm now a sophomore. My sh was never deep enough to have super obvious scars and because of that, it made me feel like my problems didn't matter. I am still doing sh and I don't know what to do. I promised my bf that I would stop but I just did it 10 minutes ago. My cuts are only deep enough to scar but not show too much. I still have my scars from freshman year however. What do i do? Can someone help me? I've had a couple failed attempts as well. But I'm not in that position anymore. I just continue to sh. I have scars on my legs, thighs, and wrists. What do I do, please help
Hi, my name is Tucker. I just self harmed and I regret it. Im 14 and I am having a rough go at life. I wanna stop because I hate the scars but I dont know, its just an irresistable urge that I dont want to satisfy because of the outcomes, but I dont know how to stop.
Please help me.
Hello! My name's Dan.
First of all, it's a really good that people address this issue. Hope everyone who came here found something that helped them. Thank you, Kim Berkley.
I have a lot of scars that many years old. I've been self-harming myself since I was 16, now I'm 22 and still do it sometimes. I'm not ashamed of it. I'm not ashamed of my scars. It helps me concentrate, dissociate from unwanted emotions. Most of the times it's light cuts or even just scrapes, but when I feel especially bad it can as far as second degree burns.
I perfectly understand that it isn't normal and unhealthy, but who is? I still wear long-sleeves even in hot weather, because I hate pity looks people give me.
Leave a reply