Everyday Objects Can Become Weapons for Self-Harmers
Self-harmers know that typical, everyday objects can be seen in an unsafe light. Some people may see a can tab as, well a can tab, while self-harmers see it as an escape. While people see a pen cap as being used to top a pen, those who self-injure may see it as a harmful tool.
Being that everyone's brains are unique and different, very few understand the mind of those who self-harm. This rings true for mental illness in general – they are frightening diseases to understand. For those who don't quite take the time to see through the blurred eyes of a self-harmer, they may not fully grasp why they see and do what they do.
The world is filled with everyday objects that can be seen as deadly weapons through the eyes of a cutter or a burner. Even dull objects can be easily morphed into something that can be used to puncture or cut skin. This is one of the reasons it is difficult for self-harmers to overcome their struggle. Being surrounded by triggers can be just as deadly as when the items are being used.
Typical Objects Can be Seen in an Unsafe Light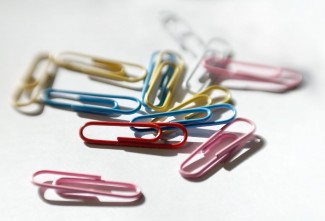 I recently moved into a new apartment after two stressful weeks of finding the perfect place. I began going through boxes and organizing my kitchen when a few mason jar covers fell out of the cupboard and onto the counter. When they fell, some of the sharp, circular centers came out of the top and when I went to pick them up, I stared at them for a moment.
I realized that six years before that very moment, I probably would have saved those sharp jar tops to use on my skin. I probably would have even made a self-harm mark at that very moment just out of pure curiosity. It was hard for me to push those covers into the back of the cupboard and to stop thinking about what "past me" would have done with them. I was also proud of how I was able to do just that – push the sharp objects away.
Some people come face-to-face with simple, everyday tools and are unable to just push those urges aside. A paperclip may be a paperclip one day and the next it is being used to hurt your body. For some people, it is hard to even use scissors or a razor without harmful memories hitting them in the face.
It takes time to be able to face those demons and stop self-harming without falling backwards and using them again for unsafe reasons. Some of us are able to push past those triggers, but still can't fight the thoughts connected to them. It's natural to connect certain thoughts with objects that connect you to your past. However, it is important to find the strength to push those negative thoughts aside before they become a battle once again.
You can also find Jennifer Aline Graham on Google+, Facebook, Twitter and her website is here. Find out more about Noon through Amazon.com.
APA Reference
Graham, J. (2014, August 29). Everyday Objects Can Become Weapons for Self-Harmers, HealthyPlace. Retrieved on 2019, August 20 from https://www.healthyplace.com/blogs/speakingoutaboutselfinjury/2014/08/everyday-objects-can-become-weapons-for-self-harmers
Author: Jennifer Aline Graham
Hi Logan,

First of all, I just want to say what an amazing thing you're doing, and how this kind of self-awareness and ability to be proactive will only serve you in your recovery. You sound like you have some great people around you for support and even though quitting isn't easy, I can tell you're going to be just fine. Even though it's not something you expected to deal with, I learned a lot from dealing with mine, and I'm sure you will too. Keep taking care of yourself, and your life will start to get bigger and bigger until it grows beyond the pain of what you're going through now.

Best of luck,
Kayla
Hi Summer,

Recovery is hard. I appreciate you taking the time and effort to visit this resources page for self-harm; it shows that you are being proactive about your recovery, even if you feel frustrated by what feels like a lack of progress.

There are no small steps to recovery. Every step brings you closer to a better life. I hope you take advantage of some of the other resources on our site, and I hope also that you have people in your life who can help you along the way.

Best of luck,
Kayla
Hello,

I agree that all of it is self-harm. If the impulse to self-harm is there, everything in the world becomes a tool in service of that impulse.

Seeking help to address the underlying issues is the best way to get out of that mental trap.

Kayla
Leave a reply