Self-Harm Scar Cover-Up Options that Work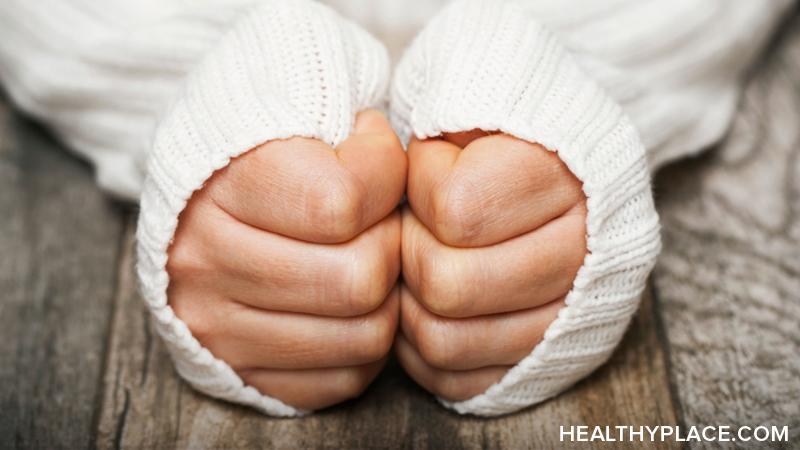 Your self-harm scars belong to you; it is your choice when, if ever, to show them or hide them from the world. For those days when you would rather keep things under wraps, it's helpful to know what sort of self-harm scar cover-up options are at your disposal.
Self-Harm Scar Cover-Ups I've Used in the Past
Which options will work best for you will depend a lot on where your scars are and how visible they are to the naked eye. I consider myself lucky in that, while the majority of my scars are in a visible place (my arms), they are extremely difficult to see unless you're looking for them. The magical healing properties of time have rendered them small, pale, and almost invisible against my equally pale skin.
But of course, they weren't always that way. Back when I was still healing relatively fresh wounds, I used many of the typical (almost stereotypical) self-harm scar cover-ups.
I wore long sleeves, which is generally pretty effective but not ideal during summer in a tropical city like the one I grew up in. I wore bracelets and wrist bands, which can be effective. However, the bracelets should match your style (otherwise, you're drawing attention rather than deflecting it) and shouldn't get in the way of your usual activities. I wound up sticking mostly with cotton wrist bands because big, heavy bangles and charm bracelets made writing difficult.
I also used band-aids and excuses. I want to be clear here—I'm not condoning hiding your scars from everyone like this. Someone, hopefully a mental health professional (or at least someone who can help you), should know the truth. But it would be naive to ignore the fact that sometimes, you can't physically cover your scars but can't explain them honestly, either. Maybe you're speaking to a boss who could use the information against you, or you're speaking to a classmate who can't keep a secret.
If you need to explain your scars to someone you simply can't be honest with, I've found it's easiest just to make something up. It's awful, but it's true. 
Other Self-Harm Scar Cover-Ups to Try
Another favorite tactic for covering up self-harm scars—one I never quite got up the courage to try—is tattoos. Ink is a commitment, and it can get expensive. Some people, like me, also have health-related reasons why they cannot, or should not, get a tattoo. But if you're open to it and you're well-informed about the potential consequences (it's silly, but some employers are still very closed-minded about piercings and tattoos), cover-up tattoos make for an artful alternative to long sleeves and bracelets.
If you like the idea of a tattoo but not the permanence of it, you might want to consider temporary tattoos, henna, or even—if you're artistically inclined—simply drawing or painting over your scars with non-toxic art supplies. (Just be sure, if you plan to show off your body art at work or school, that you won't be violating any dress codes.)
Similarly, you could use makeup to cover your scars as you would any blemish. Don't assume that you need an expensive, high-end brand—depending on the size and severity of your scars, a simple grocery store concealer might be all you need. However, if you have raised or prominent scars, a specially-designed scar concealer may be necessary to achieve the desired effect.
Laser scar removal and other medical procedures are also gaining traction as more people open up about their self-harm and recovery, and depending on your situation, these may be viable options. However, they are likely the most expensive option and are even more permanent than regular tattoos. Be sure you are confident in your choice before you commit to any such procedure. It might surprise you to know that some people actually grow to like their scars over time.
Have I missed anything? Let me know in the comments if you've tried other self-harm scar cover-ups besides these and, if so, how well they worked for you. You never know who you might be helping simply by speaking up.
APA Reference
Kim Berkley (2021, July 8). Self-Harm Scar Cover-Up Options that Work, HealthyPlace. Retrieved on 2023, June 1 from https://www.healthyplace.com/blogs/speakingoutaboutselfinjury/2021/7/self-harm-scar-cover-up-options-that-work
Author: Kim Berkley
Hi, I'm Vinnie. I've been struggling with my mental health and self harm for several months already and I have been doing it on my upper inner arm close to the armpit. For summer I have been wearing baggy t shirts to help me put here, but summer vacation has started and I don't want to wear one pieces as it feels unnecessary when I have to wear shorts. What do I do? I can't find good long sleeved bathing suits without them being one pieced, and I want to look good as I want to be more confident. I don't know!
Hi, I've been self-harming for 3 years now so some of my scars are raised. I'm going to a surf camp in a couple months and it's obv at a beach. I can't get tattoos or surgeries since I'm only 14 and I never wear makeup ever so if I asked my mom if we could get makeup she would prob be suspicious. I've worn bracelets and scrunchies but now it'll look sus since my scars are all around most of both my forearms. I also have some on my left shoulder. I've been wearing long sleeves and hoodies for three years straight and have gotten away with it. But, wearing a hoodie in the water and at the beach would definitely be really sus. I don't know what to do since I'm afraid of judgement and the camp I'm going to is Christian. Do you know what else I could possibly do? If not, I could try to figure it out but right now, I have no idea.
Hi, i've been self-harming for months now, and my thighs are absolutely mottled with scars, fresh and old. (it's a number-based thing for me, so i have a concerning amount, and a concerning amount more to do)
It covers the majority of the top of my legs, hitting just behind my knees, but my family likes hiking and swimming, and with summer coming, i need a way to hide them from my crazy mom (she's a whole 'nother can of worms). I don't know what clothes will fit, cover them, and not overheat me, and since i'm only 15, tattoos aren't an option either (not even temporary)
Do you have any possible suggestions? (the scars are rather dark, and very obviously scars, some are raised, and they look extremely intentional)
hi sorry my name is Aro and i have fresh cuts on the back of my ear that i would like to cover
my mom and dad already saw and punished me for when i use to self harm on my ankles so i had moved to behind my ear and im cutting my hair short so i cant use my hair to cover these scars anymore also i have been going back to on the ankle cuts and was wonding how i could cover them if i went swimming
I'm trying to play basketball with my friends I wear hoodies so I overheat and I'm a trash shooter with them for no reasons but I need them covered up I don't have makeup they are kinda puffy but they are small like a thumbnail width only my mom, dad, and brother know I keep them hidden to the best of my abilities but I overheat they are a pinkish purple and I scar very easily what do I do I feel weak with them I regret it so much they are like 1-2 years old I was numb and when I did it I felt pain but it was something to feel I've never told anyone why I did it and I hate talking about it what do i do?
My scars are kinda puffy I'm a male so I can't use makeup and I can't use bandaid excuses because they are spreed out I want to play basketball with my friends but I get really hot because I wear many hoodies my scars are like 1-2 years old I stopped because I regret it so much I don't feel normal I feel weak also my scars are a purple-ish pink and I have 6 of them what do I do
My scars are kinda puffy I'm a male so I can't use makeup and I can't use bandaid excuses because they are spreed out I want to play basketball with my friends but I get really hot because I wear many hoodies my scars are like 1-2 years old I stopped because I regret it so much I don't feel normal I feel weak also my scars are a purple-ish pink and I have 6 of them what do I do
Hi um basically i have been cutting for about two yrs now. In January I am joining university and do not necessarily want anyone to see my fresh cuts/scars. However it is very warm in the building and i an the average male with homophobic parents. So me buying makeup would be highly suspicious. Is there another way to hide scars without long clothes or makeup and bandages .
Hello my name is ves, I have fresh scars on my arms and would like to know if covering it up with makeup will work. I am unsure if it well, I am extremely pale. It's hard for me to even find the right type of makeup that matches my skin tone
Hi, I have been struggling with mental health and self harm for a while now. And just earlier I saw your website and I was like "oh my god, a website that doesn't paint self harmers as attention seeking or sick or whatever" So thanks for that:)
As we are going into summer where I live and I graduate next week, I am freaking out about how I am gonna be able to hide my sh. Especially on my arms, it looks so obvious bc I have been harming in the same sort of spots for months, and it is not just my wrists so I can't really just cover it up with jewelry.
I am really stressed about it, because it looks so sus to wear sleeves in warm weather. I know literally nothing about make-up, so if I was to try to use it, what should I sort of get?
I am so worried lol, I can hide the scars on my torso and hips and upper legs alright, but the ones up and down and across my arms?... ahjhhhjff
Also, does self harm have to be particularly deep to leave lasting scars? Like, I can't tell if mine are healing bc I keep going over the top of them again, but... will they go away? I hate the disgusted looks I get from people if my sleeves ever fall down a bit.
Thank so much in advance:)
hello, i have freshly scabbed scars near my inner elbow and im not sure how to hide them from my parents. i would come out to them about it but im scared about how they'll take it, is there any way i could hide them??
I have a big problem in family im the mom and my mom and my siblings are my kinds. To feel better I cut myself, my friends tell me to don't. They understand my situation but they don't know how I fell. I Wana talk to my teacher but I know she will tell my mom...
Hello, the most noticeable scars i have are on the TOP of my hand and i dont know how to cover them up without ANYONE knowing. i have work, so i can use fake tattoos and stuff because its not professional, and its too far up from my wrists to be able to use bracelets. im really freaking out because ive already used the bandaid trick and told everyone its a scab but that can only last a few days and ppl will notice its not a scab and scars. but i really dont want people from work noticing. hiding it at home is quite easier than in public, but im really struggling to find something to cover up for them. i used the bandaid trick on them a week ago so i cant use it again. please help me :(
I have fresh scars on my upper arms (scars on lower arms are old) and upper thighs, I have a sort practice for the next 2-3 months how am I supposed to keep them hidden
, From cowches players and watchers, I'm really scared someone could find out and tell my parents
I have fresh cuts on my legs a little higher than my knee and 2 on y calf but my mom makes me wear shorts cause it gets so hot so I have to pull my shorts down low to cover the knee ones but can't cover the calf ones I'm not good at make up and it would be obvious (I'm scared she will get disappointed) any ideas?
My friends got self harm scars on her upper arm and wants to hide them from her family she can't wear sleeves or use any makeup any recommendations would really help
I have fresh wounds on my wrist.
I'm seeing a psychiatrist for my mental health.
But I don't want my parents to find out, because I feel like I've let them down.
I'm already wearing self made bracelets, but sometimes they fall down. And when they do, I'm scared someone will see.
I'm terrible at makeup, and I can't wear long sleeves (I literally always roll them up, even in winter).
Is there anything else I can try?
I've got fresh self harm scars on my neck, how can I cover them up
Leave a reply