Do Self-Harm Scars Ever Go Away?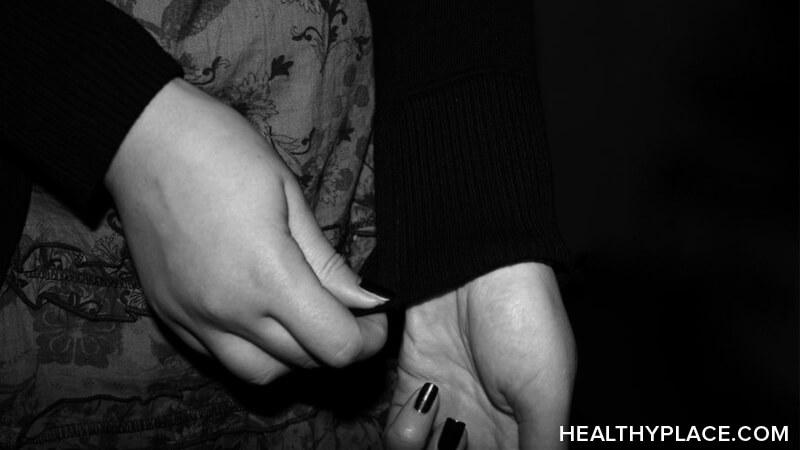 Do self-harm scars ever go away? Let's discuss the answers to that question.
Some scars are a source of pride. We show them off; we point to them and say, "Look at what I survived." Some of us remember that iconic scene in Jaws when the boys sing old sea shanties and cheerfully compare their battle scars. But self-inflicted wounds aren't always so easy to share, and there are some scars we would rather not bear. Do these self-harm scars ever truly go away?
How Long Do Self-Harm Scars Take to Go Away?
How long it will take for self-harm scars to go away is different for everyone. Every body heals differently. Whether self-injury will result in scarring depends on the type and severity of the injury. Minor injuries often fade entirely after a handful of days; major ones are more likely to leave a lasting mark. Other factors—such as medical conditions or medications—may also impact the healing process. Some scars can take up to two years to fade completely.
Applying first aid to a fresh wound can promote healing and minimize scarring. But let's say it's been two years, four, perhaps even a decade or more—and the scars are still there. Will those self-harm scars ever go away?
The answer, unfortunately, is "probably not." Scars that don't fade within two years tend to be permanent.1 However, it's important to remember that:
You are not your scars. They are part of you, but they do not define you.
Scars are a sign of healing; they are your body's way of keeping old wounds closed.
You can cover your scars in a safe and healthy way, should you need to. 
However, you have nothing to be ashamed of.
It's up to you to decide who gets to see your scars. It's also up to you to decide how you see your own scars—and to do the hard work of healing the invisible ones that lie beneath them.
Living with Self-Harm Scars That Don't Go Away
The scars on my arm are hairline-thin, white and almost invisible against my pale skin—completely unnoticeable to the casual observer. But I see them every time I reach out to turn off my bedside lamp, and they still itch sometimes when life starts to feel overwhelming.
You don't have to love your scars—I certainly don't love mine—but you can learn to live with them, and to cope with the triggers and the urges you associate with them. It isn't easy, though; it takes constant practice and a lot of patience.
I don't wake up every day admiring the body I see in the mirror. But I don't fixate on my scars anymore, either. I see them, but they no longer blind me to the rest of who I am as a person, or who I might yet become.
Scars, after all, are a product of the past. You can't undo the past—but you can put it behind you, one day at a time.
Sources:
1. Scars, National Health Service. Accessed March 2, 2020.
APA Reference
Kim Berkley (2020, March 19). Do Self-Harm Scars Ever Go Away?, HealthyPlace. Retrieved on 2023, December 11 from https://www.healthyplace.com/blogs/speakingoutaboutselfinjury/2020/3/do-self-harm-scars-ever-go-away
Author: Kim Berkley
Hi!
I've been clean for almost a year and you van still see the scars. I know I shouldn't be ashamed of that but I am. People have made comments and pretty mean stuff about my scars. Like it makes me feel weak. I'm mad at myself bc I should have stopped myself. The scars make me really insecure and weak. I always think what others think of me bc of my scars. I know I should be proud of myself not doing it again but there's still the quilt. I've been hiding my scars, only some people have seen it and it made me really anxious. Idk what to do and how to make them disappear so that I can finally be brave to wear whatever I want.
Hi I'm Terri.
Love what I read because I did self harm one day this month because of stress and a slight Uti so when you feel too emotional 😢 and feel like it's something besides Depression see if it's a Uti . I hate that I did it but it doesn't define me and I shouldn't feel guilty or ashamed. I guess I feel that way sometimes like I might be judged wrongly because some people think that you're trying to kill yourself and take the easy way out. Not true anyways it's pretty long and deep had to be sewn up with sutures. Sorry for anyone that self harms due to how bad mine is I promised people and myself that I would never do it again
I have some self harm scars now which I am proud of I survived but it also really makes me want to try and get more scars for some reason. I dont know why tho
Hey im 15 im going to school and i cut my wrisk and arm because im mad and sometime im deperresse and i cut myself idk what to do do i have to talk to one. Of my teacher at school
It's been about 2.5 years since I last self harmed. The light coloured scars are easily visible on my tanned skin. Every time people see them they expect an explanation. The most annoying part is when my family forgets about it and they want me to explain again. I don't own anyone an explanation. I've been telling people my cat is responsible because it's easier. When ever I say that they don't have follow up questions. They have no idea the weight they might carry. I just hope that all of those who are recovering stop getting shamed for their past.
Oh my gosh I didn't expect to cry when I read the line 'You are not your scars. They are part of you, but they do not define you.' but here I am with tears in my eyes! I haven't self-harmed for maybe 7/8 years now, but I still have small silver scars on my forearm - no one seems to notice them as I am naturally very pale, but they always catch my eye.
I've come a long way since those days (thank you medicine and support systems), and I try to see these as battle scars and a reminder of how far I have come, however I do struggle sometimes with the thought of always having a reminder of my darkest days etched into my skin.
But, as you said, they do not define me. I am more than my mental health issues and my past struggles, but they made me who I am today, so I am trying to learn to accept them as just a part of me and to not feel shame - I wouldn't pass judgement on anyone for their scars, so what makes me so different?
Hi,
I self harmed for a few weeks, ending a fortnight ago. I'm OK with seeing my scars (I don't get triggered and I'm not inclined to do it again) and my parents know about them, but I still feel apprehensive about letting them see the scars and talking to them about it. However, I'm going on a swim camp soon, and need to sort something out (like long swim pants or something). How do I start that conversation?
i used to sh on my left arm and thighs about 9-10 months ago (thats also how long ive been clean) and they are still pretty visible. when i did them i didnt have many friends and spent most of my time alone. now i have a lot more friends and i want to do things like swimming and since its getting hotter out i want to wear shorts and short sleeves. i wear jeans with holes in them where my scars show and most of my friends know about my scars on my thighs and dont care. but im still worried bc they dont know about the scars on my arms. they arent judgemental people but im still scared bc i dont think im ready for anyone to see those scars and i know thats ok. do you think these scars will ever fade?
hi I have a few scars on my arm and as it's coming up to summer I won't be able to hide them but I used a razor and there not really deep it's only as if you cut your leg whilst shaving but how long do you think they will last and how to make them go away quicker
About october-ish I started sh due to problems with my boyfriend. I was 13 at the time, I'm 14 now and told my boyfriend that when we got low I did sh, and we talked about it. After that I didn't feel as guilty about not telling him and forgot about it. My addiction was pretty hard. It was almost like even when we were good I needed those scars, I felt like I needed to sh. I did about 20 scratches per thigh a day. I had an addiction to it until December, and I've thankfully gotten out of it. I wore shorts today and I saw these very faded scars. It's been 4 months and I've overcome the sh but when I saw the scars faded, I felt like I had to make more. The urge is horrible and I just need to not do it again because summer is coming again and I want to be able to wear things I want. What do I do?
When I was at my worst point I'd say I cut myself pretty badly. I didn't have any intent to kms I just wanted to feel something and pain happened to help. My last cut was my turning point but now I just want any info as to help it fade away any faster. I took a knife to my shoulder and cut myself deep. To the point where the flesh was visible for a second before blood started pouring out. I was too afraid to get help. I held myself together with zip ties and tissues and I didn't stop bleeding for the next 3 days. That was all around a year ago from now I believe. Now I'm left with this big pink scar that's very apparent and a couple smaller ones. Im here asking what's the best process/aids for these to fade away. I intend on tattooing over them once they've healed enough and leaving all the thoughts with them behind. Any help is greatly appreciated.
Hey im Max!
I've been sh for a little over 2 years but ive been doing it on my stomach and thighs because they are easier to hide but recently i had like a really rough time and i didnt think and i just did it on my arms/wrists. The problem now is that i have this party soo and its gonna be like 30 degrees celcius and so i have no excuse to wear long sleave and i cant miss it. The wounds are healed but now there are scars that are probably gonna disappear in a couple of weeks but i really need a way to speed up the process!
I have a question, my scars are about a day old and on my upper thigh. I was just crying and wanted to feel something else other than sadness, well I was wondering how long until the red marks go away and how long until they blend with my skin. They aren't really deep at all.
helloo!! i know this may sound like a stupid question but i'm not very long clean and i'm still kind of mid self-harm addiction but i am trying to make it less of a daily thing than before but im hoping to let my thigh/arm scars heal so i could maybe wear short sleeves/skirts in summer if i'm confident enough but i'm kind of just wondering when are self harm scars actually considered 'healed' kind of just because the last thing i would want is to trigger anyone but are they more or less just healed after the scab is gone? (almost all of my scars are a redish-purple)
i have scars on my left thigh just a couple of inches above my knee , I have a very christian family that do not believe in depression or self harm they believe that is a "evil spirit" that entered my body and i know how ridiculous that sound anyways they would absolutely freak! if they ever see that ,i SH In early January ( first time and i hope last) and it is now late April and i assumed that they would've faded by now but they haven't they are kind of dark brown and kinda red and after the shower they are dark purple the cuts arent that deep i cut with a razor and they barely bleed so i assumed they would've faded im so scared and i have no idea what to do can someone help me please?
Hi, I have a question about my scars. They are on my wrist and I have had them for a few months and they are sorta faded, I have recently started to try and better myself and I want to know if they will go away.
I have had the same scar on my wrist since May 2020. When will it go away?
Ignore my last comment I fixed it
hi there, i've been 7 months clean and my scars still look like they've been there for a month, they're purple and around 3mm deep. is there any way i can make them heal quicker? or should i just leave it and see what happens
Leave a reply