Is Skin Picking Self-Harm?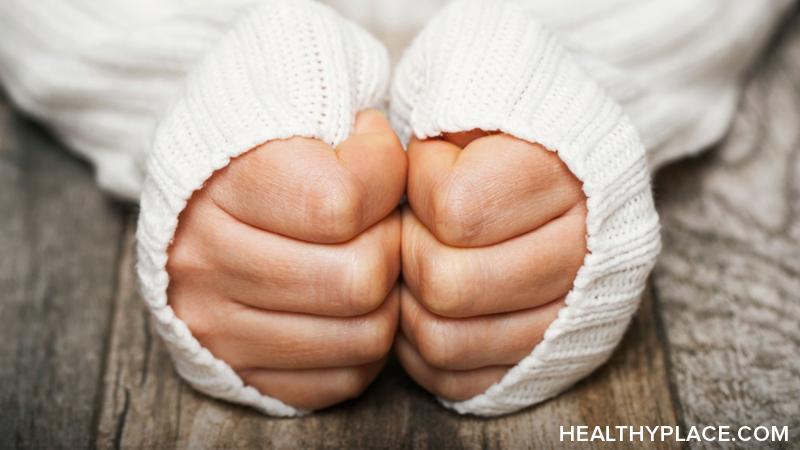 Despite a seemingly simple definition, it can be difficult sometimes to draw the line between what does and does not qualify as a self-harm disorder. Excoriation, for example, involves purposely and repeatedly harming your own skin—but is skin picking really self-harm?
Is Skin Picking Classified as Self-Harm?
The official Diagnostic and Statistical Manual of Mental Disorders, Fifth Edition (DSM-5) name for self-harm is nonsuicidal self-injury (NSSI). It is defined as consciously and deliberately injuring oneself without the intent of attempting suicide.1
Excoriation disorder, also known as compulsive skin picking or dermatillomania, is a body-focused repetitive behavior. It is most commonly considered to fall under the obsessive-compulsive umbrella of disorders.2
This places skin picking and self-harm in two decidedly different categories, medically speaking. However, it is difficult to deny the obvious overlap between the two.
How Skin Picking Is Like Self-Harm
Both skin picking and self-harm involve causing yourself real, physical harm. Both can lead to medical complications if the wounds are not properly treated. And in both cases, they are habits that are all too easy to form—and, for many, incredibly difficult to break.
Perhaps most importantly, both can act as outlets, albeit unhealthy ones, for overwhelming or negative emotions. In my case, my self-harm was driven largely by feelings of inadequacy and guilt. My skin picking is similarly triggered by perceived flaws, albeit physical ones (i.e. rough spots or scabs) rather than character flaws.
Viewed from this perspective, it's easy to see how skin picking and self-harm might be seen as one and the same. And perhaps that's why I've put off tackling this topic for so long—because to admit they are the same thing is to admit that I am not, and have never been, in recovery. After all, I began struggling with a mild form of skin picking long before I engaged in a more recognizable form of self-harm, and it is a fight I have yet to win, even now.
But here's the thing—I really don't think they're the same thing at all.
Why Skin Picking Is Not Necessarily Self-Harm
Skin picking and self-harm might look the same on the outside, but for me, there is a subtle but crucial difference between the two. In the case of my self-injury, the act was deliberate. While for some NSSI may feel compulsive, in my experience it was always more akin to an emotional addiction. For me, it began with a choice, and from there, spiraled downward into a disorder that became more and more difficult to walk away from.
Skin picking, however, was never a choice for me. I never meant to start, not in the way that I consciously chose to hurt myself. I just caught myself already at it one day, I don't even remember how long ago now, and thought, "How funny. Mom used to do this, too."
I saw it as just another bad habit. Easy enough to break, right?
Excoriation is sneaky that way. You may not even realize it's a problem until it already is. By that point, it's already become exponentially more difficult to solve.
So, in my opinion, skin picking and self-harm aren't precisely the same thing. Whether you agree or not, however, I think the most important thing to recognize is that both do damage to you, body and soul. And in either case, you deserve better. Recovery is hard—believe me, I know—but it's possible. I am 10 years into recovering from self-harm, and I look forward to being able to say the same thing about my skin picking. Not today, perhaps, but someday.
Do you agree? In your experience, are skin picking and self-harm separate issues, or one and the same? Let us know in the comments.
Sources
American Psychiatric Association, Diagnostic and Statistical Manual of Mental Disorders, Fifth Edition. American Psychiatric Publishing, May 2013.
Mental Health America, Excoriation Disorder (Skin Picking or Dermatillomania). Accessed December 2020.
APA Reference
Kim Berkley (2021, January 7). Is Skin Picking Self-Harm?, HealthyPlace. Retrieved on 2023, December 11 from https://www.healthyplace.com/blogs/speakingoutaboutselfinjury/2021/1/is-skin-picking-self-harm
Author: Kim Berkley
So i have scabs on my leg. Sometimes i find myself picking at it over and over again. So i searched up ways to deal with it and found this article. Would this be considered self harm and should i talk to someone?
I have been picking pimples on my face for as long as i can remember and most of the time deliberately don't wash my face with the intention of getting more spots to pick at for the sting and satisfaction. Would that be considered a form of self harm? Should I see someone about it or talk to a family member or similar?
Would it be considered a form of self harm if I deliberately pick pimples on my face and back on a regular basis because it is enjoyable, I enjoy the sting and don't wash my face in the hope of more pimples to pick to have that again? Should I see a dermatologist or just speak to a family member about this issue. This has been going on for as long as I can remember and don't see an end to the cycle so should I be worried?
Hi! I came to this article after seeing a video on the topic, and became interested because I have struggled with skin-picking as long as I can remember, and more recently had issues with SH. I think that it really depends on the case. For example, I pick my skin, and make myself bleed all the time, but it's truly not a conscious decision that I make. I just look down at my hands and realize I must have picked too hard, and I'm bleeding. On the other hand, sometimes if I get a question wrong in class and am berating myself, I often dig my nails into my skin, and pick viciously at my cuticles. This is different for me, because I know exactly what I am doing, and do it as a form of self punishment rather than it just being habit. I honestly think it depends on the situation which category skin picking fits into. Anyway, just wanted to input my opinion on this. Have a nice day!
Well, I think that picking at skin CAN be a form of self harm. I picked/scratched at my skin before I started cutting myself, and picking at wounds as a form of self-harm was really hard for me to get over. But thank you for this article, skin picking and self harm ARE different. They serve different purposes, and different intentions when engaging in the behaviors. Just wanted to share my experiences as a side note :)
I came to this article because I've picked at myself practically my whole life, and I've often wondered if it was a form of self harm. I've been diagnosed with a form of OCD, and struggled with anxiety and depression off and on my entire adult life. You've brought up some interesting points, and as I've never cut myself, I can't say what that feels like. However, when I pick at myself, there's something about it that's incredibly soothing to me. I'm not aware of any particularly negative thoughts, but I am most usually very stressed or in an obsessive cycle of thinking. It's mentally relieving to me. So, I think you're right that they're not really the same, so far as motivation goes. But I've got scars all over my backside and thighs that would suggest that's it similar in the effect, at least.
I guess I could argue, that on my side of the story with skin-picking, is that most of the time my intentions before and while doing it is to hurt myself. I think it might just be something thats extremely complex, so putting a label on this wouldn't describe it well enough because I will often have multiple reasons as to why I pick, at the moment though, I refer to my habits as self-harm because I intend to hurt myself each time. Another thing is that my chances of picking my skin is very low when I have gone through no stress at the moment but when I am stressed, my bathroom is the place to go. I really hope I'll be able to stop this soon, because I want to feel confident about my skin so much more.
I've been picking my skin for years. I've tried to stop but nothing really seems to work. To make matters worse, when I was younger, my mother would actually ground me for picking at my skin. Not kidding! She actually took my computer away for 3 WEEKS when I was 14! Thankfully after I entered high school she stopped with that but she still gets on my case about the picking and I'm even thinking to myself why don't you have me go to a doctor and get me diagnosed with ocd or something but she never did. And I can't wear bandaids because the adhesive will cause a BAD allergic reaction. I'm getting to the point where once something starts to heal, I go and scratch at it and it just comes back open and I don't know what to do
I'm the same, I don't really know how it's connected but just feel I'm not myself of not on the right path aligned with myself at the moment, feeling out of kilta does it make sense, I've been wondering whether to get help, I've only told a few people but because I'm not happy and il have an even worse day after I've damaged my fingers even more, and it snowballs to make me even lower.
When I read your blog, I asked myself the reason why I wanted to distinguish between skin picking and self harm; for me, it was whether I need to seek professional help, not necessarily to label to my behavior per se. My skin picking is definitely related to anxiety, but it is also causing damage to areas of skin cancer treatment, possibly interfering with healing. I haven't yet admitted to my dermatologist that I skin pick, which has become a compulsion. Then last night, a traumatic event happened, and within moments of realizing that there were no good options, I had a strong urge to tear at my cancer scabs and truly cause physical pain to express my emotional pain. Is it possible that what I am describing is a transition from skin picking to self harm? Is this a prompt to seek help? Thank you.
I'm not sure if they are different, I've been skin picking my fingers for years, to the point of making them bleed and become very sore, also knowing that when taking it to an extreme, it will cause lots of pain, hence=self-harm...
I also have OCD, can't remember which came first...
Hi Kim. Fellow HP blogger here. I suffer from skin picking as well. I just read what you wrote about your mom. Mine too! And you wrote it almost as I thought it about my own mom.
With the distinctions you've made, I agree. Skin picking and self-harm seem to be different. I've never self-harmed but I always thought my skin picking was a form of self-harm. Thank you for laying out the differences so plainly.
I'm the same as you insomuch as I've always done it. It's a compulsion. I'm trying to understand the triggers. The last couple of days I've been struggling with self-trust and body image. This evening, I picked my thumb and did damage. Connected? Not sure.
Anyway. Sorry for the long comment. Great post!
Leave a reply