Tips For Partners Living with Dissociative Identity Disorder
Living with dissociative identity disorder (DID) presents unique difficulties, whether you're the one that has it or the person who loves the one living with it. I can only imagine how frustrating, confusing, even painful it must sometimes be to have a partner with DID.
I've witnessed how challenging it often is for my own partner and, if some of the comments I've received here at Dissociative Living are in any way representative, her experience is typical. But it's also largely ignored. Partners of people with DID don't get that much support or encouragement, primarily because only those who've been there can truly understand (Caregiver Stress and Compassion Fatigue).
3 Tips for Partners Who Love Someone Living With DID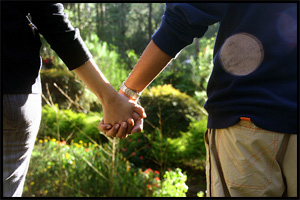 As someone with dissociative identity disorder, my perspective is different than my partner's. I think that's what makes hers so important. Significant others are in a unique position to offer viewpoints and ideas that might otherwise be overlooked. When I asked my partner what she'd say to someone in a relationship with a person with DID, this is what she said:
Know and maintain your own boundaries. You can't support others if you aren't supporting yourself. You're going to let your partner down sometimes. That's true in any relationship. When you let someone with DID down, the ramifications can be far-reaching and surprisingly painful. It may be tempting to make your own needs negotiable in order to ensure peace and stability. But that will backfire eventually by sowing the seeds of resentment and creating an unhealthy imbalance. Knowing your limits, and making the hard decisions required to honor them is vital. Believe me, sacrificing yourself won't heal your partner's wounds anyway.
Nearly impossible, but try to learn how to not take it personally. You're going to be the villain to some no matter what. People with DID generally have trust issues that nearly incapacitate them in relationships. It's not unusual for protective alters to attempt to sabotage intimate relationships. That's not about you.
Learn as much as you can, but remember all systems are different. There is no way to be in a relationship with someone with DID and not be profoundly affected. Living with dissociative identity disorder is just plain hard. It only makes sense to educate yourself. Not for your partner's benefit, but for yours. It's awfully hard to cope with something you don't understand (3 Ugly Truths about Dissociative Identity Disorder).
Living with Dissociative Identity Disorder Is A Choice for You
Those of us with DID don't have the option of walking away from the illness. You do. For my part, I'd like to remind you that no matter how it feels, DID isn't forced on you. You can leave, or choose not to get involved at all. Those of us with this disorder would spare you if we could. So when it gets rough - and it will get rough - please remember this: living with dissociative identity disorder is a decision you're making, not something we're doing to you. Blame us for our choices and behaviors ... not for having DID.
Follow me on Twitter!
Photo by Randy Pagatpatan
APA Reference
Gray, H. (2011, January 17). Tips For Partners Living with Dissociative Identity Disorder, HealthyPlace. Retrieved on 2023, December 11 from https://www.healthyplace.com/blogs/dissociativeliving/2011/01/for-partners-living-with-dissociative-identity-disorder
Author: Holly Gray
My partner of 7 years was diagnosed with DDD in January this year having had a complete shutdown but from a year and a half ago his emotions turned off like a switch towards me although not knowing why …. Sadly only 2 months after telling me he loved me for the first time after 6 years ..
It's been a hard journey but I have been there every step of the way …. He is having therapy which is helping …. However he basically connected with a married work colleague at his Xmas do last year, he started to work there almost at the same time he switched off from me …. He told me about her indicating clear intention to take it further ….. I have known for a long time that he would want to spread his wings, he married very young and I don't blame him but it's so hard having lost all emotion that they have been brought back by someone he hardly knows and I am still blocked … he is even talking about wanting a relationship with her when he hardly really knows her and she lives 4hrs from us … I totally am up for an open relationship but this is not what this is as his actions treat me like I'm nothing … he's happy to sleep with me but there's no kissing, passion or love anymore …. His messages are cold, yet I have seen some to her that are the opposite. …
I also worry that there are red flags about her (severe jealousy and accusing him of sleeping around a lot , even though that's completely untrue)
Is he now an alter? Do I just accept I've lost him .. should I just be patient and it's part of dissociation and hope he comes back to me when he's worked through it … I am fairly sure this situation isn't going to end well …
I am the only person in his life that hasn't hurt him or walked away and I want it to stay that way and don't want to let him down as I love him so much and I know the beautiful soul he is inside but equally I can't allow myself to be hurt and treated this way …
I'm so confused …. Can anyone help …
I am currently dating my partner, they are the light of my life. They have DID, they have always mad it known in certain group chats we both participated in. So I vaguely knew that they were a system, but I didn't grasp the scope of DID. I only knew a small amount of information about the mental illness via the height of DID on YT some years back. I never revisited the topic of DID since I myself does not have the condition. But since starting this relationship I figured I should take it upon myself to learn a bit more, this small blurb has helped me understand a little more. I try not to hold it to them for various things I understand that its not the DID but the hosting Alter choice that are to blame. Though I believe my experience with my partner is a bit different. We roleplay alot, and they use their alters as they are for stories in which I get to learn about each alter, understand their roles and responsibilities. I get a deeper sense of connection with each currant met alter, this also weird during this relationship I have experience profound happiness, stress, worry and lost. This relationship is young less then 6 months old, but I trully see myself being with them for my whole life. So I am going to learn as much as I can to understand as best as I can. I went on the mentality of rolling with the punches but the punches eventually beat you down. There is no way to repair the bruises from the last punch fast enough. It gets exhausting when you see them tired and drain with no energy when you want to do things and you have to stepp back. To being the one mentally ddrained and they are fine, there is a balance and it isnt something that can be attained with in a few months maybe takes years. But I have learn that its okay to cry, to communicate, to allow yourself time to process what has happened in the moment. I kinda wanted to vent honestly? I dont think this comment would be considered a vent, but I just wanted to see if there were others in a relationship with a person diagnosed with DID.
Hello, I am currently talking to a guy with D.I.D., he just recently told me. When we first met, he only told me he had ADHD, we got to know each other a bit, which went by fast actually. The next thing I knew he was face-timing me and telling me random things that happened to him just moments before. Our conversations were good ones, but they were shorter than most. I originally thought it may just have to do with ADHD and his work schedule because his job is very stressful. I was okay with that. But then, about two weeks after we started talking, he kind of went ghost. Like leaving me on delivered for more than 24 hours, sometimes 48 hours. This started happening more frequently. He would come back of course, and let me know that he was busy with work. I believed him because, I trusted that he was still interested, because I hadn't been blocked yet. Most of the time when I speak with a guy I vibe really well with, I end up getting ghosted by the guy, and usually, I wake up to me being blocked. But, with him, that wasn't the case. So I became very confused. I wasn't sure if he liked me. I constantly was overthinking, and I was very hurt. There are instances in which guys I've spoken with have kept me on the sidelines and attempted to treat me as a second option. So automatically my mind went there. So of course I was hurt, because I thought this is what that was. During these semi-long periods of no communication, I did feel lonely, but he always came back, and one day when he did, I was frustrated with him. I didn't say anything bad to him, but I was very dry at responding, and he noticed my change in behavior. I told him that I get frustrated with him sometimes and that I wasn't sure what this "relationship" even was. I told him if communicating with me was too much for him, that he could let me know, and I would understand. That's when he told me about therapy. He said, with work and therapy every day he felt like his personal life was being invaded, and that he didn't want to sacrifice anything. (our relationship) I told him he might have to and that's fine, I wanted to give him the space that he needed. But, he said, "I'm not letting that happen", that's when I asked him "How do we make sure that it doesn't" and he said "Bend the rules to my own needs" After that conversation, I was under the assumption that he was going to try harder to be more available. At the time I didn't know what it was for, but I still tried my best to be more patient with him. But I became overwhelmed with stuff going on in my own life, and I wasn't sure if we'd be a good fit anymore. I had been afraid to confront him because I didn't want to seem desperate, or annoying. But finally, those urges and that hurt overpowered my fear of confrontation, and I texted him. I asked him if he actually liked me, because I constantly felt like he didn't, I felt alone. He told me he didn't know what was wrong with him, and that he was sorry, and wished he could tell me everything that was going on with him. I told him to take his time because I didn't want to force him to communicate with me. I want him to feel comfortable enough to tell me. Yesterday, that's when he told me he had D.I.D. I googled it, and read the official definition of it, and my heart broke. Because I felt so bad for constantly bothering him about communicating. It also got me thinking about what could have possibly happened in his life to trigger him. Your mind starts to wonder you know. So it was a very emotional moment and still is. After telling me, I asked him if he thought therapy was helping (I hadn't done any further research at this moment), he said he didn't know if it was, and that one night he went to sleep and then woke up driving his car. I didn't know what to say to that, and I expressed that. Then I began to research and started reading more about D.I.D., after researching for a bit, I expressed to him that I felt like I understood him better, and he appreciated that. We haven't spoken since he told me, and to be honest I'm not sure what to say. But I do know I want things to work, but the thing is we are long-distance, and I want to get to know more about him/his alters. I want things to work out, and I want to let him know that I'm here for him. That's why I'm doing everything I can to learn about D.I.D. I haven't found many articles about long-distance relationships, and I'm a bit stuck. What can I do to let him know that I'm here for him and that I don't plan on leaving.
I'm really glad I found this site. If anyone here is still active and willing to read my story, I would appreciate any advice!
I'm 18 and my partner is 19. I'm currently working and they are in college. We are also long distance and can't reach each other physically without a plane ride. Still, we got together a year ago and have had a really great and stable relationship so far. We visit each other as often as possible and they lived with me and my mom over the summer so they didn't have to stay with their abusive parents. I love them with all my heart and my mom loves them too. I fully intend to marry them one day, but not for at least a few years. I've never been in love with anyone until I met them and they make my world seem like a brighter place. I know I mean the world to them too and it makes me so happy.
Unfortunately though I've been struggling to handle their recent discovery of having either DID or OSDD type 1B. They're not diagnosed as they want to go to a psychiatrist that specializes in DID and it's hard to find one in their area because of the stigma around it and the area they live in is very religious. And their insurance doesn't cover them where I live so it's hard to find the right person and the money for it. When they first started to consider that they might have DID it was because they had a "little" alter that they gave a different name to that I was already familiar with and was good friends with. So at first it was really easy for me to accept.
The more they researched things and the more they thought about it they realized the presence of a few more alters. I liked all of them when they told me about them but my relationship with one of them besides the sort of main host I've been dating is more complicated. I found out that during our relationship there was a lot of co-fronting between that alter and the one who goes by my partner's name. I am very monogamous and struggle to form romantic connections in the first place, plus I have some jealousy issues. But because I initially fell in love with both of them when I thought they were one person, I still possessed those feelings for both of them when I found out they were separate. The main host was obviously very in love with me and would even get a bit jealous of the other alter I had feelings for. However that alter doesn't feel the same way about me, which I was only recently told. They still care about me I think since I provide so much support for the main host and they are a protector. They're also an alter that holds most of the sexual trauma and is hypersexual and flirty because of it. They're also polyamorous. It hurt me a lot when I found out they didn't feel the same about me. Also I get really jealous of their closeness with an online friend of theirs. This friend is honestly really nice and supportive and has been really good for all of the alters, but it just makes me feel more insecure and like I'm being replaced even though I just want to be happy for them. I kind of messed up and had a fight with this alter and now they don't want to talk to me. I feel bad and I miss them but I know I'm not ready to mend things when I still have all this jealousy. They just want the freedom of being able to have sex with anyone they want and not be controlled by anyone else, but I just can't make myself feel okay with that. I know it's hypocritical of me since I like two of the alters but the thought of either of them with someone else hurts so incredibly badly.
I also have mental health issues and am starting to suspect I might have BPD. It would explain a lot for me and why I am so irrationally afraid of being replaced and why I lash out at the people I love when I simultaneously am screaming at myself to stop. I started going back to therapy but I've only had one session so far to establish things, and it feels like things are happening way too fast for me to deal with them. Not to mention my partner gets jealous of the other alter and wants me to let them have freedom so they can have me exclusively. I feel so stuck and conflicted and we've never struggled like this before. I need advice from people who have been through this. I want to be supportive, but it's not always easy.
Should I let the alter be able to hook up with whoever and try to bite the bullet? Should I stand my ground and set it as a clear boundary? Either way someone suffers. If anyone can offer advice or comfort or even just relate to this it would mean so much to hear from someone.
I don't know if this is the best place to do this, but here goes.
I am in a long term, 3 year though long distance, relationship with someone who has recently realized they have DID. They always seemed to flipflop between emotions and were very touchy at points, but I am a very similar way, having BPD and anxiety and being very sensitive to certain things as well as switching between extreme emotions at the drop of a hat, so of course, I always try my best to be completely understanding and forgiving. It helps a lot, and we work through almost all of our problems together this way. However, there has been a problem with cheating and monogamy in the past. All four of the alters claim to love me and are okay with me dating all of them, though all of them, including myself, claim to be monogamous. I fear I may be doing them a disservice calling myself that, as one of the alters has explained to me that I'm dating four different people which of course I know but is difficult to wrap my head around. That is not the issue however, the issue comes in my anxiety. I don't know if I could have a life with them if they for any reason develop an alter that either doesn't see me romantically, sees someone else romantically as well, or hates me outright. I know the body is not theirs, and if I could press a button and give them all their own bodies I would in a heartbeat, but I can't, and the idea of seeing their body, even if I know in truth it isn't them, with another parter hurts more than I can explain in words.
What can I do? Are my concernes valid? One of the alters seems upset that I 'don't understand' they're all separate and that the body isn't theirs. I do understand that, but the idea of said body having relations with anyone else still makes my skin crawl. It hasn't come up at all and is not an issue. But it is still a fear.
If I said anything wrong or see anything wrongly or don't understand anything please correct me too, im trying to learn about DID as well for them, so any education is appreciated. Thank you.
I love all of them so very very much. Each of them are their own person and each of them expresses their love for me in a different way. We recently had a big thing (concerning cheating and another loved, yet monogamous, partner of an alter.) and an alter is in I guess what you could call 'stasis'. I haven't seen them in a while and I miss them so so much. I feel so incredibly lucky to have four people who love me so much, but recently they had a new alter (who I never met) form who was immediately removed due to them being harmful to the system as a whole. They're the reason my mind began to spiral. I am open to the idea of polyamory, but only in the case that every member of the group loves eachother (i.e. i also love the potential other partner and they love me) as otherwise I fear I will become too jealous and/or spiral at the thought they may want to leave me for said partner. (Which is another concern of mine, an alter wanting to leave our family in the future and move out, hypothetically as living together has been a thing we've all discussed many times)
Anyways, anything to ease my worries or explain things to me would be greatly appreciated.
Much love and deepest thanks.
Hello!
I've been dating an individual with "high functioning DID" (their words) for about 9 months. I would say I'm in a relationship with 4 of them and love them all very much and have a very different relationship with each of them. I am polyamorous and so these relationships have worked for me and how my brain functions. In other words, I haven't felt like I am sacrificing, settling or giving too much. Some days have been hard, others so happy- just like any relationship. But the highs are high and the lows are low. One alter is a self prescribed alcoholic and frequently has mental breakdowns and she has been out a lot recently. I feel like she is only stable when I am with her. On top of this, a destructive alter has been re-emerging for the last 2 months or so and has been preying on the alter previously mentioned who has frequent breakdowns. I have tried my hardest to talk to this destructive alter and reason with them, ask them what they want, make friends with them. They have said that their goal is integration- all alters merging into one. Even though this is the conventional form of healing for people with DID, this alter is going about it in all the wrong ways. He is "taking" alters away out of malice, not for the end goal of healing. Anyways, I don't know what to do about this. Everything was going so great until this alters emerged. But I have to come back to the fact that this alter is a part of the ones that I love; they are all connected.
On top of all of this confusion on how to navigate these relationships, the first alter mentioned, had one of her mental breaks when I wasn't able to be with her and decided to go to her moms house and tell her everything, which is a rule of the system to hide themselves from their mom. When this was going down I was encouraging of it because I thought the mom could help in my absence as I was afraid for their safety honestly. Anyways, their mom did not accept them, didn't understand, didn't want to understand their DID. This feeling of rejection from their family led to an intense mental break. I feel like I can't leave their side now. I don't know what to do. I want them to get better, but I don't know how that is possible honestly. On top of this, I have my own dreams and aspirations. I don't know how to balance my happiness with loving them. I don't know if that sounds terrible. Don't get me wrong, I need them too. I love them and would be devastated without them. But I don't know how to have both even though I want to.
Is anyone else dealing with anything similar- difficult alters, unstable alters, difficulty balancing your personal lives and love lives?
Hi, my partner recently has been diagnosed with DID. For the last few months we've managed and I get along well with most of the other Alters. I just miss him. And sometimes i feel more like a caregiver than I do a partner. We talked about having kids together but they have some littles already and I'm not sure if that'd be too much on our plate. It was a big dream of ours. Anyone out there have a family with DID? How did you manage?
I hope this is still active. I stumbled upon this page. I have been hoping, searching, pleading for support from people who actually understand what I go through. I have been with my wife for 12 yrs. When we met she told me she had DID. I knew what it was... but didn't understand... not really... what that would mean for me. My wife has over 20 personalities. Most are nice and just fine to deal with. But there are a few that are very emotionally abusive. I often feel like I am going crazy. I have not been happy for a long time. It is so hard for me. If anyone I k eq told me that they were going through what I was I would tell them to leave. I have been very close a few times . But have always been pulled back in. Because I truly do love her. And I know she, the primary personality, loves me too. And I just have a hard time throwing that love and 12 yrs away. But I just don't k ow what I am supposed to do.... am I supposed to stay and just endure.... or do I leave and break both our hearts.
i am still suffering distress after witnessing the 4 yrs 8 months abuse of my client online i being alerted 5 times by child alter 2yr old Bethie following her persecutor alter removing me for fear i would reveal her seeking revictimization . It has destroyed my life ruined my daughters wedding and graduation . The only plus is that her abuser did a Jeffrey Epstein and tributes and condolences to family of a man that ruin my life threats from police and social services deleting evidence
I think I may be married to someone with some form of DID. I know he experienced trauma as a kid but I'm not sure the specifics. I always thought he was so inconsistent- one day he would like something and the next he wouldnt. It always left me confused and walking on egg shells. I started to see a therapist and she asked me if he had been diagnosed with DID or a personality disorder. After I read about it DID, I'm still not sure. He's been stressed with work lately and the blank stares are becoming more frequent. I also find that I'm having to repeat myself more and more lately. I'll tell him a story only to find that he can't remember me telling him. At first I thought he was trying to gaslight me and was trying to make me go crazy but he wasnt. He really couldnt recall what he even did on that day. Sometimes he wears glasses and sometimes he says he doesnt need them. It's a bit confusing and hard to understand. Especially when he doesn't and will not talk to me about what he's going through. I don't know how to ask him or talk to him about it.
People with DID, please don't be afraid to have a relationship or get married if you should find a person who really loves you and believes themselves strong enough to be with you.
In 1987 I fell in love with a lady with DID. I met with at least 3 separate personalities I encountered over the following 18 months. Two were loving, kind and very much in love with me.. particularly the primary personality that seemed to be dominant most of the time.. The third was rarely seen.... destructive and dismissive at first, believing I held her back from what she wanted and needed.
One night she came home at 2 AM, cold and stiff. I held her and she started crying, demanding that I punish her , hit her. I held her tight, kissed her and told her that I could never hurt her, I loved her. I said that no matter what had happened that night, no matter what she had done,. it didn't matter, I loved her. And I meant it completely without reservation. I held her tighter and she held onto me tighter,. I felt waves of love from this personality. as she sobbed herself to sleep.
The next morning, the happy loving partner personality seemed completely unaware of the events of the previous night... and I may have made the biggest mistake of my life by not discussing it with her... but she seemed so happy I didn't want to hurt her.
The dismissive personality I believe came to love me after that night, and i watched as she fought to change her destructive ways over the next few months.
Several months later I asked the primary , loving personality to marry me. I saw the joy in her eyes that then shifted to concern and quiet. She hugged me tightly and desperately, we kissed.... but would not answer Yes or No. That was the last night I ever saw her... she disappeared and a friend told me that she said she would never return to me... she felt she was protecting me and she never wants to harm me..
People with DID.... Please know that if you meet someone out there for you, who can love you so strongly and completely ... that says they wanting to marry you, eyes wide open...
Don't run from them... trust that if they say they are strong enough to weather anything that happens, and they love you completely. without reservation....... you and they both deserve the chance at long term happiness.
Only time and trying will tell... do not give into fear of what may happen... find out what does happen.
.
These DID beings need lots of hugs, kiss them on there forehead and say love thee.
Times will be hard but one will feel the love, threw there food threw there what ever.
Be open mind. One will see the light.
We make the bed while other sleeps, more time for hugs. They need lots of hugs. Her and I have been together 8k hours minus 1.5 months do to hospital visist. Since February 22, 2020.- March 14, 2021. When one sees pearls of tears go down face, it's real. I don't know ASL, (SM). one will go the distance. She is undiagnosed. Diagnosed with schizophrenia which one sees is not true.
One loves quotes. We write each other quotes.
The fist quote she wrote is, "everywhere everywhere."
When the crowns on all the checkers face your end watch out.
Be creative,
Ones first date married , her last date was Avery a guy. My first date is Avery and she is a women. 3k old. Love one Bear Bella Perzel.Avery one is strong. Love one always. Serve thy community serve thy state serve thy country serve thy world. And serve all in the universe for the universe holds the flower together in our hands.
Lots of hugs to all,
Rob
Well i tried educating myself but by the time i did she had already shifted to another personality and broke up with me. "mental stalker" was the noun she gave me when i tried explaining it.
For those of you who are struggling with D.I.D or know someone who is struggling with D.I.D, there is an amazing YouTube channel called DissociaDID dedicated for this disorder.
My partner was diagnosed with DID a few years ago and while it has been hard for both of us, this channel has really changed our life. It's an educational channel run by an individual with D.I.D. A lot of the questions that I had and a lot of questions that you have in this forum is answered in these videos. The channel also focuses on helpful tips for those struggling with DID.
If you have a chance, I would recommend checking this page out (and no, this is not sponsored). I'm just an individual who has experienced the pain and hardship that comes with D.I.D and want to do my part in helping those who are going through the same thing.
This is the link to the channel: https://www.youtube.com/channel/UC6kFD5xIFvWyLlytv5pTR1w
Hi, I'm apart of a system, I'm not diagnosed with DID but I most definitely have symptoms, I am 16, and am only really hearing bad stories. Should our system just not date?
Hi, My name is Shawnesta and I've been with my husband for 20 yrs now. He recently came out about his DID to me, our boys and some of the family. I knew he had multiple personalities but I never realized it until he came to me with his alter, Pixi. Him and Pixi are both in love with me but they get jealous of each other if one spends too much time with me than the other one. She enjoys doing all the things women would do. In example, painting her nails, shaving her legs and putting on make up as well as women clothing. My husband works at night and comes home in the morning and Pixi comes about and does these things and he wakes up like this and gets upset about it. I've mentioned to him about getting some kind of help with all of this and he refuses to cause he don't want to be medicated. I'm confused at this cause I know he needs help but I don't want to force it.
Leave a reply