Dealing With Holiday Depression
Christmas is a tough time of year for me. After my maternal grandfather died on Christmas Eve when I was a child, my mother became emotionally abusive. In addition, the often overcast weather prevents me from getting enough sunlight. Add that to the fact that everyone expects me to be cheerful and you have a perfect storm for symptoms of mental illness.
So how do we, as people in recovery from mental illness, deal with holiday depression?
Acknowledge the Pain of Holiday Depression
Like it or not, the pain of holiday depression is very real.
Dr. Rakesh Jain, in an interview with WebMD says,
Holiday blues are a pretty common problem despite the fact that as a society, we see the holidays as a joyous time. Many people feel depressed, which can be due to the increased stress that comes with the need to shop and the decreased time to exercise which gets put on the back burner during the holidays.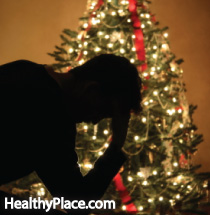 A sure-fire way to acknowledge the pain is by writing about it.
Dr. Darlene Mininni, author of The Emotional Toolkit, told WebMD,
Writing about your holiday blues can actually change them. People who write about their deepest feelings when they're upset are less depressed, less anxious, and more positive about life than people who write about mundane things.
She suggests writing for 15 minutes a day for three or four days in a row and answering such questions as, "Why does this upset me so much?" or "What would I like to see happen?"
Jain recommended looking at what is causing the pain:
See what it was in the past that led to trouble, whether drinking too much alcohol or not exercising enough or the decreased social contact that comes from going to parties with relative strangers, but forgetting to connect with friends and family. Every time depression visits, it leaves a fingerprint. Look for what in the past has been a repeat source of trouble and find ways to avoid it. If you plan, it's very likely that you won't be singing the blues this holiday season.
Know Your Source of Holiday Stress
According to Healthline, a 1999 Canadian study of patients treated by emergency psychiatric services during the Christmas season found that the most common sources of stress were feelings of loneliness and "being without a family."
Minnini said,
If your father died and you always spent Christmas Eve with dad, rather than sit home, do something different," . "Start a new annual friends' dinner or go to a house of worship . . . Who says that is the only tradition that there is? Create a new tradition instead.
The heart of the matter is our expectations are more often than not the source of the problem.
Minnini said,
It's not necessarily the holiday that's the problem, it's our rigid expectations of it. Your family tensions probably existed the rest of the year, but they didn't upset you as much as they do now because you weren't comparing them to your holiday expectations.
Act According to the Problem
Know the source of your holiday stress and make a preemptive strike. For example, if you're an alcoholic who is expected to appear at the office Christmas party, go, stay for a few minutes, then leave early, explaining that you have another engagement. And if you can't stand Great-Aunt Bethel, ask whoever is in charge of seating not to sit you together.
Act according to the problem.
May all of you have a happy holiday season.
You can also find Becky Oberg on Google+, Facebook and Twitter and Linkedin.
APA Reference
Oberg, B. (2014, December 2). Dealing With Holiday Depression, HealthyPlace. Retrieved on 2023, December 6 from https://www.healthyplace.com/blogs/recoveringfrommentalillness/2014/12/dealing-with-holiday-depression
Author: Becky Oberg
I try at Christmas time to open my heart to other s that don't have anywhere to go so I still enjoy Christmas and make another s christmas special. Try amd see how you go
I find I have no joy or happiness at this time of year .I basicly fake my way threw it My daughter ASHLEY passed away in 2002 with her dad (my ex) 1 mo later his brother and he was one of my best friends a few months later ,then their sister 2 months later .So......needless to say I,m stuck in a major depression with anxity issues as well.So I cry a lot for my daughter everyday .I,m getting help and on lots of meds .But nothing is helpin.g at this moment .Stuck and don,t know what to do
I so needed to see this from the site. As a child my mom left us I care of my older sibling he molested me sexually for years each holiday was ruined for me my ma knew of it and did nothing which was terribly painful to realize as adult she did nothing.. I have losses too many at this time of year as well as I grew up sort of..................I needed to know I wasn't alone....sorry but this did help me
Becky, thanks so much for the uplift during my normal horrible holiday season, I miss my family so much but whats left of my relatives don't have time for me and it is a very depressing time, our little mental health place is having a Christmas eve. dinner for us, just a few of us that have no family to go to for the holidays. thanks a lot for being there. smile. Debra
Leave a reply