Publishing a Book on Mental Illness and Addiction
This July, I published a book, The Third Sunrise: A Memoir of Madness. It was a long three-year process sprinkled with bouts of depression and anxiety, but happiness as well. I had always wanted to write a book about my experience with mental illness and addiction. The reality of it--exposing my life on paper--was much harder than I had originally thought. I suppose I was a little naïve?
The Diagnosis of Mental Illness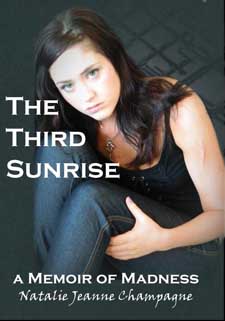 I was twelve-years old when I was diagnosed with bipolar disorder. I spent the better part of two years in a children's psychiatric hospital. It was a scary place; particularly when I had no idea when I could go home again. I missed years of school. My two siblings told me about the sports they played, the friends they had made, and I would cry. Writing has always helped me survive, even as a child.
This is an excerpt from my book, a diary entry I wrote when I was thirteen and confined to the hospital:
"Do you know what it is like to be scared of yourself? I hate it and I want to feel safe and happy in my body. Are people actually happy? Is there such a thing as going to bed at night and feeling good about your life? I want so many things people take for granted. I cry myself to sleep almost every night, wishing someone's arms were around me, wishing I could sleep forever. I don't even know why I write in this thing. What is the point? To record my ongoing battle? Maybe I will make a book out of it one day but I think it would be too embarrassing. I am trapped in the hell known as my mind: it is a scary place from which there is no escape. I want to beat this horrible disease; either that or learn to work with it. I want...something."
I guess I had some foresight, even at a young age. Truthfully, publishing it was a little bit embarrassing, at least at first but writing it has pushed me to understand that the little girl in the hospital was me and I needed to accept that. I talk a lot about accepting mental illness within these blogs and it's something I learned to do at a young age. It was survival.
Anorexia and Bulimia
I found a combination of bipolar medication that stabilized me when I was fifteen-years old. I was released into a world I did not understand. I had no idea how to talk to people, to make eye-contact and smile once and a while. I felt alien to the world. I felt utterly alone.
Despite this, I made my way into college, quickly catching up on the years of school I had missed. But I could not shake the images: myself as a child, locked in a concrete room in the bleak hospital. Screaming and swearing and throwing things. My life had caught up with me and I clung on to the only thing I felt I could control: my weight.
Here is another short excerpt from my book on the experience:
"I am focusing on food, or lack thereof, because depression has engulfed my mind. I can no longer see past the scale, past the dwindling numbers and the buds that were once full breasts. Anorexia has taken me prisoner, and I am—for all intents and purposes—grateful to have something to focus on, something to stop the hurting."
At the age of eighteen, I slowly moved away from anorexia and bulimia and became an addict.
The Experience of Addiction
Becoming an addict was, by far, the worst experience in my life. It was terrifying. Absolutely terrifying. I cannot find the words to express the experience but I can use another part of my book as I wrote it shortly after I began to recover—five long years later.
"It has been two years since my initiation into chemical warfare. It was fun...at first. It felt dangerous and gave me something to lessen the monotony of college classes and simple-minded part-time jobs. It has ruined me now, utterly and completely. I do not remember who I used to be, and I am not even sure I want to because I have changed so much. When I look in the mirror, I get this strange feeling of detachment: Who is that? How is it possible to look both years older than my age and years younger? I am unsure, but it is unsettling, and I cannot seem to find comfort in anyone's arms, certainly not my own. Even a pile of white-cocaine-dust offers no allure; a pill, serotonin-drenched, no thrill. How can two years have passed? How can they be both the best and the worst of my twenty years?"
The Road to Recovery
Recovering from addiction was the most difficult thing I have ever done. Like mental illness, it requires constant self-care. I'm twenty-seven years old now, three years sober, and feel blessed to have been able to publish a book on my life. I hope, above all else, it is well received. It's hard putting your heart on paper! I only have so many words in this blog, but I have many more on paper and that's kind of scary, but kind of neat as well.
You can read sample chapters of The Third Sunrise: A Memoir of Madness here or connect with me on The Third Sunrise website.
APA Reference
Jeanne, N. (2012, August 27). Publishing a Book on Mental Illness and Addiction, HealthyPlace. Retrieved on 2023, December 1 from https://www.healthyplace.com/blogs/recoveringfrommentalillness/2012/08/publishing-a-book-on-mental-illness-and-addiction
Author: Natalie Jeanne Champagne
Hi Natalie,
I was diagnosed autistic a few years ago, but wasn't taught what it meant until I met my husband two years ago. My husband also figured out I was bi-polar, and dyslexic and how bad my anxiety really gets. A year ago next month I had to cut off communication with my bio family ( the only "family" we have in the area other than our brother) who emotionally abused my husband and me the past two years.
Natalie well done for getten so far myself has also adhd emtional borderline I'm considering written a book 3 yrs ago I was detained under mental health act and I can relate to u when docshe sayen I no..no they don't they havnt lived it..can u email me how u went about it thank u x
I've had a lot of problems finding posts about transcription and translation of
dna to proteins, glad I found this though...incredibly useful
Shared on Reddit, someone will like it
Thanks for your personal marvelous posting! I seriously enjoyed reading it, you may be a
great author.I will be sure to bookmark your blog and definitely
will come back from now on. I want to encourage you
to definitely continue your great job, have a nice evening!
Natalie, I just downloaded your book and have started reading it. I am so proud of you. This bipolar came on me at 30 yrs old, when my son was 2. For 19 years I went misdiagnosed and, sadly, left a wake of damaged family members, friends, co-workers and people I was responsible for. My son was diagnosed bipolar at 18, but by then was already an addict. He did his best and heroically made it to 27 years before we lost him. Your struggles have struck a chord, and your success gives me joy and hope. Best wishes.
Joe Cool
Hi, Joe!
First, thank you for reading my book:) It's strange for me: The content of the book so raw. I don't think I can read it again--fifty edits later! I cannot ask for more than my book helping anyone. Thank you so much!
Sincerely,
Natalie (AKA a cautious kind of scared writer:)
Hi Natalie,
I have said it before and I'll say it again and again, I am so glad to have read your book. It is amazing what you have accomplished and I'm glad to see that you've turned to writing as an outline and to share your story, something we have in common.
Also, those were great poems. :)
Mark
Congratulations! That is a huge accomplishment and a very brave leap. You should be very proud of what you have done. Not just writing the book and working to reduce stigma by publishing it but also of your hard work to overcome your addiction, eating disorder and finding ways to manage your mental illness so you can live your life. None of these are a small task. I wish you great success with the selling of your book and am looking forward to reading it.
Hi, Malinda
Thank you so much for the positive feedback! Putting my life out there has been really hard and it is comments and support like this that make it all worth it.
Sincerely,
Natalie
You are incredibly brave and a true survivor! I commend you on writing this book and will be sure to pick one up. I hope it was cathartic for you, as I am sure it was, and that you continue in your sobriety. My 32 year old son nearly died from his addiction to drugs that he used to try to ease his mental pain and we are so blessed to still have him here on earth. He still struggles, but has been clean for 10 months now.
Thank you so much for your honesty in writing of your experiences and I wish you continued success in your life.
Hi, Kate!
I think all of us who live with a mental illness are brave and survivors. I am so happy to hear about your son---addiction is an awful thing and I feel blessed I am recovering. As you know, recovery is a lifelong pursuit. Thank you for such a positive comment!
Sincerely,
Natalie
Leave a reply