Mental Illness is an Isolating and Lonely Disease
Mental illness is an isolating and lonely disease. This is not to say that everyone diagnosed with a mental illness feels alone in their struggle, but many of us do, most of us do at some point in our recovery. Because I was diagnosed with bipolar disorder at the age of twelve, I have often felt lonely and as if very few people could really understand me. And now, twelve years later, I still struggle with a feeling that I am alone in my illness, that despite a concerted effort on the behalf of those who love me, they cannot really understand the struggle. These thoughts, these feelings, are normal in connection to mental illness, because by nature, mental illness is a lonely and isolating disease.
Mental Illness as a Lonely Disease
The word lonely is defined as a feeling of being alone, of feeling separated from others, being unsure how to connect to those we feel are on the outside of our experience, our world. If a person has been diagnosed with a mental illness later in their lives, perhaps in their twenties or thirties, years when one is expected to thrive, the illness can abruptly sever relationships.
Mental illness lends itself to isolation, instills a fear that we are different than others. Sometimes, it feels like we are wearing a sign that states we have a mental illness. It can seem easier to separate ourselves from the world, to believe that we are different. Feeling alone, segregating ourselves, spurs a state of isolation.
Mental Illness is an Isolating Disease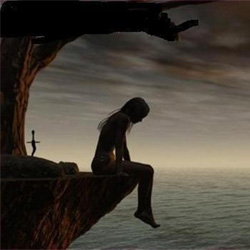 Isolation is a feeling of chronic emptiness. A belief that one does not belong. A fear of life and of others: isolation, anxiety and depression. It can define mental illness and negatively effect recovery and the sense of self. When a person is diagnosed with a mental illness their perception of themselves changes. Life can seem divided: before the diagnosis and after. It can be hard to separate and integrate the person you are now from the person you believe you were before.
Reclaiming Your Life From the Isolation and Loneliness of Mental Illness
This is not easy, but it is possible, and the process is rewarding. First, work to understand that you are more than your mental illness: you are the same person you were before the diagnosis, maybe you are functioning better, and your life is manageable. Recovery has become a state of being and not just a pursuit to achieve it.
It can be beneficial to seek therapy. Talking about how isolated you feel, how you feel you are different from others is helpful. A competent therapist, a therapist that you can feel comfortable with (this is very important), can help you understand that you are not different than others (Six Tips on How to Find a Great Mental Health Counselor).
It helps to remember that people are simply different from each other and this is what makes us unique. This is what makes the world an interesting and accomplished place. You are unique, but you are not exclusively unique. Try to think of what makes you special: the things you do for fun, painting or running for example, traits that define you as a person. Remind yourself that you are you; you are never defined by mental illness alone.
You cannot ignore the fact that you have a mental illness, you need to treat mental illness effectively, and work to become or stay recovered, but your life, your personality, is much more than the diagnosis that your psychiatrist has written beside your name. If you can do this, then it is possible to connect with others, and not just those who have a mental illness, people that were your friends before the diagnosis, and the new ones you will meet after.
APA Reference
Champagne, N. (2011, October 6). Mental Illness is an Isolating and Lonely Disease, HealthyPlace. Retrieved on 2019, August 22 from https://www.healthyplace.com/blogs/recoveringfrommentalillness/2011/10/mental-illness-is-an-isolating-and-lonely-disease
Author: Natalie Jeanne Champagne