Feeling Anxiety Is All-Encompassing: I Wish It Would Go Away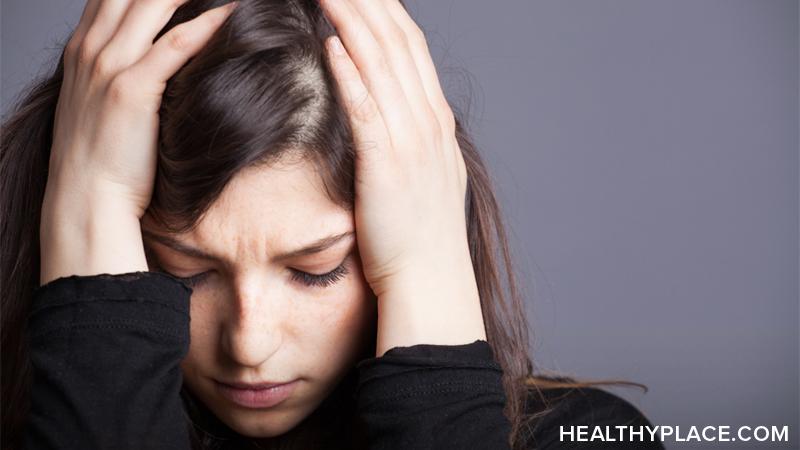 Sometimes, it seems as though feeling anxiety is the only thing I can feel. Everything seems to provoke my anxiety—even seemingly simple tasks such as bathing and washing my hair. I am constantly worrying, even when I'm supposed to be having a good time.
Feeling Anxiety Causes Me to Constantly Worry
Today, my husband Tom and I went to the Chicago Botanic Gardens. It's a beautiful place, filled with flowers, butterflies, and meticulously-groomed gardens. My favorite is the Japanese gardens, which Tom and I visited today. Yet, I spent the whole time feeling anxiety and worry.
What is worrying to me? It's a way that my schizoaffective anxiety manifests itself and grabs onto something to feed off of so it can exist. Yet, when I'm worrying, it feels like the thing I'm worried about is the only thing that matters in the world.
Worse, worrying can make me hear schizoaffective voices.
I feel I can't control my worrying. I've experienced anxiety my whole life, even before I knew it was anxiety as a symptom of schizoaffective disorder. And I've been constantly worrying my whole life, even as a little kid you can see it in pictures of me. I've tried everything, from deep breathing to yoga and meditation to mindfulness, and nothing seems to allay the worry.
This Feeling of Anxiety Isn't Just Worry
There's more to my schizoaffective anxiety than worry, although that's a big part of it. Sometimes, if I think I've said something wrong or done something wrong, a sharp stab of guilt will hit me right in the stomach. It's an awful feeling.
Other times, I'll have just free-floating schizoaffective anxiety looking for something to hook onto. So many situations are bait for anxiety—anything from driving to getting to a doctor's appointment. The more important I think something is, the more likely I am to feel anxious about it. Even organizing my psychiatric medications for the week makes me anxious. This is because I know how crucial it is that I take the right medications at the right times.
Sometimes I Feel Emotions Other Than Anxiety
Music cracks through my prison of schizoaffective anxiety. I find that when music does this, I often want to cry. This makes me think that my anxiety is a mask for schizoaffective depression. At any rate, I have go-to songs for when I need a good cry—"Climb" by Tori Amos and "Look On Down From The Bridge" by Mazzy Star.
Tom makes me happy because he makes me laugh a lot. Of course, he makes me happy for a lot of other reasons, too. Still, laughing really gives me a bit of relief from my anxiety.
I am predominantly a very anxious person and peace of mind is hard to come by. My doctor and I recently raised the dosage of my mood stabilizer in the hopes that it will alleviate some of the anxiety. Also, it helps to know that there are a lot of people who love me and who I love. I really am doing the best I can. So far, it's been enough.
APA Reference
Caudy, E. (2019, September 5). Feeling Anxiety Is All-Encompassing: I Wish It Would Go Away, HealthyPlace. Retrieved on 2023, September 29 from https://www.healthyplace.com/blogs/creativeschizophrenia/2019/9/feeling-anxiety-is-all-encompassing-i-wish-it-would-go-away
Author: Elizabeth Caudy