I Experience Hope Fatigue; Do You?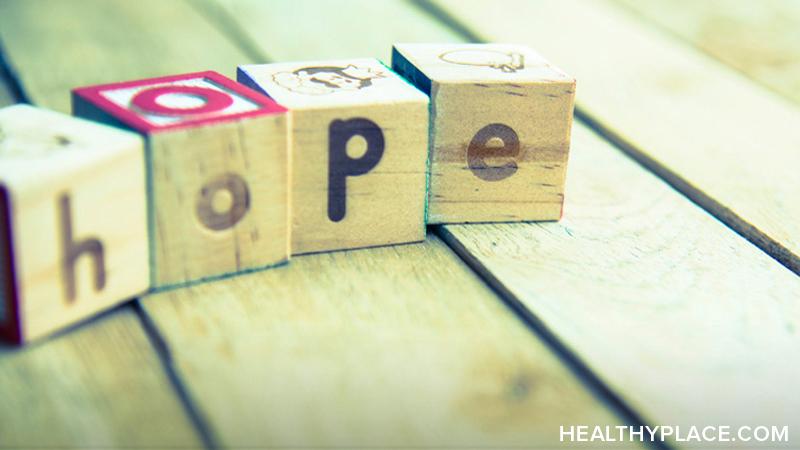 I'm experiencing hope fatigue. Basically, I'm sick of the very word hope, let alone trying to scrape some up for me and my illness. There are many reasons for this, but believe me when I tell you that hope fatigue is a real thing.
What Is Hope Fatigue?
Hope fatigue is not a formal term, but it does have a meaning. Psychotherapist Lesley Alderman says that a deficit of optimism, along with feeling anxious and a need to tune out or give up around important issues, is hope fatigue.1 
Alderman was talking about the important events happening around us and how repeated tragedies (such as a war in the Middle East) and stressors (like living through a pandemic) can wear away at our hope. I would argue that while these significant events around us can induce hope fatigue, so can dealing with mental illness, especially chronic mental illness.
How Do I Experience Hope Fatigue?
Here's a video about how I experience hope fatigue:
And I know that other people are right alongside me, experiencing hope fatigue, too. After all, expecting to hang onto hope when you're sick every single day of your life is beyond what any one person should be expected to do.
Dealing with Hope Fatigue
Alderman lays out eight steps for dealing with hope fatigue. Not all of these apply to a person dealing with hope fatigue around mental illness, so here is my take on the steps you can take to fight hope fatigue:
Don't blame yourself -- Hope fatigue is real and, I would say, normal in many circumstances. As Alderman discusses, it happens to people just subjected to the news and everyday life; of course, it happens when you have a life-threatening, lifelong illness. 
Take a break from negativity -- Oftentimes, we experience negativity about our condition not only from our own brains but from people around us, too. This might come in the form of support groups, friends, family, etc. While those are not inherently bad things, we might want to take a break when they become negative. 
Take care of yourself -- Self-care always matters. Doing something kind for yourself, something that will produce positive feelings, is a great way of getting in touch with our own intrinsic hope.
Focus on the present -- I'm loathe to tell people to "be mindful' because that seems to be the answer to every question these days, rightly or not. That being said, it can be beneficial to focus on exactly what's going on around you in the present moment and not focus on the past or future. 
Try a breathing exercise -- When you're feeling overwhelmed, anxious, and pessimistic, deep breathing can help you reduce those negative emotions. This can help you reduce hope fatigue.
Think about the wins -- We all have wins, even if we forget about them. Remember, tiny wins still count, so focus on getting out of bed, taking a shower, or calling a friend. These are positives; don't forget about them.
Be your own therapist -- According to Alderman, you need to ask yourself, "What do I specifically feel hopeless about and why?" Sometimes, putting your concerns into words can start the process of freeing you from them or developing better skills to deal with them.
Take action -- Feeling overwhelmed can paralyze us. Sometimes, this prevents us from taking positive actions. And doing something positive (instead of sitting and stewing) can positively affect how we feel. This positive action can be something for yourself or someone else.
The Lowdown on Hope Fatigue
If you watch the above video, you'll hear me say that hope fatigue passes. And it does. I've experienced it many times before, and I'm sure I'll experience it many times more. However, just knowing that there's an other side of hope fatigue is, in and of itself, hopeful. So, if nothing else, try the above steps and hang onto the knowledge that with work, hope fatigue will pass. 
Source
Parker-Pope, T. (2023, October 14). Hope fatigue, a medical mystery and coffee: The week in Well+Being. Washington Post. https://www.washingtonpost.com/wellness/2023/10/12/hope-fatigue-medical-mystery-coffee/
APA Reference
Tracy, N. (2023, October 20). I Experience Hope Fatigue; Do You?, HealthyPlace. Retrieved on 2023, December 1 from https://www.healthyplace.com/blogs/breakingbipolar/2023/10/i-experience-hope-fatigue-do-you
Author: Natasha Tracy
I am experiencing hope fatigue these days. Your post could not have come at a better time...thank you!
Hi Mahevash,
I'm sorry this is your current experience.
I'm happy to help.
-- Natasha Tracy
Leave a reply