Mental Health Providers: Making the Right Choice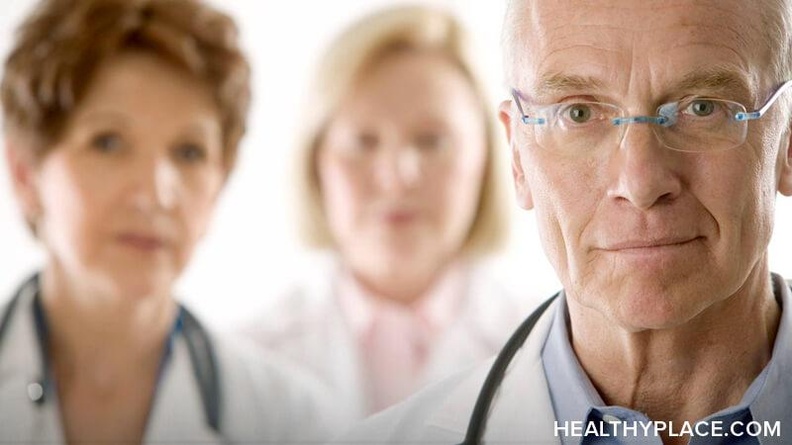 Seeking mental health treatment can be a big decision. But acknowledging your need is only the first step. You then have to decide what type of mental health professional to consult, and the choices are many - and sometimes confusing. What type of practitioner should you choose? A psychiatrist? Psychologist? Social worker? Does it matter? And what about their schooling, training and experience?
Ultimately, your choice comes down to two key factors: competence and comfort level, says Keith Kramlinger, M.D., a psychiatrist at Mayo Clinic, Rochester, Minn.
"You must feel a sense of comfort and have confidence in the person you're confiding in," Dr. Kramlinger says. "There are many good mental health professionals, but as in other fields, there are also some whose professional approaches are questionable. If you feel uncomfortable or pressured in any way, get a second opinion."
There are four major types of mental health professionals:
Psychiatrists
Psychologists
Social workers
Psychiatric nurses
Each state licenses these professionals - although criteria vary by state - and has certain requirements for maintaining and updating training and skills. In addition, each of these groups has a professional organization that establishes standards and ethics that its members must follow.
Here's a closer look at these major groups.
Psychiatrists
Psychiatrists are doctors who specialize in psychiatry, a branch of medicine devoted to the study, treatment and prevention of mental disorders. After earning their medical degree (M.D.) or osteopathic degree (D.O.), they must complete 4 years of residency training at a teaching hospital. The first year of residency is an internship to sharpen skills in general medicine and neurology. The last 3 years focus on psychiatry.
A psychiatrist can be certified by the American Board of Psychiatry and Neurology after passing oral and written exams. That certification process can occur 1 to 2 years after completion of training. Those who are then board certified are referred to as diplomats of the American Board of Psychiatry and Neurology. Some psychiatrists might have only a board eligible designation. That means they've completed the required psychiatry training at an accredited program but haven't yet completed the certification process.
Doctors don't have to be board certified in psychiatry to use the title of psychiatrist. However, certification is evidence of advanced training and experience.
Some psychiatrists seek additional specialty training after residency so they can specialize in certain areas, such as child and adolescent psychiatry, geriatrics or addictions. In addition, some limit their practice to one area, such as mood disorders or schizophrenia.
Because they're medical doctors, psychiatrists can prescribe medications as part of mental health treatment. They can also order laboratory tests, X-rays or other studies as part of your treatment. In addition, they're trained to provide psychotherapy of various kinds to individuals, couples, families and groups.
Psychologists
Psychologists are specialists in psychology, the branch of science that deals with the mind, mental processes and behaviors. They're trained to provide evaluation, assessment, testing and treatment of mental disorders. Psychologists often have training in abnormal psychology, statistics, psychological testing, psychological theory, research methods, psychotherapeutic techniques and psychosocial evaluation.
Education, training and state licensing criteria can vary widely. In some states, psychologists must hold a doctoral degree, for instance. That degree may be a doctor of philosophy (Ph.D.) in psychology, a doctor of education (Ed.D.) in psychology or a doctor of psychology (Psy.D.). Unlike psychiatrists, psychologists aren't medical doctors.
Some states require that psychologists have a period of supervised training after earning a doctorate, such as a supervised clinical internship in a hospital or other facility. They may also have to complete a year or more of postdoctoral supervised practice before practicing independently.
In some states, a master's degree (M.A. or M.S.) is sufficient to allow practice as a psychologist. But they may only be allowed to provide therapy under the supervision of a physician or a psychologist with a doctorate.
Traditionally, psychologists have been unable to prescribe medications because they're not medical doctors. However, in some cases, psychologists are now able to write prescriptions for certain medications.
There are different types of psychologists. Clinical psychologists, for instance, work with the diagnosis and treatment of mental disorders. Counseling psychologists focus mainly on adjustment issues or life challenges, such as choosing a career or coping with marital problems. And school psychologists work with the emotional or academic problems of students.
Social workers
Social workers help individuals, families and communities overcome a variety of social and health problems. There are many types of social workers, and the term can be broadly used. Their training and education can vary widely. Most, but not all, have a master's degree in social work.
Not all social workers can be licensed to provide mental health services. They must be clinical social workers with advanced training in psychotherapy. They must have a master of social work (M.S.W.) degree and meet certain training requirements as set by their state, including experience working under supervision to provide mental health and psychotherapy services.
But training alone isn't enough. In order to actually offer psychotherapy, clinical social workers must be licensed by their state, as with psychiatrists, psychologists and nurses. Once licensed, they're designated as a licensed clinical social worker (L.C.S.W.) or licensed independent clinical social worker (L.I.C.S.W). Licensing requirements vary by state.
Clinical social workers may provide therapy in private practice in psychiatric facilities, hospitals, community agencies or other places that offer mental health services. Others may work as case managers and coordinate psychiatric, medical and other services on your behalf. They often work with psychiatrists, psychologists, nurses and vocational therapists - job counselors - to help manage your overall care. Social workers can't prescribe medications or order medical tests as part of your treatment.
Psychiatric nurses
A psychiatric nurse is a licensed registered nurse (R.N.) who has additional training in mental health. They work with individuals, families or communities to evaluate mental health needs and assist other mental health professionals in treatment and referral.
A psychiatric nurse may have an associate arts, bachelor's, master's or doctoral degree. Much of a psychiatric nurse's specialty training takes place in a hospital. Their level of training and experience determines what services and care they can offer. Among the services they're trained to provide - under supervision of medical doctors - are mental health assessments, psychotherapy, help managing your medications, as well as other duties commonly performed by nurses, such as discharge planning, patient and family education, and medical care.
Advanced practice registered nurses (A.P.R.Ns.) have a master's degree in psychiatric-mental health nursing. There are two types of A.P.R.Ns.: clinical nurse specialists and nurse practitioners. In general, they can diagnose and treat mental illnesses, and in many states they're authorized to prescribe medications. They also may be qualified to practice independently, without the supervision of a doctor.
Other mental health providers
There are many other types of mental health providers.
Couples and family therapists may be psychiatrists, psychologists, social workers or nurses, or they may have other training. They diagnose and treat mental illness within the context of relationships. Those who are members of the American Association for Marriage and Family Therapy have at least a master's degree and 2 years of supervised practice with couples and families.
A pastoral counselor is a member of the clergy who integrates religious concepts with training in behavioral science. Licensing is not required, but counselors can seek certification with the American Association of Pastoral Counselors.
Who's right for you?
With the many types of mental health practitioners, deciding who to consult can be difficult.
If your symptoms are severe, you're having trouble coping in your daily life, or existing treatment isn't working well, consider contacting a psychiatrist or psychologist first, suggests Dr. Kramlinger. Their advanced level of training and experience may mean they're better skilled in treating complicated situations.
Need for psychiatric medication is also a consideration.
"If you have a condition that warrants treatment with medication as well as psychotherapy, you may be better off seeing a psychiatrist who specializes both in medical treatment and psychotherapy," Dr. Kramlinger advises. Or you can see both a psychotherapist and a psychiatrist. In addition, your family doctor can also work with your psychotherapist and prescribe needed medications.
Insurance coverage of mental health services is often a complicating issue. Contact your insurance company to find out its policy on mental health services, including how many visits will be covered in a certain time period. Some insurance plans authorize more visits to a nurse, social worker or psychologist than to a psychiatrist, whose fees are usually higher.
Finding a therapist
Finding a therapist who best suits your needs can take some legwork. If it seems like more time and energy than you can muster - especially if you're facing depression or another serious mental illness - consider enlisting help from your primary care doctor, family or friends. Don't hesitate to ask a lot of questions of a potential therapist, either during an initial phone call or at your first visit.
Here are some steps to take when choosing a therapist:
Get a referral or recommendation from others, such as a trusted doctor, friends, family, clergy, your insurance provider, a professional association, your company's employee assistance program, community hot lines, your school district or local social services agencies.
Consider whether you have preferences regarding gender, age, religion or other personal issues.
Ask potential therapists about their education, training, licensure and years in practice. Licensing requirements can vary widely by state.
Find out office hours, fees and accepted insurance providers.
Double-check credentials by contacting your state's licensing boards.
Discuss - on the phone before your first visit, if possible - their treatment approach and philosophy to make sure it agrees with your style and needs.
Find out if they specialize. Therapists often specialize in certain disorders or age groups. Some, for instance, work only with adolescents. Others specialize in eating disorders or divorce issues.
If you don't feel comfortable after the first visit, or even several visits, talk about your concerns at your next session. And consider changing therapists.
APA Reference
Tracy, N. (2008, October 25). Mental Health Providers: Making the Right Choice, HealthyPlace. Retrieved on 2023, December 11 from https://www.healthyplace.com/bipolar-disorder/articles/choosing-mental-health-providers
Last Updated: June 16, 2022