Missing a Dose of Psych Meds
If there's one thing to remember about psychiatric (psych) meds it's that you need to take them and you need to take them on time. This is because medication puts chemicals into your bloodstream and in order to keep a consistent level of these chemicals in your bloodstream, you must take the drug as prescribed. This is particularly critical in bipolar disorder as it's easy to become unstable with an uneven level of psych med in your blood.
But we're all human. We all mess up and forget things and we all miss a dose from time to time. So how do you handle missing a dose of a psych med?
Missing a Psych Med Dose - Results
The first thing to realize is that if you miss a psych med dose you may experience withdrawal. Now, doctors might call this a variety of things (like "discontinuation syndrome") but it feels an awful lot like withdrawal to me.
As an example, there is one medication I'm on that's particularly nasty for withdrawal and if I miss a dose I start to cry and become suicidal within hours of the missed dose. I literally go from a normal me to a wet and sopping mess within four hours.
And the trouble with this, other than the fact that I decimate a Kleenex box, is that I may not realize I have missed a dose. So it may not occur to me that the extreme symptoms I'm feeling are medication-related and not bipolar-related, as such.
Don't Miss a Psych Med Dose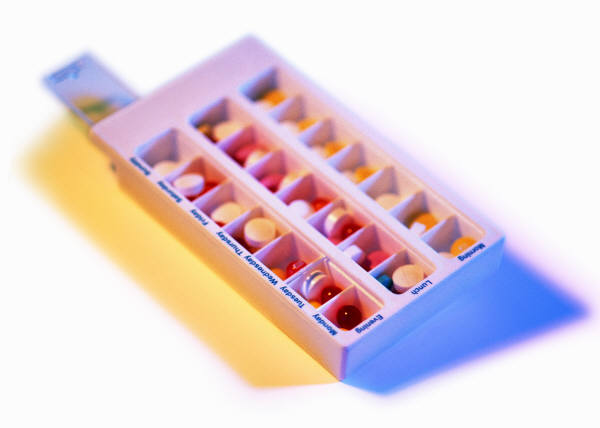 So it's really critical for me that I not put myself in that situation. Bad things, quite obviously, can happen when one is suicidal.
There are many ways to help you remember to take your medications, but one of the most common, and probably most effective, is to use a pill box of some kind. Spend a bit of time Sunday night lying out your pills for the next week in individual boxes so that every morning when you wake up (or before you go to bed), you can just pop open a box and everything you need is there for you.
If You Miss a Psych Med Dose
If you do think you've missed a psych med dose:
Make sure you did, in fact, miss the dose (Sometimes it's hard to remember if you took a pill. A pill box really helps with this.)
Generally the rule is to take the missed dose as soon as possible – unless it's close to the next dose in which case never double-up *
Call a doctor if you're experiencing any out-of-the-ordinary symptoms about which you are concerned
Overall, missing one dose of medication is unlikely to hurt you, per se. It may, however, cause you some discomfort so try to put procedures into place so that you avoid the problem rather than having to deal with it afterwards.
(This all assumes that you've only missed one dose. If you miss multiple doses you may experience a returning of psychiatric symptoms and you may need to contact your doctor about how best to handle that.)
* This should not be considered medical advice and you should always check with a professional if you have any doubt as to what to do about a missed medication dose.
You can find Natasha Tracy on Facebook or GooglePlus or @Natasha_Tracy on Twitter.
APA Reference
Tracy, N. (2012, August 10). Missing a Dose of Psych Meds, HealthyPlace. Retrieved on 2019, July 16 from https://www.healthyplace.com/blogs/breakingbipolar/2012/08/missing-dose-psych-meds
Author: Natasha Tracy