Bipolar Depression and Feeling Nothing at All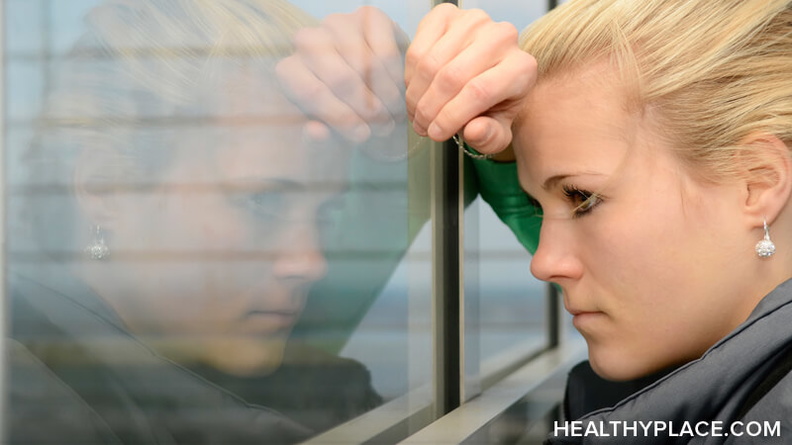 Bipolar disorder is an affective disorder, in other words it affects your emotions (among other things). Bipolar disorder symptoms are often about feelings. Well, they're about FEELINGS. I feel HAPPY. I feel SAD. I feel IRRITATED. I feel ENERGETIC.
But one thing that's rarely recognized is that sometimes bipolar disorder is about feeling nothing at all.
Depression and Bipolar Disorder
Depression is one of the two poles of bipolar disorder (the other being mania / hypomania). And myself, being bipolar type 2, I'm darn familiar with it because people with bipolar disorder type 2 spend 35 times more time depressed than they do in hypomania.
Depression and Emotion
And while depression is a "low" mood and, of course, is known for sadness, there is something else you might feel when depressed: nothing at all.
Yup. Nothing. Just a void. You feel an absence, if such a thing is possible. You feel the blank page, silence, dark matter, dishwater. You move through the world, and things happen to you that you know you should feel, but instead of feeling, nothing happens. Like turning the key in your car's ignition and the car not starting - it's unsettling.
Yay! I'm Not Sad!
So feeling nothing must be a great break from feeling terrible? Right?
Not in my experience. Feeling nothing just makes you feel like you're not human, not like you're not depressed. It's like being the shell of a person. A walking and talking corpse. Like you're nothing. The human experience with emotion removed isn't the human experience - it's really no experience at all.
Because emotions are how we make sense of the world around us. They are how we remember the day. If you loved the fact that you ate lasagne for lunch, you might remember it. If you ate the same dull ham sandwich for the 14th day in a row, you probably won't. And what does anything matter if it doesn't make you feel? If you don't care about eating ice cream or seeing your kids smile or browsing a book store or taking a bubble bath then why bother doing any of those things? Why bother doing anything at all?
And this is the thing that people fundamentally don't understand about depression. Depression, bipolar, mood disorders, are about moods that don't respond as expected and in this case don't budge at all. There is nothing to do, nothing to say, no strategy to try because nothing moves the needle, even a little. It's not that I'm not trying it's that trying doesn't matter.
And that is a recursive depression. It's depression that makes you feel nothing which makes you feel depressed which makes you feel even less (because yes, there are degrees of nothingness). It's depression that breeds depression. Like bunnies. Depression bunnies, all grey and un-hoppy.
What to Do When You Feel Nothing
Now comes the part of the article when I make my stunningly insightful recommendations. Ah. I'm having trouble with that bit because I only have one suggestion: try to remember it wasn't always like this and it won't always be like this in the future.
That's it. Try to remember. Because I don't have a stunningly insightful recommendation for how to fix the problem, I can only remind you that the problem wasn't always there and won't always be there. You just have to wait. And trust.
One day the bunnies will hop again.
You can find Natasha Tracy on Facebook or GooglePlus or @Natasha_Tracy on Twitter or at the Bipolar Burble, her blog.
APA Reference
Tracy, N. (2012, January 12). Bipolar Depression and Feeling Nothing at All, HealthyPlace. Retrieved on 2019, July 18 from https://www.healthyplace.com/blogs/breakingbipolar/2012/01/bipolar-depression-and-feeling-nothing-at-all
Author: Natasha Tracy