What Taking a COVID-19 Test Is Like -- Anxiety Galore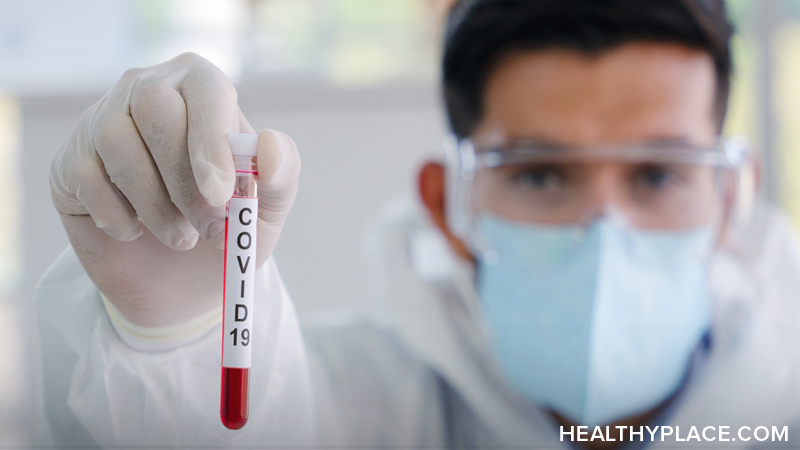 I had to find out what taking a COVID-19 test was like the hard way. I had to learn about the extreme anxiety that is taking a COVID-19 test the hard way. Yes, I had to take a COVID-19 test, and while I didn't want to do it, and it made for a horrifically anxious couple of days, I would do it again anyway.
What Taking a COVID-19 Test Is Like If You Have Bipolar
Now, I admit, my feelings around taking a COVID-19 test were not directly linked to bipolar disorder. They were, however, directly linked to anxiety, which is a major problem for many people with bipolar disorder as most who have bipolar disorder also have a coexisting anxiety disorder like generalized anxiety disorder, social phobia, panic disorder or posttraumatic stress disorder.1
This is in addition to the fact that I consider it quite normal to experience anxiety at any time you have to take a medical test. The only difference between the average person and one with an anxiety disorder is the degree to which that person experiences the anxiety.
For me, I found it hard to breathe between the time a doctor told me to take the test, and when I got the test results.
What Is It Like to Take a COVID-19 Test?
For me, I had been sick for a while before I contacted a doctor. I'm not the kind of person who freaks out about being sick, so I ignored the symptoms for a while. In fact, the only reason I talked to a doctor (via telemedicine) was because I was worried about kidney pain (they have had out-or-range test readings before). So I was genuinely surprised when the doctor told me what I was experiencing was probably viral and that many of my symptoms might be due to COVID-19.
I appeared to be calm as she told me I had to take a COVID-19 test, but a voice in my head started screaming like a siren. 
What happens when you take a COVID-19 test varies depending on where you live. In my case, I had to call the COVID-19 phone number and talk to someone to get a testing appointment (testing is only done by appointment here). The first available appointment was about 23 hours away. That left 23 hours for me to wait and worry. And that's what a COVID-19 test is like -- it's about waiting and worrying all alone as you isolate for fear of you giving it to someone else.
When the test time came, I drove to the testing site in a partial panic. When I got there, it was a drive-through location, which was primarily medical chic with just a soupçon of apocalypse.
Luckily for me, a new test has been deployed, and it was a gargle and swish test. (I hear it's better than getting your brain scraped by a Q-Tip.) For this COVID-19 test, they give you some salty, gross liquid to swish around your mouth, gargle, and spit back and that is what they test. In all honesty, just knowing that I had to do that terrified me because I don't do well with salty liquids in my mouth.
And sure enough, it was difficult for me, full of gagging, and resulted in nausea. But regardless, at least that part was done.
What Is It Like to Wait for COVID-19 Test Results?
And while waiting for the COVID-19 test was anxiety-provoking, waiting for COVID-19 test results was anxiety squared.
And, as I said, all you can do is sit at home, alone and wait. I find anxiety tends to multiply in these scenarios. It's hard to take your mind off the fact that you're being tested for a possibly life-altering, life-threatening illness. Netflix just doesn't do it. What's more, is I didn't want other people to worry, so I wasn't really reaching out to others about it.
I took the test at 2:05 p.m. and the next day at 10:08 a.m. I got a text message, and my spidey senses tingled. I knew it was the COVID-19 test result. At that moment, I felt attacked by anxiety and panic. My heart thumped, and I held my breath. My instant reaction was not to check because I was so scared. Luckily, my logic overrode this reaction, and I did check it. It was negative.
I Would Take a COVID-19 Test Again
One of the things I learned about taking a COVID-19 test was how scary it is thinking about infecting another person. I knew my own symptoms were mild in comparison to many who suffer, but I was terrified that I would touch something or breathe on someone or do something else that would infect a person and make them lethally ill. In the end, I was thankful for the test, not because I was worried about dying (because I was pretty sure I wasn't), but because getting the results meant I knew I wasn't in a position to kill others. That is worth all the anxiety in the world.
It was also acutely obvious to me how easy it is to spread this thing if we all aren't paying close attention to what we're doing. It's no wonder COVID-19 is spiking everywhere right now. We're all suffering from COVID-19 fatigue, and we're not as vigilant as we need to be.
So, what's it like to take a COVID-19 test? Well, for me, it was a learning experience. I learned that you really want to stay well and not go through a COVID-19 test, let alone actually have to go through COVID-19 itself. I felt like I was doing an okay job of protecting myself and others before, but this was a wake-up call for me: I wasn't doing enough. Most of us aren't doing enough. The absolute last thing I want is to have to go through that and have the text message say, "positive." And I don't want it for anyone else either. So I'm going to do better to keep myself safe and save lives; because those are the table stakes: your life and everyone else's life. Do not take this lightly. You do not want your family, friends, children, your children's teacher, the postal worker who delivers your mail, your local pharmacist, or any frontline worker to die simply because you were lazy and selfish and didn't do what we all know we need to do.
Do your part. Wear a mask. Wash your hands. Socially distance.
You, literally, are saving lives -- maybe your own.
Learn the facts about COVID-19 here.
Source
Lohano, K.,

El-mallakh, R., "The Anxious Bipolar Patient." Psychiatric Times, September 2011.
APA Reference
Tracy, N. (2020, November 22). What Taking a COVID-19 Test Is Like -- Anxiety Galore, HealthyPlace. Retrieved on 2023, December 3 from https://www.healthyplace.com/blogs/breakingbipolar/2020/11/what-taking-a-covid-19-test-is-like-anxiety-galore
Author: Natasha Tracy