Surviving Psych Waiting Rooms
"I hate wait." – Inigo Montoya, The Princess Bride
I hate waiting rooms. I know this hardly makes me unique, but I suspect my hatred is more pronounced due to the amount of time I spend in them. Stale magazines. Old furniture. "Art." Institutional beige walls.
Ick, ick, ick.
I have had chronically on-time doctors and chronically late doctors but no matter what, somehow, in a waiting room, it feels like your life is wasting away.
Hospital Waiting Rooms
Now my psychiatrist's waiting room happens to be in a hospital's Mood Disorder Clinic, although I think people of any disorder wait in the same place for their doctors as well. We are the people who have stepped past the average doctor and the average psychiatrist up to the specialists. So basically, we are the craziest of the crazy, all trapped in a room together.
And if there were any doubt that we are scary, it is confirmed by the fact that the receptionist sits behind glass. Really, it's rather creepy.
So all of us stare at our shoes and shuffle our feet, waiting for the next guy in a button-down shirt to call our name.
Perhaps it's just because we're waiting, which no one wants to do, for an appointment, that no one really wants to have. It's ironic. And apparently irony is uncomfortable.
Surviving Psychiastrist Waiting Rooms
So the obvious answer is to plan ahead. When heading to a psychiatrist appointment bring a book, magazine, newspaper or one of those new-fangled tablets with you. Hopefully this will distract you from all of the unwanted waiting.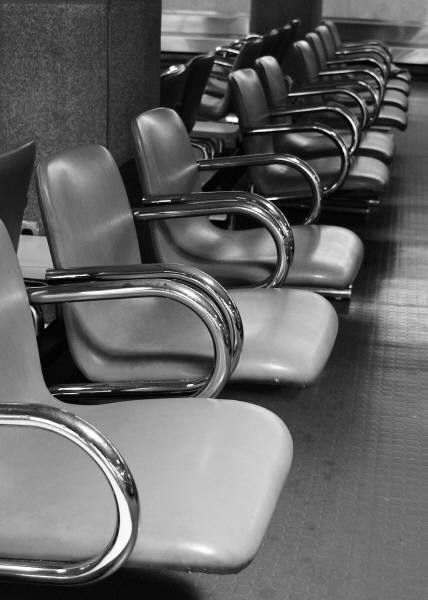 But oddly, I don't find that suggestion very helpful. Maybe it's because my discomfort with the situation doesn't allow me to engross myself in another media. Maybe I just feel like I'm on heightened alert sitting in a fishbowl of crazies. I'm not sure.
What I do like though is coffee (or the beverage of your choice). Somehow, when I'm drinking coffee I can distract myself just enough to feel OK. It's like there's a wall of recycled cardboard and caffeine between me and the rest of the world and that's enough to keep me safe. I can delude myself into thinking I'm in a Starbucks rather than waiting for yet another appointment where medications I hate will be adjusted.
Plus, the coffee acts as a reward. Yes, good little crazy girl. You made it to the doctor, once again Have a cookie.
Because, in the end, I have to go to psych appointments and anything that makes the whole thing more survivable is OK with me.
PS: Yes, I realize this piece uses the term "crazy" rather liberally. This isn't to offend, it's a stylistic choice and not one I find offensive. Read this.
You can find Natasha Tracy on Facebook or GooglePlus or @Natasha_Tracy on Twitter.
APA Reference
Tracy, N. (2012, August 30). Surviving Psych Waiting Rooms, HealthyPlace. Retrieved on 2019, August 21 from https://www.healthyplace.com/blogs/breakingbipolar/2012/08/surviving-psych-waiting-rooms
Author: Natasha Tracy