Bipolar Disorder and the Importance of Socializing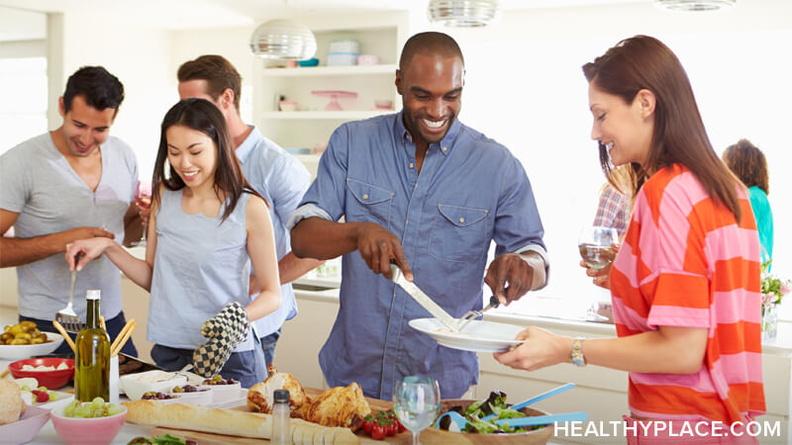 I'm an independent contractor. This means I sit in front of a computer screen, working at home, alone and writing all day. While this is the dream for many a writer, I can tell you it gets lonely. It's tough not having work in an office where there are coworkers to chat with at the water cooler.
And this lack of socializing is particularly salient because I have bipolar disorder. I have a tendency to cocoon anyway, and then you take away the day-to-day interactions with people and I suddenly find that I haven't talked to a person in real life in a week.
So I have to schedule in a personal life – whether I want to or not.
Bipolar Makes Me Want to Avoid Socializing
I don't want to go out because I don't feel well, and in all honesty, I don't feel well almost ever. That's what happens when your mental illness isn't well-controlled. And so, always feeling sick, I never feel like going out. I don't actually want to see anyone. I don't actually want to talk to anyone. I just want to be left alone, preferably under my big, fluffy duvet with my cats purring by my side.
Yes, I Know Socializing Is Healthy for People with Bipolar
But I can't do that. At least, not all the time. Because it's not healthy to hide under goose down all the time. It's not healthy to only live in my head. It's not healthy to only talk to myself. There's a reason why good doctors will ask you about your social life – it's because it matters. It matters that you go out. It matters that you feel the sun on your face. It matters that you talk politics in a hipster café. That stuff can make the difference between wellness and illness.
I Schedule My Socializing Despite Bipolar Disorder
And so, knowing that socializing is important, and knowing that I don't get enough, and knowing that I'm inclined not to do it, I schedule in a social life just like I schedule conference calls or writing deadlines. Bing-bong – it's Wednesday, have you scheduled your weekend brunch yet? Have you had coffee with a friend yet? Have you called your friend that lives out of town yet?
Yes, I actually make an effort to make sure that something happens every week. Yes, sometimes I even put it on my calendar. Because then I hold myself to it. Because then I don't let myself off the hook by saying that I don't feel well or that I don't feel like it. I never feel like it. That's no excuse.
Because when it comes down to it, socializing is helpful even if bipolar makes you not feel like it. My friends' normalcy, their happiness, their not-being-in-your-headedness is infectious. They will help you just be being across the table sipping a latte or nibbling at strips of bacon. And even though your illness will lie, and tell you not to go, it's important to know the truth – friendships help. Socialization helps. Even if you need an Outlook calendar to accomplish it.
You can find Natasha Tracy on Facebook or GooglePlus or @Natasha_Tracy on Twitter.
APA Reference
Tracy, N. (2011, November 14). Bipolar Disorder and the Importance of Socializing, HealthyPlace. Retrieved on 2019, September 17 from https://www.healthyplace.com/blogs/breakingbipolar/2011/11/bipolar-disorder-and-the-importance-of-socializing
Author: Natasha Tracy