Motivating Exercise for Mental Health - Exercise and Mood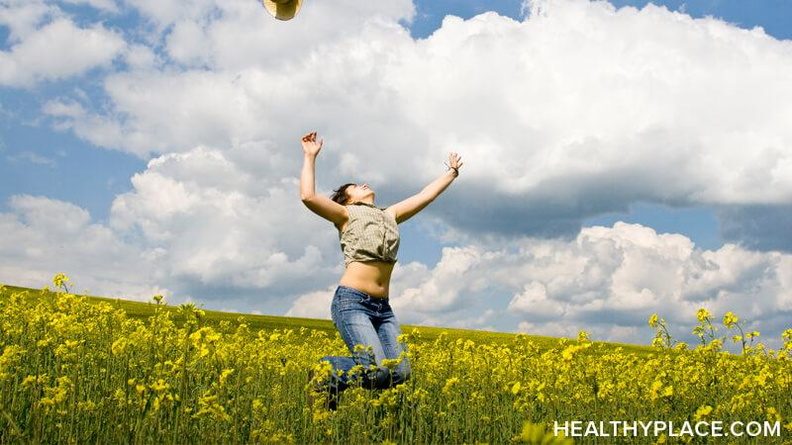 The journey of a thousand miles doesn't begin with a spin class, but everyone knows they should exercise. People should be doing it right now. Me too. We should slowly and calmly step away from the Internet. And most of us even know exercise acts as an antidepressant. Which means if we actually got up and walked around once in a while, we might feel better.
But we don't do it. Not the average North American and especially not the average mentally ill North American.
How does a person with a mental illness fight that?
Why Don't We Exercise for Mental Health (or Any Other Reason)?
There are lots of reasons why people don't exercise, but for someone with a mental illness, I think it's pretty, darn simple: we feel like crap. We barely have the energy to make it to the bathroom and back so "exercising" is a ridiculous notion. We're tired. We want to sleep. Stop bugging us.
But more than just feeling like something a cat spit up, many people with a mental illness are perfectionists. No, perfectionism isn't a mental illness, but what it can be is self-sabotaging. If-I-can't-be-the-very-best-athlete-in-the-world-then-I'll-be-no-athlete-at-all.
Or, more commonly: If I don't commit to 60 minutes of serious cardio it's useless. I can't do 60 minutes of cardio. So I'll do nothing.
This is the black-and-white, all-or-nothing thinking seen frequently in depression. If you set unrealistic goals for yourself, then you will never reach them, and not reaching them will make you feel worse, thus making it even more difficult to achieve your goals. It's a vicious cycle.
Does Exercise Really Help Mental Health?
Yes. It does. For mild-to-moderate depression it can work as well as an antidepressant medication, maybe even better in the long-term. Really. Exercise also appears to help stabilize mood and sleep (although it may stabilize the mood just from affecting sleep, it's hard to say).
What is Exercise?
But wait, the definition of exercise isn't "60 minutes of cardio." Exercise really just means to get your body and heart moving. It's so much simpler than your gym membership would have you think.
Exercise for Mental Health
I'll let an uber-smart doctor take it: The Harvard Bipolar Program leader, Dr. Sachs, says,
here's your exercise program: go to the door, look at your watch. Walk 7.5 minutes in any direction, then turn around and walk home. Do that 5 days a week at least.
That's it. 7.5 minutes of walking in any direction. You can do that. If you add up the commercial breaks in an hour-long TV show you get more than 7.5 minutes. Really. You could learn how to get less expensive auto insurance from a lizard or you could help you mood. Your choice.
It doesn't have to be big, long, fancy or hard. It just has to be done.
And I realize there are going to be days when you're too sick to do even that. That's OK. No one's perfect. Just try again tomorrow. The main point is that moving around, even just a little bit can help you. So stop beating yourself up for not being a marathon runner and just walk to the corner store for a quart of milk.
The ugly bit: sorry to say, according to research the amount of cardio really does matter. But I say if 15 minutes is good enough for the Harvard Bipolar Program leader then it's good enough for me.
APA Reference
Tracy, N. (2011, July 5). Motivating Exercise for Mental Health - Exercise and Mood, HealthyPlace. Retrieved on 2019, September 16 from https://www.healthyplace.com/blogs/breakingbipolar/2011/07/journey-of-a-thousand-miles-doesnt-begin-with-a-spin-class
Author: Natasha Tracy