Is Mental Illness Recovery Possible?
Here's What's Happening on the HealthyPlace Site This Week: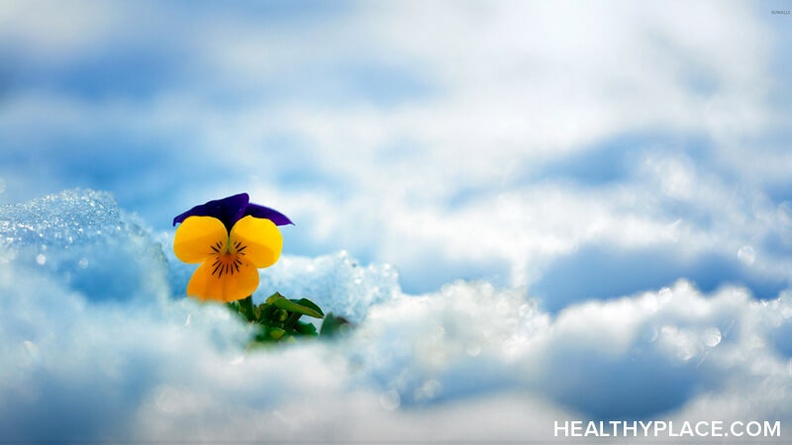 Is Mental Illness Recovery Possible?
Have you or a loved one been newly diagnosed with a mental illness? Or are you experiencing some difficult mental illness symptoms and challenges but are afraid to seek help for fear of a diagnosis? Either way, you might have a common question on your mind: Is mental illness recovery possible?
The short, and encouraging, answer is yes. Recovery from mental illness can and does happen. It doesn't happen automatically or overnight, however. Here's some basic information to get you started on your own mental illness recovery journey
Be patient and gentle with yourself. Seek help and support as you begin and continue your process of healing, and know that while it might not always be easy, mental illness recovery is possible, and you don't have to struggle with symptoms forever.
Related Articles About Mental Illness Recovery
Your Thoughts
Today's Question: What helps you keep going when working on mental illness recovery seems difficult? We invite you to participate by sharing your thoughts on the HealthyPlace Facebook page.
------------------------------------------------------------------
What Borderline Personality Is Really Like - IG Live
Does borderline personality disorder (BPD) doom you to be a "psycho ex-girlfriend"? Our guest, Isabelle, worries about that stigma applying to her. We'll talk with her about why she feels that it might, how she deals with her BPD symptoms and how she's incorporated BPD into her life. We'll also talk with Becca Clegg, LPC, CEDS-S, about mental health conditions that might be borderline in disguise, therapies that can help people living with BPD, and how much those therapies can help.
I hope you join us for Thursday's HealthyPlace Instagram Live. Thursday, February 4, at 4p ET / 3 CT. We welcome your comments and experiences and our guests always answer your questions.
You can watch a prior Facebook Live on living with depression and suicidal thoughts here: Depression Almost Killed Me: My Comeback Story.
From the HealthyPlace Mental Health Blogs
On all our blogs, your comments and observations are welcomed.
Feel free to share your thoughts and comments at the bottom of any blog post. And visit the mental health blogs homepage for the latest posts.
------------------------------------------------------------------
From HealthyPlace YouTube Channel
EMDR Treats Several Mental Health Conditions
EMDR, usually used to treat trauma and PTSD, is useful for anytime someone feels distressing thoughts or emotions. Watch the video to find out more about how it works.
------------------------------------------------------------------
Most Popular HealthyPlace Articles Shared by Facebook Fans
Here are the top 3 mental health articles HealthyPlace Facebook fans are recommending you read:
If you're not already, I hope you'll like us on Facebook too. There are many supportive people there, and I hope you'll join us.
------------------------------------------------------------------
Mental Health Quote
"Always remember, if you have been diagnosed with PTSD, it is not a sign of weakness; rather, it is proof of your strength, because you have survived."
Read more PTSD quotes.
------------------------------------------------------------------
That's it for now. If you know of anyone who can benefit from this newsletter or the HealthyPlace.com site, I hope you'll pass this onto them. You can also share the newsletter on any social network you belong to by clicking the links below. For updates throughout the week, follow us on Twitter, like us on Facebook, subscribe to the HealthyPlace YouTube channel, or follow us on Instagram.
Thank you,
Deborah
Community Partner Team
HealthyPlace.com - America's Mental Health Channel
"When you're at HealthyPlace.com, you're never alone."
http://www.healthyplace.com
APA Reference
Peterson, T. (2021, February 3). Is Mental Illness Recovery Possible?, HealthyPlace. Retrieved on 2023, October 1 from https://www.healthyplace.com/other-info/mental-health-newsletter/is-mental-illness-recovery-possible
Last Updated: February 2, 2021