Practicing Gratitude When It's Hard To Be Grateful
Here's what's happening on the HealthyPlace site this week:
---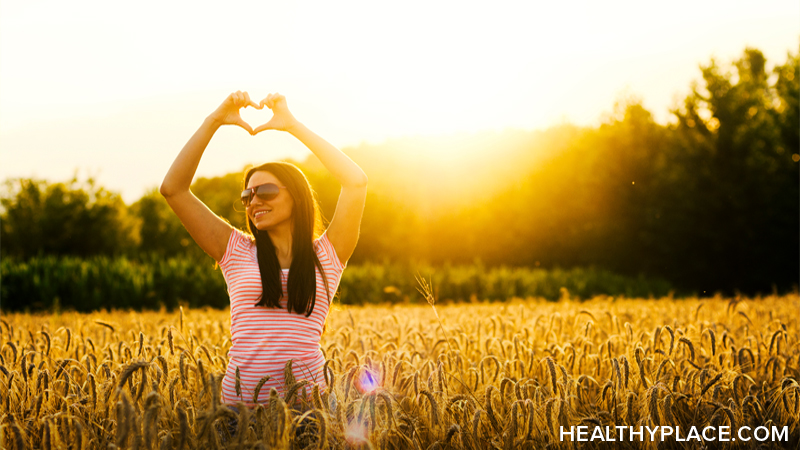 Practicing Gratitude When It's Hard To Be Grateful
Gratitude is a feeling of thankfulness for someone or something in your life. However, what if you just don't feel grateful? When you're wrestling with mental health challenges, relationship problems, or other stressors, it can be difficult to find something for which to be thankful. It's in difficult times like these, though, that cultivating gratitude is more important than ever.
Believe it or not, gratitude doesn't always start with a feeling. It's also not even a thought, at least not at first. Gratitude is a neutral observation that comes with a sense of openness to possibilities. Begin to notice things about yourself and your world in new ways. When your mind gravitates to the negative, gently shift your attention to something positive. This is the beginning of gratitude, the simple noticing of the good.
Gratitude is empowering because it's a choice. Shifting your focus is a choice you make, and in practicing this, you're honing a skill. Gratitude is the ability to purposefully shift your attention to the positive when mental illness wants you to focus on the negative.
Thanksgiving is approaching. Even if it's not a good day for you, turn it into your own personal day of gratitude by choosing to shift your perspective.
Related Articles Dealing with Gratitude
Your Thoughts
Today's Question: What do you do to cultivate gratitude? We invite you to participate by sharing your thoughts, experiences, and knowledge on the HealthyPlace Facebook page or the HealthyPlace Facebook page and on the HealthyPlace Google+ page.
From the HealthyPlace Mental Health Blogs
On all our blogs, your comments and observations are welcomed.
Feel free to share your thoughts and comments at the bottom of any blog post. And visit the mental health blogs homepage for the latest posts.
------------------------------------------------------------------
From HealthyPlace YouTube Channel
I'm Hannah. I Have Bipolar 2
5 Things You Should NOT Say To Someone With Bipolar Disorder
When it comes to bipolar disorder, I've heard it all. People say things without thinking about the impact it has on those of us living with bipolar disorder. That's why I've come up with this video on 5 things you should NOT say to someone with bipolar disorder - based off my experience living with bipolar 2. If you have someone (or lots of someones) who need to hear this, I hope you'll share the video and pass it onto them. (Watch Hannah and subscribe to the HealthyPlace YouTube channel for more great mental health videos.)
------------------------------------------------------------------
Most Popular HealthyPlace Articles Shared by Facebook Fans
Here are the top 3 mental health articles HealthyPlace Facebook fans are recommending you read:
If you're not already, I hope you'll join us/like us on Facebook too. There are a lot of wonderful, supportive people there.
------------------------------------------------------------------
Mental Health Quote
"Appreciate those who don't give up on you."
Read more mental health quotes.
------------------------------------------------------------------
That's it for now. If you know of anyone who can benefit from this newsletter or the HealthyPlace.com site, I hope you'll pass this onto them. You can also share the newsletter on any social network (like facebook, stumbleupon, or google+) you belong to by clicking the links below. For updates throughout the week, circle HealthyPlace on Google+, follow HealthyPlace on Twitter or become a fan of HealthyPlace on Facebook. Also, check out HealthyPlace on Pinterest and share your mental health pins on our Share Your Mental Health Experiences board.
APA Reference
Peterson, T. (2018, November 13). Practicing Gratitude When It's Hard To Be Grateful, HealthyPlace. Retrieved on 2023, December 5 from https://www.healthyplace.com/other-info/mental-health-newsletter/practicing-gratitude-when-its-hard-to-be-grateful
Last Updated: November 13, 2018