Understanding Mental Illness Is Not an Easy Task
Here's what's happening on the HealthyPlace site this week: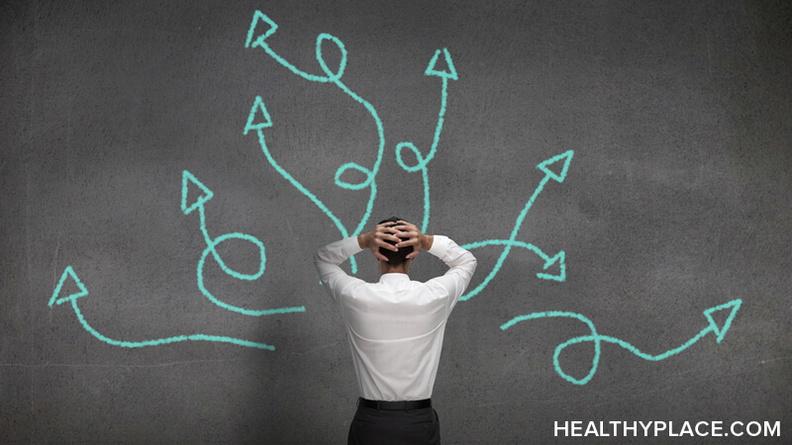 Understanding Mental Illness is Not an Easy Task
Some people grow uncomfortable when talking about mental illness, especially if it involves a loved one. The idea of someone not being able to fully control his or her behaviors can be difficult to decipher. When a loved one is hit with mental illness, some people are very supportive, while others become distant and confused. This is normal because not everyone can grab ahold of the fact that those with mental illness have trouble controlling some of their everyday lives.
The Effect of Mental Illness on Others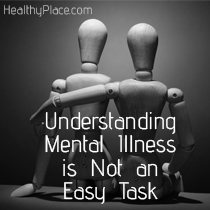 When people are not used to being surrounded by others with mental illness, they tend to grow cautious and sometimes push themselves away from that person. This should not be seen as an act of selfishness or ignorance because some people simply do not know how to react around someone with these kinds of specific struggles.
It is important for people to find healthy ways to support a loved one during their time of difficulty. It does not always mean constantly being around them or being physically there. By showing interest in his or her wellbeing, the comfort level regarding mental illness could increase just because you are giving it a chance. By showing you care, there is a chance for positive change.
Related Articles on Supporting Someone with Mental Illness
Your Thoughts
Today's Question: How can we help family members and loved ones better understand mental illness? We invite you to participate by commenting and sharing your feelings, experiences, and knowledge on the HealthyPlace Facebook page.
-----------------------------------------------------------------
Most Popular HealthyPlace Articles Shared by Facebook Fans
Here are the top 3 mental health articles HealthyPlace Facebook fans are recommending you read:
If you're not already, I hope you'll join us/like us on Facebook too. There are a lot of wonderful, supportive people there.
------------------------------------------------------------------
That's it for now. If you know of anyone who can benefit from this newsletter or the HealthyPlace.com site, I hope you'll pass this onto them. You can also share the newsletter on any social network (like facebook, stumbleupon, or digg) you belong to by clicking the links below. For updates throughout the week:
APA Reference
Staff, H. (2014, September 9). Understanding Mental Illness Is Not an Easy Task, HealthyPlace. Retrieved on 2023, December 10 from https://www.healthyplace.com/other-info/mental-health-newsletter/understanding-mental-illness-is-not-an-easy-task
Last Updated: December 7, 2022