Workplace Bullying Can Trigger Anxiety and Depression
HealthyPlace Mental Health Newsletter
Here's what's happening on the HealthyPlace site this week:
Workplace Bullying Can Trigger Anxiety and Depression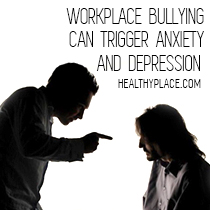 Who would believe that bullying would continue into the workplace? Many people expect bullying to end the day that final high school bell rings (The Effects of Bullying). They hope that those in college, and even in the workforce, will treat them as an equal and without judgment. The truth is that bullying continues every day and age does not play a part when it comes to how people treat others and the hurtful things that are said.
The Result of Workplace Bullying
Workplace bullying can cause typically happy, confident people to feel depressed, insecure and anxious. If someone feels they don't fit into a niche at work, they can feel attacked by those around them and hurt by every gaze. Hushed whispers can bring unneeded anxiety and when returning home, depression can often take over. These kinds of actions and thoughts can make someone fragile turn to alcohol, self-harm and, sometimes, suicide as an answer.
How to Deal with Workplace Bullying
Instead of focusing on the painful comments co-workers and fellow staff members throw at you, focus on yourself and your work. Be proud of what you are doing and if your job is something you find passion in, focus on that passion and don't let others tear you down. Bullying absolutely plays a part in the mental health realm and if you take the time to focus on your own happiness, you will find yourself with the willpower to push past the negative people surrounding you.
Articles Related to Bullying and the Workplace
Your Thoughts
Today's Question: What effect has workplace bullying had on you and have you found an effective way to cope with it? We invite you to participate by commenting and sharing your feelings, experiences and knowledge on the HealthyPlace Facebook page and on the HealthyPlace Google+ page.
------------------------------------------------------------------
Share our Stories
At the top and bottom of all our stories, you'll find social share buttons for Facebook, Google+, Twitter, Pinterest and other social sites. If you find a particular story, video, psychological test or other HealthyPlace feature helpful, there's a good chance others in need will too. Please share.
We also get many inquiries about our linking policy. If you have a website or blog, you can link to any page on the HealthyPlace website without asking us beforehand.
---
---
Most Popular HealthyPlace Articles Shared by Facebook Fans
Here are the top 3 mental health articles HealthyPlace Facebook fans are recommending you read:
If you're not already, I hope you'll join us/like us on Facebook too. There are a lot of wonderful, supportive people there.
------------------------------------------------------------------
From the HealthyPlace Mental Health Blogs
On all our blogs, your comments and observations are welcomed.
Feel free to share your thoughts and comments at the bottom of any blog post. And visit the mental health blogs homepage for the latest posts.
------------------------------------------------------------------
Stand Up for Mental Health
Thousands Have Joined the Stand Up for Mental Health Campaign
But we still need you. Let others know there's no shame in having depression, anxiety, bipolar disorder, trichotillomania, OCD, ADHD, schizophrenia or any other mental illness.
Join the Stand Up for Mental Health campaign. Put a button on your website or blog (buttons for family members, parents, mental health professionals and organizations too). We also have covers for Facebook, Twitter and Google+.
------------------------------------------------------------------
Latest Mental Health News
These stories and more are featured on our mental health news page:
PTSD Risk Could Be Increased By Certain Genes
Psychosocial Experiences In Childhood May Influence Later-Life Cardiovascular Health
How Memory Is Processed 'May Influence Risk Of PTSD'
Exercise Protects Against Depression - But How?
Therapeutic Advances Or Fads In Psychotropic Drug Prescribing?
PTSD Toll On Civilians Ignored By Federal Legislation
Can Depression And Guilt In Preschool Years Change The Brain?
That's it for now. If you know of anyone who can benefit from this newsletter or the HealthyPlace.com site, I hope you'll pass this onto them. You can also share the newsletter on any social network (like facebook, stumbleupon, or digg) you belong to by clicking the links below. For updates throughout the week:
APA Reference
Aline, J. (2015, January 13). Workplace Bullying Can Trigger Anxiety and Depression, HealthyPlace. Retrieved on 2023, December 1 from https://www.healthyplace.com/other-info/mental-health-newsletter/workplace-bullying-can-trigger-anxiety-and-depression
Last Updated: January 27, 2015