What Do Dreams About Self-Harm Mean?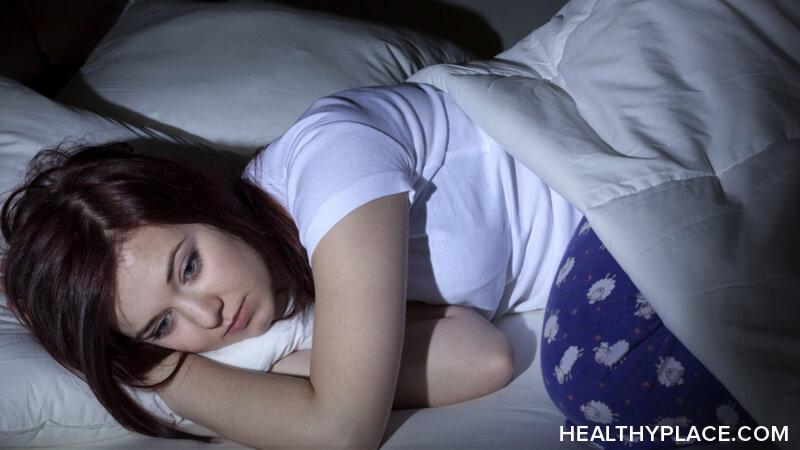 Dreams mean many things to many people. Some remind us of memories, whether recent or long-buried; others reflect our hopes and fears about the present or the future. But what do dreams about self-harm mean?
Do Dreams About Self-Harm Mean You Want to Hurt Yourself?
Dreaming about self-injury does not necessarily indicate a real desire to inflict pain on yourself. What they do mean depends very heavily on a variety of factors, including: your own personal experiences and views on self-harm, things you may have read or heard recently about self-harm, how you see yourself, and your current worldview. Whether the dream is pleasant or a nightmare also makes a difference in how it can be interpreted.
If you self-harm, or used to injure yourself in the past, your dreams about self-harm could be a reflection of any of the following:
Memories, repressed or otherwise, of real past experiences with self-harm, surfacing due to some trigger you encountered during the day
Fear of relapse. Even if it has been a long time since you last hurt yourself, it is not uncommon to worry now and then that you will fall back into old habits.
Stress, related to the pressure you or others may be putting on you to refrain from self-harm. In this case, you may be craving the relief that self-harm used to bring you, even if you have no inclination to actually hurt yourself.
If you have never self-harmed, there are many other possibilities to consider. Your dreams may instead reflect:
A negative self-view or low self-esteem. You may be angry, or disappointed, with yourself, or you may simply feel that you are "not enough." Such dreams may indicate a feeling that you deserve to be punished, but not necessarily with physical injury.
Feeling overwhelmed and like you need an escape from your current situation. In this case, your self-harm dreams may indicate a desire for relief from something that has been weighing heavily on your mind.
Feeling neglected or isolated, in which case, the self-harm in your dreams may indicate a wish for others to recognize that you are hurting and, perhaps, help you heal.
This is not an exhaustive list, and it is possible that your dreams may reflect more than one of these possibilities. Your dreams, after all, belong to you; the purpose of this list is merely to help you consider what might be true for you.
If you want a more in-depth analysis, you may want to speak with a counselor or therapist who has experience with dream analysis and can provide expert guidance to help you better understand your dreams. If your dreams are causing you distress or negatively impacting your health in any way, please speak with a medical professional who can help you find healthy ways to cope with your dreams. Sleep is an incredibly important component of mental and physical wellness.
When Are Dreams About Self-Harm Actually About Self-Harm?
Dreams about self-harm aren't always about actually wanting to hurt yourself, but sometimes, they can be. Context is key when determining whether or not this is true of your dreams. Ask yourself the following:
Have I deliberately hurt myself recently?
Have I been thinking about hurting myself while I'm awake?
Has anything happened lately that might trigger self-harm cravings?
A "yes" answer (or even a strong "maybe") to any of the above may indicate a true inclination to hurt yourself, especially if you have a past history of self-harm or are experiencing extreme stress or distress. If you are worried that you will hurt yourself, please reach out as soon as possible to get help, ideally from a medical professional.
If you feel you are in immediate danger of harming yourself, please call a hotline or, if it is an emergency, 9-1-1.
No matter how you interpret your dream, remember: dream analysis isn't a crystal ball into which you can look for definite answers about the past or the future. Rather, it is one of many possible windows through which you may peek to try and gain a deeper understanding of yourself, as you are right now.
Have you had any dreams about self-harm recently? Let us know in the comments if you have any tips for better sleep or if you have alternative suggestions for understanding these dreams.
APA Reference
Kim Berkley (2020, July 9). What Do Dreams About Self-Harm Mean?, HealthyPlace. Retrieved on 2023, December 11 from https://www.healthyplace.com/blogs/speakingoutaboutselfinjury/2020/7/what-do-dreams-about-self-harm-mean
Author: Kim Berkley
ok so i have sh on my thighs and i had this dream that i was in the school bathroom except there were like 100 stalls. and also it was the first day of high school even tho im going to 8th grade in the fall. (its summer rn) so in the bathroom there were little kids in there like probably between 5 - 10 years old for some reason. and so when i went in i had to go thru a few stalls since some didnt have toilet paper and missing locks. so i settled on a stall that was near the exit door. i have an irrational fear of people seeing me in the stall thru the space in the door. so these little kids started coming in everybodys stall with these toy guns with shrek on them. i was trying to hold my stall closed but somehow they managed to open it. now i lift weights and i have more muscle than a sporty 13 yr old girl so i was very surprised when they knocked the door down. so one of the kids saw my sh on my thigh cos for some reason i was wearing shorts which i never do for obvious reasons. so that kid started yelling she doesnt love herself and shes ashamed of herself so i became super nervous and tried to shut the kid up since theres a security guard outside of the door and i didnt want them to call my mom. i made up this story that i had a gymnastics accident when i was in kindergarden and that the cuts were from there. somehow the kids believed me. it got bad when the security guard mr ba whos like 7 ft tall got involved. he was asking a bunch of questions that i had to lie thru. i was starting to get really scared and started sweating when he brought out his clipboard and was asking personal questions. he also said sm on his walkie talkie that i couldnt make out. turns out he wasnt gonna let me leave the bathroom or let ANYBODY leave. then he started asking for the kids with the shrek guns. i actually started to believe that he wasnt gonna get me in trouble. i was so stressed that i went into the stall and pulled out my blade from my phone case for "just in case." so i started bleeding really hard and mr ba ripped the stall door down. somehow all the kids from the bathroom dissapeared and mr ba started getting really close. i was really scared that sm was gonna happen. he then picked me up and led me to a room. it had white walls and a bed and dresser and closet and some plants. no windows tho. he placed me down on the bed. i assumed that he was gonna talk to me that what i was doing us stupid etc. instead he stripped me... i was so ashamed or my sh that i tried covering it. mr ba made me stand in front or a mirror and stare at my sh. i was already uncomfortable since i was standing in only my socks and burgundy converse. then he picked me up once again. this time i could tell sm bad was gonna happen. he laid me down on the bed and he morphed into a guy my age. my type and everything. i blushed at him and was instantly turned on... and with hormones and eveything at my age... i guess u can tell what i was feeling. 😭☠️ the guy told me that i was safe with him and hugged me. i felt safe too. not at all uncomfortable like i was with mr ba. it completely didnt occur to me that mr ba morphed into the guy. then the guy told me his name. i dont really remember it but i think it was chris. so chris started tracing my cuts and kissing them. i felt so safe and finally like there was somebody there that didnt scream at me for my sh. he then laid down with me and hugged me again. he told me that everything was going to be ok and i actually believed him. he kissed me on my neck and down to my chest and down to my belly. now im very insecure about my belly fat and it comforted me that he didnt remark that i should eat less and instead kissed my belly. his clothes kept dissapearing until it was down to his socks and blue forum lows. i guess u can tell what happened next. if u cant well then he kissed me a bunch down there and had u know what with me. afterward he told me that i shouldnt be ashamed about my sh and more things like that. it comforted me that somebody out there actually cared and loved me for who i was and not for who they wanted me to be. it was a weird dream that took a weird turn but in the end it had a good ending. if u read all of this thank you! ❤️
Last night I had a dream that was insane. So my husband of 2 yrs (known and Been with each other for 13) we went to a party at some point I start feeling off and go to find him. He's with another girl who seems super weird as she's pulling his teeth out 1 by 1. I freaked out and tried to get him to leave and he was just not having it. That's when he told me they had slept together. But she was gone he told me they didn't that he just needed me to leave before I got hurt. Then I woke up. Fell back asleep and somehow I was fighting for my life. When it started again she had some kind of power over everyone besides me and this one guy. She had cut all the tips of my fingers off and put like different ones back one but I could visually see how messed up my fingers were. I woke up again. Got back in it at a funeral and my whole family was there…I see her walk in and I'm telling my aunt that is her. Her little dude she had with her quickly turns around and tries to shoot me with a Arrow (he doesn't hit me) and I just scream "mama over and over and over" and then I hear my mother say I got you. After that I just remember fighting and somehow winning and starting to zero in on the girl in black and I woke up.
I have a past history of self harm, and ive had several self harm dreams, only 2 I can remember. The first one was a few months ago, I was in a house, and my parents were degrading me, mocking me, and laughing at my attempt to fight back at their words while taking/breaking all of my things because I woke up 1 hour late. I pushed the both of them to the floor, went to the kitchen, and breathlessly starting cutting myself with a steak knife without thinking. I ran up a hill to get help, which was never supplied. I saw my parents apologizing, but a family member (wouldnt specify which one) just pushed them out of existence. The dream ended after that. The second one was just last night, and most of it was nonsense, including a part where I just walked around a bustling town nochalantly with my "brother" (we werent actually related) watching a bunch of cartoon characters (specifically those I was hyperfixating on) mourning a bunch of broken bracelets. In the middle of the dream, I was in my aunt's house, and I lashed out on my sister for calling me useless. My uncle was the one who scolded me, And i was just quietly saying under my breath "I messed up", until I got to the kitchen, grabbed a big steak knife, and started cutting myself, skipping around the kitchen, smiling and silently laughing as I was, to numb/ignore the pain that came with cutting myself. I never wrapped it up, yet no one ever noticed. I don't remember what happened after that. I find it especially concering bc im a young minor and idk if I should be having dreams like this
I don't have any history of SH however last night I woke up to three dreams throughout my night.
The first one, my girlfriend had made me feel betrayed because of whatever was happening with two guys who she had been with and I had been friends with a long time ago. After, feeling betrayed, I stabbed one of the guys and beat my girlfriend up. After, my dad appeared, looked at me, and said "I don't know who you are anymore." Then, I ended up stabbing the same guy in the back again, but this time I stabbed him in the back multiple times. After stabbing him he didn't fall or die, instead he came walking back at me with his own knife. I woke up after this. The second time I woke up I was still feeling a bit panicked but didn't remember my dream. The third dream is where I committed self harm. In the third dream I still felt used and betrayed, so I grabbed the throat of one of the guys and ripped it out. Then, I grabbed my girlfriend's throat and ripped it out. Then, I grabbed my own throat and ripped it out. We all bleed out and the dream ended. After waking up from these dreams I was extremely sweaty.
So I had a dream last night that my grandma told me to the hospital and the nurse told me to stop cutting myself and she took scissors and cut my wrist in front of my grandma then wrapped it then I woke up panicked
I had recently had a dream about fighting with my mom, witch is weird my mother and I have an ok relationship, I know I should open up and talk to her but find it hard so I keep to myself. I do ask her personal questions and have normal conversation I just cannot talk to her about EVERYTHING. Another weird thing is I never dream about her like ever, anyways in the dream we were having a screaming match I don't know what about but i did have some blood on me like on my shoulders, then all of a sudden I start balling and i slit my wrists infront of her,my dad was just right behind my mom not doing anything, I have never S\H or even though about it so it was weird, I then woke up and just went back to sleep have a normal dream disregarding trying to kill myself infront of my mom I have no idea why this happened, any ideas?
I have never self harmed, but I had a dream a few nights ago that I did self harm and it was all over my whole body. But in my dream I liked it? And was very calm about doing it? I do struggle with felling sad but I am not diagnosed with depression but I was (emotionally/mentally) neglected my whole childhood, but ever since I became a teen my parents got interested and have been putting a lot of pressure on me to become "rich" and "successful" and I feel trapped because that is not what I want to do with my life. I really don't know half the crap I say but I don't know wtf my dream means. Most of dreams all of my life are about getting k¡dnapped and/or SA and/or k¡lled, this is the first time I've had a dream about self harm.
I was there in the dream watching myself as a child. Little me wanted to die and purposely exposed herself to carby monoxide. She was laying in the floor feeling dizzy. I walked over to her and started punching her in the face over and over. I woke extremely disturbed. I really like myself as a child and feel protective and maternal towards little me so why did I attack her?
i litterly cant sleep at this point because i keep getting nightmares about family and/or friends finding out i hurt myself and the worst one was when my nana found out i cut myself with a really sharp thingy and by the way she died when i was 3 so when i woke up i instantly started crying and i felt so bad i upset her , im not really a religious person at all but i kinda felt like she was real tho , felt like she was mad at my dad (her son) who married my mom cuz she hits me and pulls my hair and calls me curse words but i felt like it was my fault i cut myself but tbh i cant tell people about it cuz whenever i do they cry ; my boyfriend , mybest friend and my close friens always cry and i feel horrible but i can never stop , one of my friends threatened to tell people that i did it and now i cant talk to her abt it cuz i dont wanna get told on :/ my best friend doesnt rlly care that i do it so... idk but all my friends and my bf do self harm so i have to be like a therapist to them constantly putting their needs first , right now im in my bed and its like 5 in da morning n ive been awake the whole time drinking energy drinks cuz im afraid 2 sleep cuz ive been having nightmares days on end but im also adraid to stay awake cuz i cant control wat i do and theres a blade besideme right now :( i cant liveup to wat people want from md, im a failure , i got bad grades , im fat , ugly , ive ruined my body , my voice is horrible ... i could go on and on , i just wanna end it becase i keep letting ppl down i just cant , i wanna run away from all my problems , infact they dont even feel like nightmares cuz i enjoy them and its idk nice i guess ... idk anymore , ive lost everything , friends and stufvv like all out of control cuz my mom made me move city house n school away from my bf and friends , i cant stop thinking abt my bf tho cuz now hes got an eating disorder and so do i but i dont wanna tellhim cuz i dont wanna p1$$ him off so i just dream abt him n stufv and i think abt him evry day so i firgotwhyim alive haha im just ramblibg cuz ive nothing to doooo AAA
hi, i know this is a pretty late response to an older article but i just wanted to rant about my worries lol. so my girlfriend has been struggling a lot the past few months and she's gotten into a lot of self harm that i've noticed. the first time i noticed was back in september of last year. i was really worried about her but i didn't want to force her to say anything about it so i didn't bring it up. there was more and more that showed up all over her body and all of my friends noticed too, but we didn't want to ask her about it. about a month after that, i finally gave into my temptations and i did it on my hips and i did it frequently up until december when i finally stopped. ive been clean since then. it was mostly due to the fact that i hated the way i felt afterwards just looking at what i had done to myself. i felt like i ruined my body and i hated that.
so about a week or two ago, i saw there were a lot of cuts on her arm and they looked pretty new and i was worried. it was the first time in a while that i've noticed this. but ever since i saw it, every night i cant fall asleep. self harming myself again has been the only thing on my mind. i threw away my blade months ago but recently i've been considering finding something else to harm myself with and i don't want to think those thoughts anymore. it's just so hard to stop thinking of it and i lose sleep at night worrying about it. and then a few days ago, i had a dream that my mirror had shattered into tiny little pieces on the ground. i picked up those shards and i sliced through my wrists and my thighs. i don't think it was a nightmare because in my dream, i felt relieved and happy. i enjoyed it. but when i woke up i immediately felt nauseated and distressed and i felt around on my skin in a panic but of course, nothing was there. i really hate saying this but i'm scared that seeing what my girlfriend did triggered me in the first place and now it's happening again. i don't know what to do. every time i see it it reminds me of what i did and i'm overwhelmed with the feeling of wanting to do it again. i haven't told anyone about any of this because i don't want anyone to worry about me. i really hate talking about my feelings and i'm scared to ask my parents for help because i also don't want them to worry.
I've never done real self-harm before aside from shallow scratches that don't really bleed, but that had been years ago... Recently however, I've had such thoughts a fair few times. I didn't really focus on them however, but recently I had a dream where I cut myself on the neck. It wasn't really a fatal cut, just about 1 cm deep and 5 cm long, but then I was able to see something, like holes through it? It freaked me out because I have trypophobia, but when I woke up, that wasn't the only thing that freaked me out; it was the fact that I was cutting myself in the dream. Even when I used to "harm" myself I've never actually done anything that causes actual bleeding, so to have a dream like that out of nowhere, especially when I've had thoughts of self-harm, freaks me out. Do you maybe have an idea of what's going on? I hope you're not too busy, but if you are, that's okay!
I've been having dreams about people finding out about my self harm and they always freak me out. e most recent one, I was somewhere dark and I was wearing short-sleeves. as soon as I noticed, I started to cover my arms but someone noticed, and I covered my other arm, and they demanded to see the other arm. I convinced myself it was a dream, and forced myself to wake up at that point. It was 2am when I woke up. What does it mean? What should I do?
I had a dream that my friend was cutting my wrists which has never happened before. I have self harmed before but never cut myself. I just about managed to resist the urge.
Hope you can help me with this - it wasn't really a nightmare as such (btw I am a minor)
Lately I have been getting these nightmares about self harm (cutting my wrist with lots of blood) and it is making me feel really scared that I'm going to do something bc it's so tempting. I have been clean for a couple months and I am going to therapy for a while now. (I am also 14 and with family and school issues). My dreams are always the same. I'm at my old school (I do a online one now bc of my anxiety) and I just cut and cut, it gets deeper and my arm is numb and looks so ruined :( I don't want to stress out any of my family and my therapist isn't helping like I thought it would.
Hi!
I'm Alex, i m only 12 but I've been having dreams about this frequently. Its strange because its always one of those dreams where you wake up and feel it, but its not actually there. The thought of cutting scares me, it makes me worried ecspecailly because a lot of my loved ones do it. I wake up and get the strong urge to do it and frankly, it terrifies me. I do have a lot going on at home, my bio dad had an OD and passed because of it, my mom and stepdad always fight about me, and my stepdad also invalidates everyone's feelings. I'm just not sure what to think honestly, I would seek professional help, but talking about my problems worry me.(I've been convinced that I'll make the other person hate me/themselves due to personal experience). I told my mom and she said to look it up, so here I am.
I had a self harm dream last night and it was great....
I have not self harmed in 10 plus years.
In my dream I was in some sort of mental health facility. We were all playing games, but eventually I decided to sneak off to self harm. I rushed to my room to find anything to cut myself with and started as quickly as possible all over my thighs with some shark stick from outside. Meanwhile someone is trying to get in my room to see if I'm okay but I'm just trying to hide and finish what I started. Then I wake up! I wanted so badly to go back into that Dream so I just stayed in bed for a bit longer fantasizing other parts of the dream and continuing to cut myself up. It was like a sex dream I didn't want to leave.
In the past I used to self harm (cut my own thighs) and recently the subject of self harm came up with a new friend which made my mind go back to it quite a bit even though I have no intention to go back to it. Now this last night I had a very strange dream in which my boyfriend (who I live with and have a very healthy relationship with) started to cut my thighs deeply with razors while yelling that he was gonna kill me. Then when(in my dream)I tried to call 911 it said the phonenumber was out of use and I ran around town unsuccessfully trying to find a cop while he ran after me with the razor. I personally haven't got a single clue of where this dream could come from and was wondering and hoping you might have some idea of it's meaning. Thank you!
I've recently had a nightmare that was quite similar to one I had before: my whole family was against me and no one believed me, I felt like they hated me and wanted me dead, and that made me feel like I was better of dead. (To be a little more specific they would tell me I was lying or that try couldn't stand me and they we're going to send me away.) So in both dreams I self harmed, I cut my thighs and I cut my wrists. I had self harmed in the past before and was very suicidal, and recently I've started to feel like I'm useless and have no future, it also might've not helped that a friend told me she relapsed. In the past I went to therapy and counseling to try and help with my "anger issues", instead I talked about how people around me self harmed and how I thought about doing it too, I also talked about possibly having anxiety but my therapist never really helped me or told me if I did. (I also didn't have anger issues, I guess I just needed to vent to someone) My life is better then it was back then but I just want to know if I should work on something or do something to stop me from having these nightmares. I'd appreciate the help..thanks..
hello im heidi i've been having dreams of hurting myself like slitting my wrist and im only 11 i've had a traumatizing childhood and i feel like no believes that im hurting i've lost motivation to do things i haven't cleaned my room in forever and sometimes out of nowhere i cry but it only happens at night like i feel rlly sad and sometimes i feel like hurting myself but i end up not doing it because i feel like my siblings and mom will think they did something wrong to make me do it and when i try to talk to my mom about it i immediately chicken out because i feel my mom wont believe me and think im lying and she will probably end up telling my whole family about it and then they will also think im lying and i hate how when i talk about anxiety and depression to my sisters they are always like shut up u dont have it ur 11 u dont know anything about it nor depression and then i dont talk about it beause i dont wanna sound like im self diagnosing
hello, i'm not really sure if this counts as self harm in my dream because it was technically suicide? but in my dream i was in this place where some people go after they die and it was kind of like a school. and so there was this room that had specific lighting to be able to see how your body looked when you died so like for me in the light my wrists had a big gash threw both of them (in my dream, my death was intentional) and so that means that's how i died. i'm not sure if i explained my dream well. also i wanted to add i have self harmed in the past and have had dreams of suicide as well so it's not my first one. thank you for your time!
Hi so I dreamt about harming myself three times already. And the time I've dreamt those was the time I feel like I wont last long and I feel so lazy I'm procrastinating and barely start or finish my school works. Btw, I want to share my what I've dreamed of, is it fine? The first dream I had was when I cutted my wrist and then I straight out sleep. It felt comfortable. The second one was when I hang myself up, but I can see how ppl around me reacts, and I also felt comfortable. The third one was I cut my wrist again with a cutter but slightly, and I don't feel anything about it. Why is that? Am i just overreacting, finding ways to justify my laziness or something?
Hi, I have been struggling with not self harming for the past few years. It has been an on and off battle which lately has been getting worse. Especially because I am having dreams of self harming the past week or so. In my dream, im doing something like slamming my head into the wall repeatedly (I used to do it often when I was a kid) but it doesn't hurt, and I continue to do it. When I wake, I end up with this feeling of disappointment towards myself. I'm not going through anymore than I usually am, so im just really starting to get worried.. thoughts?
Thank you!
What does it mean if you dream about someone you know self-harming? My aunt had a dream about my grandmother (who has been dead for about four years) in which she was standing in the kitchen repeatedly hitting herself with a hammer. She didn't bleed, nor did she die. My family relies on dreams to determine how deceased family members are doing and needless to say, this was disturbing to hear about. She didn't visit anyone else after her death, not even my mother, whom she was very close to.
i have self harmed in the past but technically in my dream i didn't actually self harm. but in my dream i found these old broken mirror shards (in waking life i originally started self harming with broken mirror shards until my mom threw them all away) that i used to self harm with and i hid them in my room so i would be able to self harm with them in the future and so my mom wouldn't take them away. i have been stressed lately and have been thinking about self harming but haven't. i'm 141 days clean so far.
Leave a reply