Help for Verbal Abuse: You Have To Reach Out
In the last blog, we established that you cannot control what your abuser says or does. If s/he is abusive, no amount of begging and pleading or outright love will make them be kind and sweet to you, their target. So, what can you do to stop verbal abuse?
There are a number of steps you can take to regain control of your thoughts, emotions and actions when facing abuse. One of them is reaching out to others. Reaching out to others covers a broad spectrum of behaviors from calling hotlines to receiving counseling from someone familiar with abusive situations.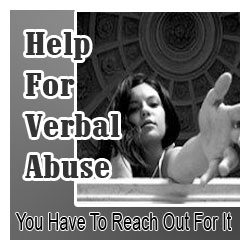 Before we begin, I want to remind you that verbal abuse is domestic abuse. There has never been a case of domestic violence that did not begin with verbal abuse or one of verbal abuse's insidious cousins (i.e. witholding). Verbal abuse is a sign of the domestic violence to come, and verbal abuse is "bad enough" to count as domestic violence on its own.
Help for Verbal Abuse: National Domestic Violence Hotline
We'll start with the easiest option: the National Domestic Violence Hotline. Click the link or call 1-800-799-7233 or 1-800-787-3224 (TTY). When you call the hotline, describe your situation. If you're not sure you're being abused, tell them so.
The trained volunteers are able to validate your suspicions and help you get a handle on what's going on in your mind. They'll talk about what you want to talk about, but a good question to ask is, "What can I do about the abuse?" That question opens a world of possibilities and you can choose a viable solution that could work for you.
Help for Verbal Abuse: Tell Your Friends
If your abuser hasn't completely isolated you, begin sharing with your friends your feelings about the abuse in your life. Maybe you've spoken to them before about it but made apologies for your abuser or talked them and yourself into believing "it's not that bad." Don't do that this time. Tell them how bad it is. Ask if you can go to their home for an hour or so if the situation becomes volatile at your house.
Help for Verbal Abuse: Find Community Resources
Contact the Department of Social Services or the specific domestic violence agency in your state. (You can find one at the NDVH website under the tab "Get Help" and then click "Help in Your Area".) Make an appointment to speak with a counselor so you can find out what resources are available to you.
The counselor I spoke to helped me realize that leaving isn't the only option. Although I did eventually leave, I was able to stay saner while living in that relationship because she educated me about options I hadn't known existed. Remember, much of the domestic violence help is "secret" because victims need the secrecy to stay safe; once you're identified as a victim, the veil of secrecy lifts.
Help for Verbal Abuse: Attend Domestic Violence Group Meetings
There will most likely be a domestic violence group meeting you can contact after reaching out to social services. There may be other domestic group meetings outside of social services. For example, if you're in the military or a military dependent, there is help available through the military too (contact the base hospital).
Meeting real, live, speaking breathing people in a group or one-on-one setting is very important. Online friends are great and you can keep them; however, looking at another person in the face, hearing the emotion in their voice, seeing the feelings on their face and connecting with that person is of paramount importance.
You will be amazed at the emotions a group meeting elicits. I was all at once angry that my ex-husband treated me that way, angry at myself for allowing it, comforted by the empathy of the group, validated by the nods and smiles, strengthened by hearing the stories of how they escaped...on and on and on. You can't get that without visiting with people in person. You may borrow their strength if you have none left. The group "gets it".
Help for Verbal Abuse: Find a Great Counselor
Notice I said a "Great" counselor. I had two very different experiences with counselors. One was not helpful to my situation or my self-esteem; the other one empowered me without telling me what to do. Please find a counselor who is well-versed in domestic abuse.
Your number one question when calling around could be, "Do you have experience working with abuse victims?" If the counselor gives a roundabout answer or says "No", then they are not the counselor for you.
Stopping Abuse is About Changing Your Mind
You'll notice that no where in this post do I mention reaching out to your abuser. No where. You've reached out to your abuser enough. You know what you get when you go to them for support. Don't bother telling them you are reaching out to others - chances are, they'll talk you out of it or swing the hammer down so hard you'll be afraid to reach out again for years.
It's okay to keep some things to yourself. Reach out in private; this isn't about the abuser, it is about your sanity and finding a safe place in your mind and heart from which to plant a seed.
How Do I Stop the Verbal Abuse? (Part 1)
Help for Verbal Abuse: You Have To Reach Out For It
Learn About Verbal Abuse So You Can Stop It (Part 3)
Set Personal Boundaries To Increase Self-Reliance (Part 4)
Develop An Exit Strategy And Safety Plan (Part 5)
The Signs of Verbal Abuse (Part 6)
You can find Kellie Jo Holly on her website, Amazon Authors, Google+, Facebook and Twitter.
*Both women and men could be abusers or victims, so do not take my pronoun choices as an implication that one gender abuses and the other is victimized.
APA Reference
Holly, K. (2011, April 21). Help for Verbal Abuse: You Have To Reach Out, HealthyPlace. Retrieved on 2019, August 26 from https://www.healthyplace.com/blogs/verbalabuseinrelationships/2011/04/reach-out-how-to-stop-verbal-abuse-part-2
Author: Kellie Jo Holly