Making Peace with a Dissociative Identity Disorder Diagnosis
I wrote the series, Diary of a Newly Diagnosed Dissociative, because I know I'm not the only one who has wrestled in turmoil over their Dissociative Identity Disorder diagnosis. I want those who are struggling to know that, within the context of DID, their experiences aren't as unusual as they probably feel. But knowing you're not alone, while helpful, won't ease the struggle too much if there's no end in sight. I can tell you, though, that making peace with this diagnosis is an attainable goal. I did it. These three things are what made it possible.
[caption id="attachment_1215" align="alignleft" width="240" caption="Photo by Michel Filion"]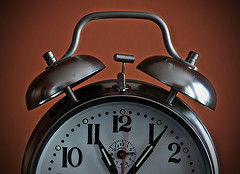 [/caption]
Time
It bothers me that so many mental health professionals spread the word that treatment for DID takes between three to seven years, when for many just accepting the diagnosis takes that long or longer. There are those rare few for whom the diagnosis is such a huge relief that making peace with it isn't that difficult. But it took me five years to come to terms with my Dissociative Identity Disorder diagnosis. And I'm part of the rule, not the exception.
Education
In hindsight, I can see that much of the distress I experienced in the aftermath of my Dissociative Identity Disorder diagnosis had roots in ignorance. The more I learned about DID, the less tied up in knots about it I felt. For those just beginning to learn, I recommend:
The Dissociative Identity Disorder Sourcebook. Written by Deborah Bray Haddock, this book provides an accessible overview of the basics of dissociation and DID.
Multiple Personality Disorder from the Inside Out. A collection of writings from people with DID, this book helped me enormously by allowing me to see that I wasn't alone. Edited by Barry Cohen, Esther Giller, and Lynn W.
The Stranger in the Mirror. Written in part by Marlene Steinberg, originator of the SCID-D - a highly respected diagnostic tool for dissociative disorders - this book does an amazing job of both normalizing dissociation and illustrating the more pathological aspects of severe dissociative disorders.
The International Society for the Study of Trauma and Dissociation. Start with the FAQs on dissociation for preliminary, authoritative information.
The Sidran Institue. An excellent resource for articles, links, and support materials.
HealthyPlace. Check out the Dissociative Disorders Community for more on the symptoms, causes, and treatments of dissociative disorders.
[caption id="attachment_1223" align="alignleft" width="231" caption="Photo by Robin Green"]
[/caption]
A Willingness to Tolerate Ambiguity
Taking into account my own experience and what I've read and heard from others diagnosed with Dissociative Identity Disorder, I believe one of the best things anyone living with DID can do for themselves is make friends with uncertainty. Doubt is difficult, but it doesn't have to derail you. I'm able - most of the time - to consider DID and everything that goes along with it from a neutral, curious perspective rather than diving full tilt into figuring it out. And that, along with time and education, has made an enormous impact on my ability to both make peace with my diagnosis and live with DID.
Follow me on Twitter!
APA Reference
Gray, H. (2010, December 16). Making Peace with a Dissociative Identity Disorder Diagnosis, HealthyPlace. Retrieved on 2019, September 23 from https://www.healthyplace.com/blogs/dissociativeliving/2010/12/making-peace-with-a-dissociative-identity-disorder-diagnosis
Author: Holly Gray