Dissociative Memory: When Dreaming Is Remembering
I dreamed I was at the mall, shopping with my partner. We strolled through the stores, bought a few things, and went home. It wasn't a particularly noteworthy dream but I mentioned it in passing to her anyway. "That wasn't a dream," she said. "We did that yesterday." How did I confuse reality for a fiction created by my dreaming mind? Memory is a tricky thing and dissociation complicates remembering. It's only because I have dissociative identity disorder (DID) and am aware of my dissociative memory problems that I believed her when she said it wasn't a dream. It didn't, and still doesn't feel like a memory at all.
Dissociative Memory Doesn't Feel Like Memory
We tend to think of remembering as the retrieval of cohesive sets of images, sounds, emotions, and sensations that serve as recordings of our histories. But what if the elements of memory were stored separately? Would it still feel like memory? Would we even recognize it as memory?
If a girl experienced abuse in the woods on an autumn day at the age of nine and goes walking in the woods on an autumn day thirty years later, she may experience physical reactions similar to what was experienced during the original abuse. In the case of DID, however, until enough system work has been done in therapy, the adult will probably be at a loss to explain her experience. - The Dissociative Identity Disorder Sourcebook, Deborah Haddock
Dissociative Memory and Childhood Trauma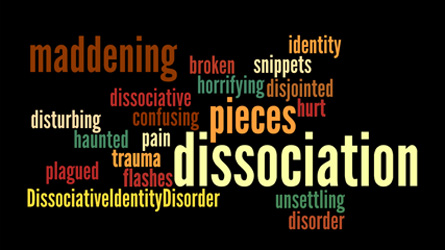 Take a minor occurrence like my shopping dream, add severe trauma to the dream's narrative, chop it into pieces, and send it back in time by thirty years and you have an idea of what remembering childhood trauma is like for many people with DID. They are plagued by snippets of emotion, flashes of images, and physical sensations that may manifest separately or in any combination. They may say they know a particular event happened, but have no recall of it at all. They may report seeing movies in their minds that, taken individually, don't make any sense. What results is often a maddening conviction that you're haunted by things that never even happened.
Protected by Dissociative Memory
It might not sound unsettling to find out that your uneventful dream about shopping at the mall was, in fact, a memory. Imagine though, that your most disturbing nightmare was proven real. What you were sure was a horrifying creation of your subconscious mind was actually a form of remembering. That would be substantially more than unsettling, yes?
Dissociative memory is often too disjointed and broken up to feel like memory in any traditional sense. Though it's confusing, it's also what protects many people with DID from totally succumbing to the pain of their memories. Dreams, after all, don't hurt quite as much.
Follow me on Twitter!
APA Reference
Gray, H. (2010, November 25). Dissociative Memory: When Dreaming Is Remembering, HealthyPlace. Retrieved on 2019, August 17 from https://www.healthyplace.com/blogs/dissociativeliving/2010/11/dissociative-memory-when-dreaming-is-remembering
Author: Holly Gray