Set Personal Boundaries to Empower Yourself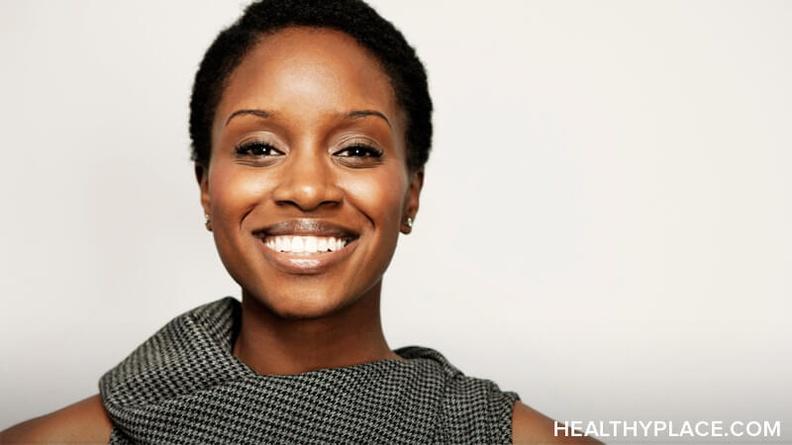 Verbal abuse, in essence, seeks to destroy your perception of your Self. The abuser sees you as the enemy to his way of life, and therefore will do everything in his power to diminish your mind, body, and soul to nothing and rebuild you in his image. Your abuser wants you to be non-existent, or at least weak and defeated, so he can define you as exactly what he wants you to be: his slave.
But you didn't know this was his goal. Over time, you didn't notice that you gave of yourself but he contributed nothing. You cited his rotten childhood or made some excuse that fed your desire to help him to overcome his horrid life situation, drawing yourself into codependency and taking on responsibility for his thoughts and actions.
Having No Personal Boundaries Empowers Your Abuser and Makes You Disappear
You succumbed to his thoughts about you more than you honored to your own. You gave of yourself to the point that he has (almost) won complete control over your thoughts and feelings about yourself. He thinks you are nothing; you think you are worthless.
You believe that you are nothing without him. You think that life without him is akin to death. You don't realize that you, as you were meant to be, are already dead. He's murdered you bit by bit, and gets away with it because your shell still walks among us. You can't prove that you're dead.
Personal Boundaries Empower You to Take Your Self Back
Is it any wonder that the idea of self-reliance seems terrifying? Is it any wonder that the idea of detaching from him, even in a small way, seems like pushing a dead elephant off your prone body?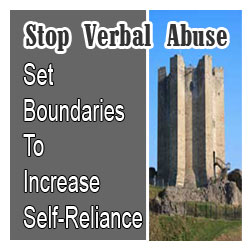 Like every other challenge, you must break the task into small pieces. (How do you eat an elephant? Bite by bite.)
You must "Reach Out" (gain allies) and "Educate Yourself" (gain information) so you have the armor of truth you need to bolster your courage. There are weapons and strategies you can develop to free yourself of his oppression and gain self-reliance:
Call Your Enemy By Name
Your enemy is not Paul or Suzie. Your enemy is made up of the thoughts and beliefs that seek to subjugate you to Paul or Suzie. Your enemy's name is Abuse.
Misplacing your focus onto an individual opens you to this same fight with another individual in the future. When you battle Abuse, you clearly see its face in multiple situations involving multiple people in your world (now and in the past and future). This is important. Abuse is insidious and cowardly - it hides in the places you least suspect to ambush you and leave you defeated. Detaching from individuals who use Abuse is not the same as letting Abuse win, nor is it equivalent to defeating Paul or Suzie.
Personal Boundaries Empower Self-Defense
You must know what you are fighting for if you hope to successfully defeat Abuse. If you do not know what you are fighting for, then you may as well surrender to slavery. You create the boundaries; you enforce the boundaries. No one else can do this for you.
Develop personal boundaries to define your territory. Personal boundaries are not drawn in the sand where you can adjust them depending on what the person possessed by Abuse does. The boundary that limits your mother is the same one that limits your husband because no matter what person presents an attack, you know that Abuse is the one you face.
Personal boundaries are not punishments (although Abuse will tell you it is being punished and that you are evil for drawing the line). Personal boundaries are the walls to your castle. No one, no idea or insult, enters that castle but the ideas (your knights in shining armor) who defend you against Abuse.
Read "Boundaries Help to Overcome the Victim Mentality" and "Set Personal Boundaries" to learn how to create your first line of defense. Developing your boundaries and enforcing them is your first step toward self-reliance. Once you have some success in protecting yourself, you will see that you are not powerless after all.
After celebrating some triumphs, you can move into the realm of advanced battle planning (aka Safety Planning), to further enhance your self-reliance.
How Do I Stop the Verbal Abuse? (Part 1)
Help for Verbal Abuse: You Have To Reach Out For It (Part 2)
Learn About Verbal Abuse So You Can Stop It (Part 3)
Set Personal Boundaries Empower Yourself (Part 4)
Develop An Exit Strategy And Safety Plan (Part 5)
The Signs of Verbal Abuse (Part 6)
You can find Kellie Jo Holly on her website, Amazon Authors, Google+, Facebook and Twitter.
*Both women and men could be abusers or victims, so do not take my pronoun choices as an implication that one gender abuses and the other is victimized.
APA Reference
Holly, K. (2011, May 1). Set Personal Boundaries to Empower Yourself, HealthyPlace. Retrieved on 2019, July 17 from https://www.healthyplace.com/blogs/verbalabuseinrelationships/2011/05/self-reliance-how-to-stop-verbal-abuse-part-4
Author: Kellie Jo Holly