Is Cheating in Your Abusive Relationship A Cure for Effects of Abuse?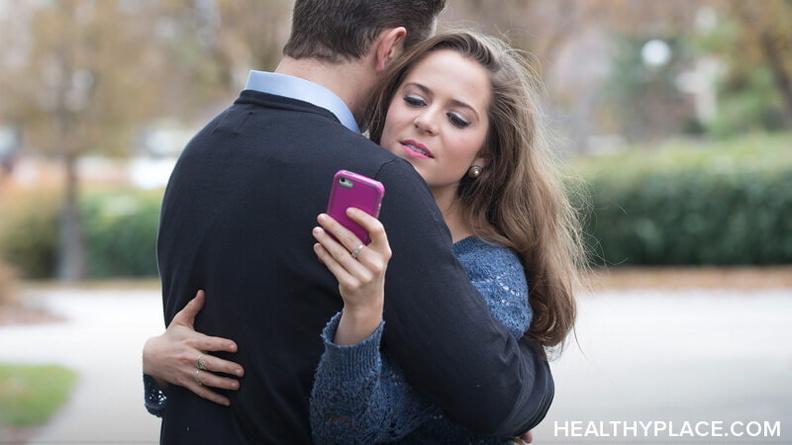 Does cheating on your abuser help you to cope with their abuse? Does a new love help you to heal? There is a little bit of truth in answering "yes," but there's more truth in a big fat "no."
Perks of Cheating When You're in an Abusive Relationship
My husband Will, deployed to Cuba, ignored his son and me back on the home front. Will didn't write, he rarely called, and when he did call it was all about what he needed in his next care package and how drunk he'd gotten on the beach. Oh - and to run damage control on the rumors that he was sleeping with someone else.
Despite all of that, one morning I woke up happy. I felt good. I felt good because Will wasn't hounding me daily! I didn't have to worry about his craziness. My son and I were safe and free. I planned to leave my marriage, and that made me feel even better.
It was during this time that I met "Jacob". I wasn't looking for him, but when he kissed me my toes did a happy dance in my shoes. I didn't stop it.
For the first time in years, I felt alive. Being with Jacob, forging that emotional bond, reminded me of how poorly Will treated me. Will almost had me believing that our relationship was normal, but Jacob reminded me that I could have it a lot better. In that way, Jacob was a blessing.
Disadvantages of Cheating in Abusive Relationships
With Jacob in my life, there was the constant threat of being discovered. It was too easy for one of Will's friends to see us if we went out. As quiet as I tried to keep our relationship, people found out - or guessed correctly at least.
On top of it all, I knew Jacob wasn't "the one" for me. I wanted to leave my marriage and tend to only my baby and me. I planned to go back to school, live with my dad until housing became available, and begin a new life on my own. There was no space in the life I planned for a man.
Beside that, going from one man directly to the next would leave me no time to catch my breath and no time to heal from the abuse. And what if Jacob turned out to be an abuser, too? I wouldn't know until I'd committed to him, and I'd have to leave the marriage to commit. Or what if I didn't have feelings for Jacob? What if the love I felt wasn't for Jacob, but for the excitement of the diversion Jacob offered me?
Jacob knew that our time ended when Will returned home. Will's return didn't keep Jacob from trying to contact me, and it didn't keep me from seeing him once more. But that last time was different; it was almost desperate. I needed to face reality and say goodbye. Dealing with heartbreak under my husband's nose was difficult and dangerous.
I don't know what Will would have done if he'd found out about Jacob. He'd always said that cheating would not be "tolerated." I had reason to interpret that to mean Will would physically hurt me, not leave me. I quietly thought Will might kill me if he knew the truth. I didn't give the risk of death enough thought.
I feared Will's actions if he found out the truth, but the most horrible part about being unfaithful to an abusive man is the guilt. Guilt for my one doozy of a transgression kept me in my abusive marriage for far too long. I felt I deserved the abuse Will dished out because I'd cheated on him. In hindsight, I realize the stupidity of that thought, too.
The Verdict: Is An Extra-Marital Relationship Worth It?
In the perks column:
excitement
remembering that prior relationships were better for me
In the disadvantages column:
hiding the affair while it's going on
jumping from abusive man to a different man with no time to heal
possibly finding out your lover is abusive after you commit to him (because that's how it goes)
possibly figuring out too late that you love the exciting diversion your lover provides, but you don't really love him
being more severely abused, beaten or killed by your husband when he found out about the affair; divorce abuse would be messier too, if you can imagine that
feeling guilty for far too long and using your guilt as an excuse to stay with your abuser
For me, cheating wasn't worth it. As magical as my affair with Jacob seemed to be, the pain I endured in the long run was a nightmare.
I can honestly say that if I had it to do over again, I wouldn't have cheated. But I have an experience advantage over some of you right now: After I left my husband, I experienced the thrill and excitement of infatuation and love all over again, with no guilt. I know that if I hadn't felt so guilty, I could have experienced those magical feelings much sooner because I would have left my ex years earlier.
APA Reference
Holly, K. (2012, August 6). Is Cheating in Your Abusive Relationship A Cure for Effects of Abuse?, HealthyPlace. Retrieved on 2019, July 18 from https://www.healthyplace.com/blogs/verbalabuseinrelationships/2012/08/cheating-cure-abuse
Author: Kellie Jo Holly
Robert, this must be a heart wrenching situation for you. I remember that Jacob filled an emotional void for me and he did it lovingly and well. I so needed the feelings he evoked; I needed to feel love. Your friend needs what you offer her, too.

BUT. I imagine that if I'd held onto Jacob, eventually he would have felt used. I can almost see him asking me, "If you love me so much, why won't you leave him?" And my answer to him would be "Because I have children and I promised to stay with him forever and he's chosen to stop drinking and said he'd be a better father and husband and ..." You get the picture. The bulk of the "truth" was that I didn't believe I could make it on my own or with anyone else. I believed I required HIS assistance. I sacrificed my happiness out of fear on an unconscious level daily - and not only emotionally. Unfortunately, Jacob also paid the price that time. He was collateral damage in the war zone of my marriage.

In essence, that's what you are now, Robert. You've seen the truth and can't bear to be a part of it. You know it's going to take you down. You love her, you worry about her, but it hurts too much to not be with "all" of her. It is time to let go with love. Isn't that what you said?

Tell her exactly what you feel, but leave out the "best for her, best for us" part. <em>This is what is best for you.</em> She has to know that, above all else, you are taking care of you. If you choose to do something for "her" or "us" then she has room to argue the point, wear you down, bring you back into the relationship. When you say "This is best for me. I deserve a relationship that is whole," there is no argument. She knows you deserve it, and she knows she's unable to give it to you.

She may eventually look at what you said and realize that you chose to leave her because it was healthier for you to do so <em>for you</em>. You have a chance to be a real example to her, Robert. You could wind up being her strength years after you've started life anew. She'll never forget you, so make the memory a strong one. You have a chance to set a precedent for yourself, too, and avoiding these types of relationships in the future will help you find a woman who can and wants to love you completely, no hiding, no shame, all happiness.
Leave a reply