Working Benefits My Mental Illness Recovery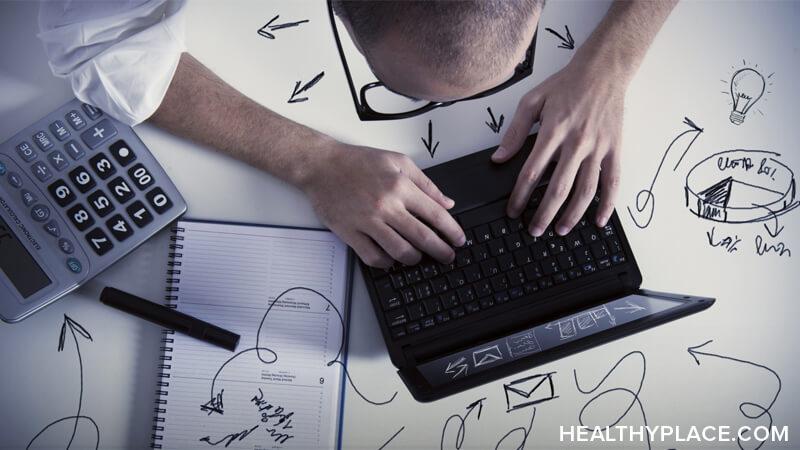 Working benefits my mental illness recovery and has been an important part of my recovery. I love my current job, but even previous jobs that were stepping stones aided my mental health recovery. I've grown as a person because of them.
I consider myself very fortunate to be able to work. I know many cannot, so I will not take my job for granted ("Mental Health Disability Definition: Are You Eligible?").
The Benefits of Working
For most, work is a necessity to afford basic needs, and if you're lucky, maybe a little extra. For me, work means so much more though. Here are five ways working benefits my mental illness recovery.
1. I need a schedule and routine in my mental illness recovery.
To keep my life moving, or at least keep it on track, I need a routine for mental health. I need a concrete reason to get up and get dressed, and I need to feel like I'm getting stuff done. 
It's nice to get time off of work sometimes, but I've noticed if it's any more than a couple of days I feel lost and disorganized.
2. Working has given my life more purpose.
My job is a big part of my identity. It is the culmination of my passion, education, and experience. I feel this is what I'm supposed to be doing right now, and all of the past work that led me to this position was worth it.
3. Working gives me income and independence.
Who doesn't want a little more money? Every little bit helps. Being able to pay your own bills gives you independence and freedom. Having your own income gives you control of your life.
4. I feel proud of my accomplishments.
I take a lot of pride in my job. It has a lot of meaning to me. Even when I was in less-than-glamorous positions, it felt good to look back at the end of the shift and see all of the things I accomplished that day.
5. Having a job forces me to get out of the house and socialize.
If I didn't work, I don't know if I would leave the house much. I struggle with anxiety, and it can be difficult going out some days. My job forces me out of the house and to be around other people. While sometimes this has been really uncomfortable, it seems to have gotten easier over time. I just have to keep working at it, and having a job lets me do that.
More Working Benefits
Those last few years leading up to my diagnosis felt pretty chaotic. Returning to work gave me a sense of normalcy -- like I was getting back on track.
My career keeps my life moving forward. It gives me goals to work towards and my life more purpose, so working benefits my mental illness recovery.
APA Reference
Rahm, M. (2019, March 13). Working Benefits My Mental Illness Recovery, HealthyPlace. Retrieved on 2023, December 10 from https://www.healthyplace.com/blogs/recoveringfrommentalillness/2019/3/working-benefits-my-mental-illness-recovery
Author: Megan Rahm