Using Emergency Rooms as Mental Health Wards Doesn't Work
Sometimes the emergency room becomes a mental health ward. Frequently there are no beds available in psychiatric hospitals so the emergency room is the one place a mental health consumer can be kept relatively safe and under supervision. This has happened to me a few times, and it's such a problem that USA Today mentioned it in an article series.1 But this is ineffective at best and makes things worse at worst. Here is why using emergency rooms as mental health wards doesn't work.
Why Shouldn't Emergency Rooms Be Used as Mental Health Wards?
There are several reasons why it's a bad idea to use emergency rooms as a mental health ward. Here are some of them.
It's Expensive for Mental Health Consumers to Go to the Emergency Room
According to USA Today:
Mental illness sends nearly 5.5 million people to emergency rooms each year, accounting for 4% of all visits, according to the federal Agency for Healthcare Research and Quality. Because many of the mentally ill are uninsured, hospitals often are uncompensated for their care. ... That increases the burden both on hospitals and taxpayers, who support emergency care through payments to medical centers that treat a "disproportionate share" of indigent patients. In fiscal year 2012, the USA spent $11.4 billion on these payments, about $456 million of that going to the care of the mentally ill.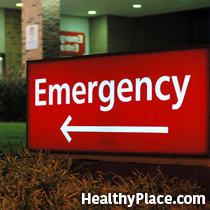 It is far more cost-effective to provide treatment early on. However, many mental health consumers are unemployed and, thanks to the repeal of the Affordable Care Act, uninsured. As a result, they struggle to get treatment until it becomes an emergency. I was in this situation once and my treatment provider cut back on my treatment because I couldn't afford it. My condition worsened and I frequently ended up in the hospital when it could have been prevented by adequate treatment. The problem is healthcare has become a business when it needs to be a service.
States, which are under pressure to cut Medicaid and expensive psychiatric services, frequently cut programs designed to keep people with mental illness out of the hospital. They also slash the number of hospital beds for psychiatric patients. This creates a situation in which jails are the largest mental health providers. And many mental health consumers who go to the Emergency Room for help end up in jail, usually for creating a disruption due to their mental illness symptoms or trying to leave. I've seen it happen. That leads to the next reason that using emergency rooms as mental health wards doesn't work: emergency rooms are unequipped to treat mental health emergencies.
Emergency Rooms Are Unequipped to Treat Mental Health Crises
USA Today reads:
In some hospitals, psychiatric patients get private rooms in the emergency department. Elsewhere, they may "board" in hallways, surrounded by noise, trauma and bright lights 24 hours a day, says Mark Pearlmutter, vice president and chief of emergency network services at Steward Health Care in the Boston area. Some patients are physically restrained.
Just try getting better in that situation.
At the hospital affiliated with my treatment provider, if the patient goes in through the Emergency Room, the patient dons a blue paper jumpsuit and wears a tracking bracelet, forcing the patient to ask to go to the bathroom because it goes off--very loudly--if the patient leaves a certain area. The only people who can turn the bracelet off are hospital security, made up mostly of off-duty police officers (Call the Police in a Mental Health Crisis as a Last Resort). Patients frequently wait hours for a mental health crisis counselor to talk to them, and in the meantime are kept in a brightly lit room with the door open. It's not a therapeutic environment.
The Emergency Room is equipped to treat physical illness, not mental illness. Boarding a psychiatric patient in the Emergency Room instead of the mental health ward causes a backup of care that threatens everybody, as other people are forced to wait in the waiting room longer. Yet, when states cut hospital beds, a patient in crisis has to go somewhere, and more often than not that's the Emergency Room--much to the frustration of Emergency Room staff. My personal favorite line is, "We need to save these beds for sick people."
How to Stop Using Emergency Rooms as Mental Health Wards
We need to stop treating healthcare as a means for profit and start treating it as humanitarian work because it is the right thing to do. The hospital affiliated with my treatment provider has a designated psychiatric emergency room and can admit people from there. It also has ways to get treatment that don't involve an Emergency Room that are less traumatizing and more beneficial for the person in crisis. Mental illness will not go away because we slash beds. It simply becomes more expensive, more traumatic for the patient, and more frustrating for hospital staff.
You can also find Becky Oberg on Google+, Facebook and Twitter and Linkedin.
Sources
APA Reference
Oberg, B. (2017, February 27). Using Emergency Rooms as Mental Health Wards Doesn't Work, HealthyPlace. Retrieved on 2023, December 6 from https://www.healthyplace.com/blogs/recoveringfrommentalillness/2017/02/why-using-emergency-rooms-as-psychiatric-wards-doesnt-work
Author: Becky Oberg
I'm unable to print these articles out for persons receiving currently in inpatient treatment. I think it would be beneficial for them to read. I am able to print out other articles from other websites.
In my opinion too, Emergency Rooms Are Unequipped to Treat Mental Health. Great post indeed, i love it.
You really make it appear so easy along with your presentation however I in finding this matter to be actually one thing which I think
I'd never understand. It kind of feels too complicated and
very large for me. I'm looking ahead in your subsequent publish, I'll attempt to get the grasp of it!
Leave a reply