Mourning A Therapy Pet in A Healthy Way
How do you go about mourning a therapy pet in a healthy way? On Wednesday, my precious therapy rat Annabelle was diagnosed with pneumonia and abscessed lungs. I made the heartbreaking decision to put her to sleep. Now I am mourning the loss of a therapy pet (Coping With Loss: Bereavement and Grief). The loss of a pet can be just as painful as the loss of a human. In this video, I talk about what to do to mourn the loss of a therapy pet in a healthy way.
How to Mourn the Loss of A Therapy Pet in A Healthy Way
The first thing to do is acknowledge your pain. Denying your pain will come back to bite you. Do what you need to do to deal with the pain in a healthy manner. As a local pastor here says, "Run toward the roar."
The second thing to do is remember the good times. I remember how Annabelle once got in a wrestling match with Cocoa over some coffee, how she always wanted to drink from the water bottle at the same time as Cocoa, and how she would lick my finger.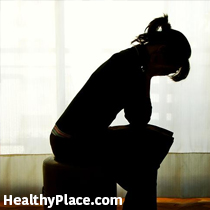 The third thing to do is monitor your psychiatric symptoms.
In the past seven days, my bike has been stolen (and it's a major form of transportation since I can't drive), my Supplemental Nutrition Assistance Program (SNAP) benefits were terminated due to a paperwork glitch, I learned I need exploratory surgery, and Annabelle died (which I'm the most upset about). I suffered a mild dissociative episode and have talked to my therapist about it. We're working as a team to get me through this.
Honor your pain. Remember the good times. Monitor your symptoms and know when to ask for help. That's the healthy thing to do when you're mourning the loss of a pet.
Video on Mourning A Therapy Pet
You can also find Becky Oberg on Google+, Facebook and Twitter and Linkedin.
APA Reference
Oberg, B. (2016, April 23). Mourning A Therapy Pet in A Healthy Way, HealthyPlace. Retrieved on 2023, October 3 from https://www.healthyplace.com/blogs/recoveringfrommentalillness/2016/04/mourning-the-loss-of-a-pet
Author: Becky Oberg