The Issue With Feeling Unlovable When You're Mentally Ill
The issue with feeling unlovable. The issue? It can be an issue and pardon me for being redundant here. The topic for this post was derived from a comment a reader made. This person mentioned the word unlovable in the context of mental illness. I quickly scribbled the word down and put it away for a couple days.
I open my day-timer today and see the word, UNLOVEABLE, written in large and bold text by my own hands. I sort of grimaced, watching the rain fall from a gray sky outside my window, and wondered if I really had to put it in bold, I mean, it's not as if I have no experience with feeling unlovable. I feel it often, and if you struggle with mental illness, well, perhaps you do too.
Now, unlovable is a rather complicated word, so let's try to define it with (yes, again) my thesaurus. It's nice to step outside of our minds and try a practical approach to definition.
Defining the Feeling 'Unlovable' In Terms of Mental Illness
To be unlovable is to be (and stay with me here): unloved (yes, the thesaurus states the obvious yet again). But it also lists the following words as synonyms for unlovable:
>Uncherished
>Forsaken (I will not lie; I just pictured a bad horror movie)
>Rejected
>Thrown over (It states this with no further explanation)
>Spurned (I would need to look up this definition in order to explain it)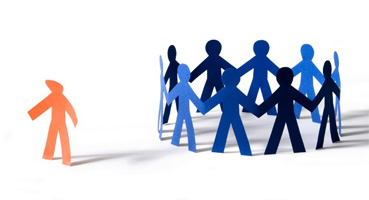 So, that's that. The word rejected makes sense. Mental illness can make us feel rejected, not part of society, perhaps even thrown over, whatever that means. Uncherished, this word often tied to the emotional aspect of love, is also relative. But what does it feel like to believe that, on some level, we are unlovable largely because of our illness?
Mental Illness Can Make A Person Feel Unlovable
That's the truth and it's important to explain why. There are two answers that come to mind:
>The diagnosis spurs feelings that we will not be accepted because of our illness. We cannot be loved;
>These feelings, beliefs, serve to isolate ourselves.
The reality, moving past the issue of feeling unlovable, is that we are not unlovable we are instead empathetic, human, real. The reality: you are not unlovable. Having a mental illness can be a largely negative experience but it has positive aspects. Yes, positive.
>Being diagnosed with a mental illness forces us to open our eyes; the world isn't always kind, not to any of us.
>At some point in our lives, as human beings, we all feel unlovable. Having a mental illness can be isolating but we all experience these feelings and although the illness can make us feel unique, make us unique, it also makes us human.
>Learning to live with mental illness, accept it, opens us up to other people: we are less likely to pass judgment on others.
This issue of love and mental illness, of love itself, resides in textbooks. I can only touch on it lightly but I hope that readers will share their experience and feelings on the topic.
In other words, share the love...sorry, bad joke!
APA Reference
Champagne, N. (2012, February 9). The Issue With Feeling Unlovable When You're Mentally Ill, HealthyPlace. Retrieved on 2019, August 19 from https://www.healthyplace.com/blogs/recoveringfrommentalillness/2012/02/mental-illness-the-issue-with-feeling-unlovable
Author: Natalie Jeanne Champagne
Please contact me. @2meta4yall on twitter. I can't fix shit but you're relatable to me. Please don't give up
Leave a reply