Mental Illness Stigma And Halloween: A Teachable Moment
Mental illness stigma and Halloween go together like hand and glove--we've all seen the "haunted asylums" and the "mental patient" costumes. Rather than trying to censor this mental illness stigmatization at Halloween, we should use it as a teachable moment. We should educate people that psychiatric patients are no more violent than the general population and that we're more likely to be the victims of violent crime than the perpetrators. While there is mental illness stigma around Halloween, we can use it to educate others.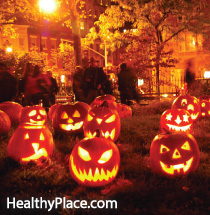 Why is it acceptable to fear mental illness and make it a cheap Halloween scare? I theorize that it's because mental illness hits too close to home for some people. Anyone can be mentally ill. As a line from the cartoon X-Men observes, "People fear what they don't understand." Mental illness is not widely understood, so it serves as an easy way to scare people.
Create a teachable moment when you see mental illness stigma this Halloween. Education is the only way to reduce the fear that fuels the stigma of mental illness at Halloween or any other time of the year.
More on the Mental Illness Stigma During Halloween
You can also find Becky Oberg on Google+, Facebook and Twitter and Linkedin.
APA Reference
Oberg, B. (2015, October 30). Mental Illness Stigma And Halloween: A Teachable Moment, HealthyPlace. Retrieved on 2023, October 1 from https://www.healthyplace.com/blogs/recoveringfrommentalillness/2015/10/halloween-and-mental-illness-a-teachable-moment
Author: Becky Oberg