Isolation and Mental Illness Recovery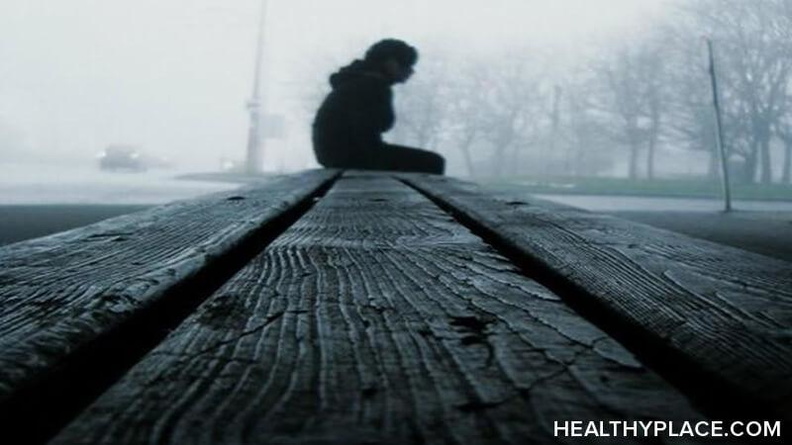 Isolation and mental illness go hand in hand. They sort of breathe the same air--stifling and hot and when we live with a mental illness, sometimes we just want to be alone (Mental Illness, Isolation, and Loneliness). After all, if we are alone our pain is hidden. Our pain is hidden but exemplified by our silence. Isolating ourselves makes recovering from mental illness more difficult. Let's explore why.
My Experience with Mental Illness and Isolation
I can say I'm pretty good at a few things. I believe it's important we all recognize our abilities and strengths. I can write, paint and take care of a 130lb dog--this is pretty darn hard trust me. I'm not a bad runner and have a pretty great record collection (that's not a skill I know . . . But still!)
What I cannot do--what I have always struggled with in connection to my mental health--is the ability to refrain from isolating myself when I feel unstable. Sometimes, I don't even need to be feeling bad. I just feel different than other people and not in a good way. The black sheep among the pretty white ones who know how to navigate their surroundings. The black sheep who wants to connect with people but is scared. I believe that those of us living with a mental illness have felt our fair share of fear.
Why Are Isolation and Mental Illness So Connected?
Let's break it down with a few examples:
When we are first diagnosed, we suddenly feel different. Yes, we have probably felt different than others when we were sick but suddenly having a label--a diagnosis-- changes everything. It's a good time to hide out, right?
Isolation can also be connected to psychiatric medications. They can make us tired at first, feel sick and even ugly. Depression doesn't exactly make us feel great about ourselves. When it's hard to shower, brush your hair and put something other than pajamas on you don't feel great.
Fear! We fear we won't become well. We are scared to talk to people--even those who are important to us--about this fear.
When we are not yet stable the outside world may not feel like a place we fit in. Depression makes us want to hide. I lock the doors, turn the ringer off and pretend that I'm just fine. But I'm not, and neither are you if you find it hard to leave home.
These are just a few reasons--we all have our own and for different reasons--but there are things we can do to work to not isolate ourselves.
When Mental Illness + Isolation = Your Comfort Zone
Stepping outside of our comfort zone is not easy. But there are some things we can do to tackle isolation.
Set small goals. Example: Make an effort to pick up the phone. Call someone you trust and just say hello.
Make a date for coffee, go to a movie, dinner--whatever you can. The goal is to step outside of your comfort zone. If you struggle with leaving home, invite someone over.
Often, those of us who live with mental illness isolate because we really don't have many people in our lives. Sad, certainly, but true. In this case, talk to your mental health team about community resources.
Take a walk. Even if you don't have a dog!
Make a list of how you feel when you isolate and how you feel when you work not to.
Remember that isolating ourselves makes recovery much more difficult. If you struggle with isolation, what has worked for you?
APA Reference
Jeanne, N. (2013, January 31). Isolation and Mental Illness Recovery, HealthyPlace. Retrieved on 2023, December 5 from https://www.healthyplace.com/blogs/recoveringfrommentalillness/2013/01/leave-me-alone-isolation-and-recovering-from-mental-illness
Author: Natalie Jeanne Champagne
I isolate... nearly agoraphobic (idk the spelling)... I was a heavy hero/meth shooter for approx. 5 years and I stopped... I am now a bodybuilder scared of leaving home.. I go to school and never speak I head straight home. I hate the company of my old friends now its like everyone is in a pissing contest about life/goals/school/being mentally stable or we are bored and I do with them nothing fun like what I'd do by myself and I think theyd have more fun without me.. better mindsets ... bleh fuck them.. we will always be friends but fuck'em I think I will get a dog after reading this article... my dog died 4 months ago and that's right about the time I stopped doin drugs... I don't know why I'm writing this I have things I need to do.. and nobody cares. my advice to anyone that does care... WEIGHTS/CARDIO... PUPPIES...and DON'T DO DRUGS.
I don't want to cope any more. I strongly advise all those diagnosed with bipolar to stick to medication, set up an exercise routine and eat a healthy balanced diet. Take all advice, stick carefully to your values, make sure those values feed others as well as you. You will enjoy some good feelings from this.
I sometimes suffer from isolation, and I have to be careful because I like my alone time as well. I work at a very demanding job, yet I love it because I help many (my average cell minutes a month are 5500). So when I get home I just want to take in the quiet. That said, I struggle a lot with isolating as well especially when my depression part of my bipolar kicks in or my PTSD. However, because of my job I know I NEED a good support system, but if I don't use it, it fails like last April when I call my supports after I had taken the 3 bottles of Tylenol. When I was in the psych ward of a hospital after a week on a ventilator a doctor I respect a great deal told me that there has to be a purpose why you are here because you shouldn't be here after what you did.
I have many health issues after this, but it did make me reexamine who was on my support team and in my life and have made many changes. I still like my alone time but I now have a check in system set up so people don't worry and everyone on my team, and it is a team have contact with each other so not much time passes without a call from one of them.
I also appreciate this site because it answers many of my questions be it in the post or in the replies and I have sent others here as well. Keep up the good work!
Prstty portipn of content. I simply stumbled upon your site and in
accession capital tto assert that I get iin fact
loved account your bpog posts. Any way I'll be subscribing
in your augment or even I fulfillment you get right of entry to constantly quickly.
I get Isolation. I have Bipolar, anxiety, and Personality Dissorders, and minor PTSD from 3rd degree burns to both of my feet. (PD what an awful name, i hear they are changing that). The accident was 2 yrs ago this april. Combined with a history of isolation, I too have been too comfortable with this state of mind. Currently I vol. as a Peer Mnetor and Member of my County's Mental Health Board. I find that this involvement has greatly helped me.
Isolation is a complex symptom and reaction to Mental Illness. I have found that finding groups like this and other resources has been helpful. Based on recent news I have been more active in Violence and Gun saftey. Over 60% of suicides are at the hands of a gun, this is especially true with males. As a suicide survivor, i work hard each day on my recovery.
I wish you luck. Isolation is a part of some MI, we need to work together to support each other and to listen
Sadly I find that while I understand the points you are making, in my own situation I have been impacted so differently. I have severe PTSD, brought about from the experience of being hospitalized for spinal surgery and suffering trauma while undergoing a MRI (unbeknownst to me) while "sedated" immediately following surgery that I woke up in the middle of!
While I can see that there is risk of self-isolation, in my case I have been devistated by the forced isolation that has come from the emotional & physical abandonment of 3 out of 4 of my children and my husband. I have been and will continue to face the long & hard battle alone and it scares me because it puts me at greater risk. I am only human afterall, I have a breaking point.
I am trying to avail myself of those practioners that can assist, but for me I have complications to utilize them. My PTSD has very unwillingly forced me into being nearly completely homebound and it is a struggle to be able to go to where they are alot of the time. So I am isolated also, but not entirely by choice...but if enough time passes, I fear it will destroy what is left of what used to be my life.
I just pray that my anger keeps this from being what happens! I have to redirect it and use it as a tool toward recovery, instead of letting it destroy my spirit too!
Hi Natalie...
I've remembered why I started isolating, don't know if is the bipolar, I don't know if is I'm just a psycho freak... I see things different, and eventually when I relate, when I speak, I end up creating mess around me, and hurting people, Just do it again yesterday... So is like... I can't help living and dealing with myself, but I can avoid other people to do it, to hurt them, to destroy stuff, you know? things that work better without me... (for real, not for depression). I guess is the way I found so I can be alive... I mean, I don't want to die, I love so many things about living, but I know I'm not only useless to the society, but hurtful and destroying...
I really hope you're feeling better.
Drella
Most welcome!
:)
-Natalie
I usually self-isolate because a)I'm tired, b)I'm irritable and don't want to be crabby to others, c) I need to "regroup"; acting "normal" can be VERY exhausting....a nap usually "resets" my attitude, or d)some combination of a,b, & c!
You made a comment about being the black sheep, and even when you feel well you find it hard to connect with people. I know that feeling well, I have noone really, and it may be mostly my fault but i am trying to change that. Its not easy, i have tried going out on weekends and sometimes i do but dont feel stabil, other times i feel fine but am to scared to talk or put myself out there. I have abandonment issues i have noticed recently and its like if i do i am scared they wont stay because noone else really has either. I am scared to get close to people and let them know me due in part of the stigma and then fear i will run them off, fear i am not normal or good enough. I do feel like the black sheep amongst the the pretty white ones also.
Hi, jc,
Yes, I think feeling like the black sheep, like we don't fit in, is common among those of us living with mental illness and it's so hard. I think it is one of the hardest parts when working to recover from mental illness. We all share some commonalities like this one. I try to remember that everyone with a heartbeat feels pain at some point and just as our illness is often invisible so too is theirs. Hang in there--you are in large company.
Thanks for the comment,
Natalie
ok, i'm so f...ing bad right now, I've been thinking going to the er, the thing is my body aches, and I really can leave my bed (I crawled to the bathroom). I have 2 friends, but I've never share this, and my family knows in theory I'm bipolar, but whenever I've been in a hospital, er, therapy, etc... I'm on my own, because of me, and because of them... they always leave when I'm not ok (I understand is really hard for them, and i become a pathetic bitch), but return when the crisis passes.
So what do you do in this case not to isolate and feel better? Any advice would be appreciated.
Hi, Drella,
Sorry you are having a tough time. I cannot give medical advice but you seem to be describing serious depression---I've been there recently and still not feeling even close to good. Try to open to them--your friends and family. Just try. You may be surprised. Good friends give back what you give to them. Support.
It's hard for me to give advice on this because I try to take my own. I isolate a lot. Sometimes because I don't feel like I have an option but just try talking to your friends and family. If they don't respond in a positive way talk to your psychiatrist about community support. I wish I could tell you more but check out healthyplace.com we have a lot of bloggers and resources that can help.
Stay strong,
Natalie
Leave a reply