Isolation and Mental Illness Recovery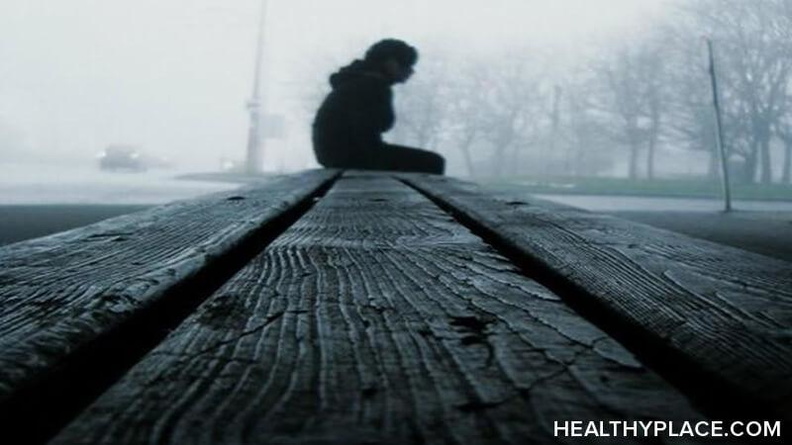 Isolation and mental illness go hand in hand. They sort of breathe the same air--stifling and hot and when we live with a mental illness, sometimes we just want to be alone (Mental Illness, Isolation, and Loneliness). After all, if we are alone our pain is hidden. Our pain is hidden but exemplified by our silence. Isolating ourselves makes recovering from mental illness more difficult. Let's explore why.
My Experience with Mental Illness and Isolation
I can say I'm pretty good at a few things. I believe it's important we all recognize our abilities and strengths. I can write, paint and take care of a 130lb dog--this is pretty darn hard trust me. I'm not a bad runner and have a pretty great record collection (that's not a skill I know . . . But still!)
What I cannot do--what I have always struggled with in connection to my mental health--is the ability to refrain from isolating myself when I feel unstable. Sometimes, I don't even need to be feeling bad. I just feel different than other people and not in a good way. The black sheep among the pretty white ones who know how to navigate their surroundings. The black sheep who wants to connect with people but is scared. I believe that those of us living with a mental illness have felt our fair share of fear.
Why Are Isolation and Mental Illness So Connected?
Let's break it down with a few examples:
When we are first diagnosed, we suddenly feel different. Yes, we have probably felt different than others when we were sick but suddenly having a label--a diagnosis-- changes everything. It's a good time to hide out, right?
Isolation can also be connected to psychiatric medications. They can make us tired at first, feel sick and even ugly. Depression doesn't exactly make us feel great about ourselves. When it's hard to shower, brush your hair and put something other than pajamas on you don't feel great.
Fear! We fear we won't become well. We are scared to talk to people--even those who are important to us--about this fear.
When we are not yet stable the outside world may not feel like a place we fit in. Depression makes us want to hide. I lock the doors, turn the ringer off and pretend that I'm just fine. But I'm not, and neither are you if you find it hard to leave home.
These are just a few reasons--we all have our own and for different reasons--but there are things we can do to work to not isolate ourselves.
When Mental Illness + Isolation = Your Comfort Zone
Stepping outside of our comfort zone is not easy. But there are some things we can do to tackle isolation.
Set small goals. Example: Make an effort to pick up the phone. Call someone you trust and just say hello.
Make a date for coffee, go to a movie, dinner--whatever you can. The goal is to step outside of your comfort zone. If you struggle with leaving home, invite someone over.
Often, those of us who live with mental illness isolate because we really don't have many people in our lives. Sad, certainly, but true. In this case, talk to your mental health team about community resources.
Take a walk. Even if you don't have a dog!
Make a list of how you feel when you isolate and how you feel when you work not to.
Remember that isolating ourselves makes recovery much more difficult. If you struggle with isolation, what has worked for you?
APA Reference
Champagne, N. (2013, January 31). Isolation and Mental Illness Recovery, HealthyPlace. Retrieved on 2019, June 16 from https://www.healthyplace.com/blogs/recoveringfrommentalillness/2013/01/leave-me-alone-isolation-and-recovering-from-mental-illness
Author: Natalie Jeanne Champagne
Most welcome!
:)
-Natalie
Hi, jc,
Yes, I think feeling like the black sheep, like we don't fit in, is common among those of us living with mental illness and it's so hard. I think it is one of the hardest parts when working to recover from mental illness. We all share some commonalities like this one. I try to remember that everyone with a heartbeat feels pain at some point and just as our illness is often invisible so too is theirs. Hang in there--you are in large company.
Thanks for the comment,
Natalie
Hi, Drella,
Sorry you are having a tough time. I cannot give medical advice but you seem to be describing serious depression---I've been there recently and still not feeling even close to good. Try to open to them--your friends and family. Just try. You may be surprised. Good friends give back what you give to them. Support.

It's hard for me to give advice on this because I try to take my own. I isolate a lot. Sometimes because I don't feel like I have an option but just try talking to your friends and family. If they don't respond in a positive way talk to your psychiatrist about community support. I wish I could tell you more but check out healthyplace.com we have a lot of bloggers and resources that can help.

Stay strong,
Natalie
Leave a reply